Show me Who You Want for President by Voting, Not Attacking Me
Posted October 6, 2016 by Prairie Wife - 10 comments
We generally stay away from talking politics on this blog. Not because we are afraid of controversy, honestly there is nothing more controversial than parenting advice…and we hand that out weekly! We don't post about politics because it doesn't go with our mission of supporting other women, wives and mothers (and their families).
This week I was able to attend the Northern Colorado Trump Rally.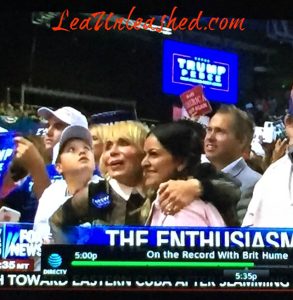 It was an opportunity that I was given because of my job as Senior Producer/Media Manager for the Lea Unleashed radio show.
It's been my side job (besides raising five kids and this blog) for the last three months, and I love it.
I attended the rally to record the event for Lea, as well as help promote her attendance there.
I'd say it worked pretty well…her picture has appeared all over Fox news and other media channels the last few days.
After the event I posted this on my Facebook page. It's the first time I have posted anything political at all during this election year, and all I did was post this picture. No caption nothing…just this.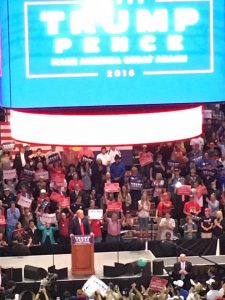 A little bit later I shared this post from LeaUnleashed.com and wrote "A bit of footage from the Rally."
Nowhere did I say I was voting for Trump or supported him. Nowhere did I criticize Clinton or say anything negative about her.
I was there for work plain and simple.
If I had been given the opportunity to attend a Clinton rally you bet I would have been there.
Being a part of the crowd at an election rally, allowed me to witness a part of history. It was an opportunity to educate myself about the candidate and to see first hand, with no media bias, what kind of president Trump claimed he was going to be.
The event center was packed and the atmosphere was electric.
Over 10,000 people in one space, cheering on a man they hoped would "Make America great again."
There were people of every age and color, every religion, nationality and sexuality. For the five plus hours I was there, I saw and heard nothing that made me frightened or uncomfortable….no….I didn't feel any of those emotions until the comments and private messages came rolling in on my Facebook page.
In less than 3 hours I was unfriended by several people, attacked verbally about my choice to pick him for president, and my ability to parent was put into question. Several of my friends private messaged with questions and in support of Trump…every one of them said they felt too scared to put their comments and questions out there for others to see.
Are you kidding me?!
This is America, and thanks to the countless lives of the men and women who fought for our flag, we have the right to say whatever we want.
I have NEVER commented anything rude or disrespectful on the numerous vulgar, insulting, and down right shameful political posts that many of my friends put up daily. It's their right to share what they feel.
But, I refuse to be ridiculed for attending a political event, and for who you THINK I'm planning to vote for.
Don't attack me personally when I have been nothing but respectful towards you and your views.
Show me who YOU want to be our next president by voting, not attacking me.
Categories: This and That
Tags: , attacking, clinton, democrate, dirty politics, election, political posts, politics, republican, social media, social media trolls, trump, trump rally