Creating the Perfect Candy Buffet
Posted October 5, 2016 by Prairie Wife - 4 comments
It's October! The beginning of the Holiday Season is upon us…and with it party after party…after party.
We here at PrairieWifeInHeels.com love a good party but, are the first to admit that our events are usually not Pinterest worthy.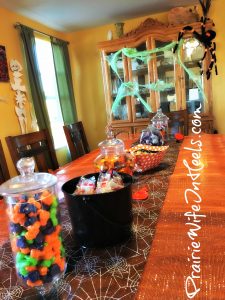 Thanks to a little help from SweetServices.com I am happy to say that last week I threw my first Pinerest worthy party!
It was super easy, fun, and cost effective to have a big candy buffet for a few of our friends. We thought we'd share a few tips with you today that will allow you to create the perfect candy buffet.
To make it even easier the folks at SweetServices.com have given our readers a special code that will allow you to receive 20% off your candy order. They've got every type of candy you can think of, and some you've never seen! It's affordable and will be delivered right to you door in a week. Stop by the end of this post for you code and put in your order, you still have plenty of time to head on over to SweetServices.com and get all the candy you need for your child's Halloween party!
The perfect candy buffet is:
* Aesthetically pleasing
* Fun
* Well stocked
* Has something for everyone
* Reasonably priced
Aesthetically pleasing
The perfect candy buffet usually focuses on a theme and/or a color scheme.  Most people choose either two or three colors. With a three color scheme, you can bring the table together with two colors, then add a third strategically placed color for that visual POP! Picking a theme for your candy buffet will help you tie it into the event.  A back to school party may have a theme of school related items.  An end of season cheerleading party will have a theme of teams and cheers.  You get the picture! Backdrops, decorations, table clothes and props help make your theme clear, and will give your candy buffet a Pinterest worthy look!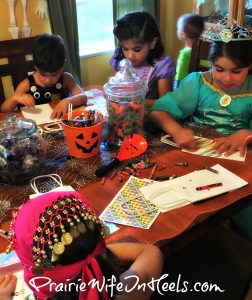 Fun
Kids from nine to ninety get excited when browsing a candy store! A well done candy buffet will recreate that same feeling. To make your candy buffet fun, mix or layer your candy in different size and shaped jars. Use decorated tongs, ladles, and scoops and don't forget to provide party bags or boxes! Everyone loves a craft, think about letting guests decorate their bags with markers or stickers to make them personal. Adding unusual candy like theme shaped gummies or giant suckers is an unexpected touch that will only add to the fun!
Well Stocked
Buy your candy in bulk from a great supplier like SweetServices.com to make sure you have enough for each guest. A good rule of thumb is to plan on eight ounces of candy per guest. Using large containers will allow you to enjoy the party, instead of rushing back and forth refilling.  Mix in some salty foods like pretzels or crackers to balance the table, and make sure guest have easy access to drinks. A good trick for making supplies last is limiting how much candy comes out of the jar with scoops.
Something for Everyone
Keep the different age groups and possible health concerns of your guest in mind when preparing your table. You should have something for children with food allergies, suckers for toddlers, old fashion mints or jelly beans for your older guests and something fun like Pop Rocks or Nerd Ropes for those in between.  You don't have to have a huge selection of candy to make this work but, take time to consider the entire group of guests.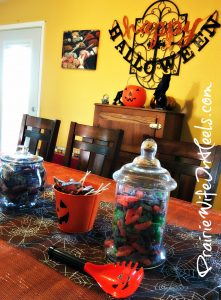 Reasonably Priced 
Watch for end of season closeouts for dishes, decorations, and candy. If you have an annual Halloween party you can even find things at estate sales to create fun backdrops or center pieces! Ask your candy supplier about any specials and if there is any way to save money on shipping (for example do not order candy that must be quick shipped). Trade supplies with other candy buffet designers, or borrow fun containers from a friend!  You'll be surprised to see how many people are more than willing to lend out supplies if it means they can attend the party 😉
Make sure you stop by SweetSupplies.com for all your holiday candy needs. Type in the code prairie20 to receive 20% off your order with SweetsSupplies.com and make sure you tag us in your candy buffet pictures!
Categories: Reviews
Tags: , candy, candy buffet, childs party, easy parties, Halloween, holiday party, party, party tips, planning a party, sweetservices.com, theme party