Roku Express vs. Amazon Fire TV Stick
Posted May 12, 2017 by Prairie Wife - 2 comments
At the beginning of the month we canceled our satellite TV.
I'm happy to say that my marriage and sanity are still in tact.
Using a combo of an antenna, Amazon Prime, Netflix, Hulu and Sling TV (which adds up to around $40 a month) I've been able to not only keep up on my favorite shows but, watch a few new ones! The Cowkids watch cartoons on Netflix of Amazon during their TV time and a fav of the two littlest is Tumble Leaf on Amazon.
We have two TV's in the house. A large one in the basement where we usually watch TV, and a smaller one in the seating area that is next to our kitchen. I like to have it on while I work as background noise and enjoy having it turned to HGTV or a cooking show while I'm cooking dinner.
Once a blogger always a blogger, so I purchased one each of the two most popular streaming video players to see how well they worked. Based on reviews and word of mouth I picked the Roku Express ($29.99) and Amazon Fire Stick ($39.99). Previously when we watched Netflix or Amazon, we used our Wii or I watched it on my laptop while I hid in my bedroom recovering from surgery. My main complaint was that we seemed to have a lot of buffering. We have great internet but still, at peak times like the weekends after 8pm, we would spend an annoying amount of time watching the wheel on the screen spin.
With both of these devices I am pleased to say we no longer have that problem with Amazon and Netflix (Hulu we still have some trouble with).
I had plans to do a big pro and con list about the devices but the truth is they are both pretty awesome.
Setting them up was a piece of cake and maybe took 10 minutes. The Amazon Fire Stick needs a plug in close by (and you'll want to be an Amazon PRIME member) while the Roku Express charges through the USB port on your computer. Both need an HDMI plug in, so check your TV if it's older to make sure you have it.
Both devices have a home screen that allows you to easily pick your app or channel (Amazon, Netflix, Hulu etc.) The Roku remote has buttons on it for Netflix, Hulu, and Sling so you can get to your shows without scrolling and the Amazon Fire Stick has an Alexa Voice remote. This is probably my favorite part and well worth the $10 extra cost. Simply tell the remote what show you want and it pulls it up and you can hit play or even say "Play the next episode of Outlander" and it does it. No selecting apps and scrolling through watchlists necessary! The parental controls (a must in this house) on both are simple to activate and easy to adjust.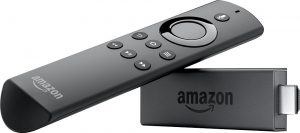 If I had to pick a favorite it would be the Amazon Fire Stick simply because of the ease the voice remote offers in finding what show you want to watch. Frankly, I'm beyond pleased with both of them and I have no problem admitting that The Cowboy was right, and I should have canceled our satellite TV months ago. Luckily he's in Africa, and never reads the blog anyway, so I don't have to worry about him rubbing it in 😉
Categories: Reviews
Tags: , amazon fire stick, Amazon Fire TV stick, live streaming TV, product reviews, reveiws, roku, TV