Preventive Mastectomy: Exchange Surgery Week Two
Posted August 26, 2016 by Prairie Wife - 8 comments
Note: I decided to include real pictures of my body in this post because I know that it will help to prepare other women as they begin this journey, as well as help educate family members and friends. I hope that you my readers, will be respectful of that choice, and if you are offended at the thought it's best for you to stop reading here.
Last three seasons of Downton Abbey-check
Outlander (the last three episodes)-check
Last two seasons of Sex and the City-check
All of Unbreakable Kimmy Schmidt-check (and if you haven't been watching this you need to)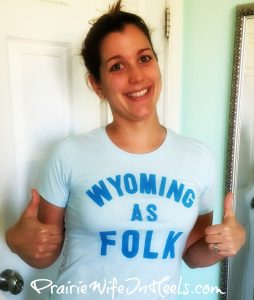 I've been watching a lot of TV this week, and I can't lie. It has been pretty awesome. Last surgery I was still too tired and groggy to enjoy much of week two but this time…I'm feeling really good!
I would still say I have little to no pain caused by the surgery. Every now and then I get a burning stabbing pain in a random spot and if I'm not keeping my arms in T-rex position, I feel a bit sore at my incision sites, but that's it.
The aches and pains caused by surgery and two weeks of little to no arm movement are back. For me, it's super stiff shoulder sockets and a sore back and neck from sleeping sitting up. I've got one more week of T-rex arms to go, and then I can get back to feeling a bit more normal. I was cleared to sleep on my side at this week's appointment. I was ecstatic but, last night I found out it's going to take a bit to discover positions that are comfortable.
My skin is doing the two-week post-surgery dry-up. Everything from my scalp to my toes is peeling off and dry. It's pretty gross so I use my favorite lotion from Vintage Body Care to keep it to a minimum. At least I know it'll all be done within another week!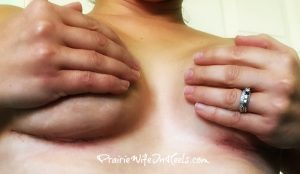 The itchy sticky tape is off my incisions, and I am now entering the fabulous world of scar care. Three times a day I need to lightly massage a special silicon gel onto my scars. After a week I need to start getting more aggressive and making sure no lumps and bumps form along the incision line. I am checking for any signs of infection and stitches that may be poking out.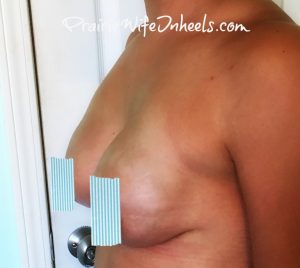 The swelling is down, and I can see more wrinkles and lumps in my breasts. All implants have a little give (if they were filled to bursting, they could do exactly that if you bump them) and my skin is so thin you can see the ripples in the implants, especially when my muscles contract over them. You can see I have a big line down each side of my breast. Frankly, it doesn't bother me a bit! They still look amazing in clothes (in my opinion), and The Cowboy isn't complaining. When I take a look at my "breasts" after the mastectomy I am still amazed at how great they look!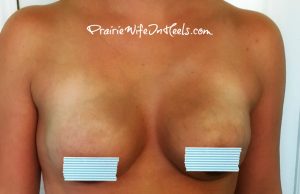 For the third surgery (which is scheduled for Nov 22) we will take fat from my thighs and try and use it to cover and fill some of these wrinkles and divots. Some people do that surgery multiple times. I've already decided to give it one shot and then leave things as they are (barring any crazy complications). I have no regrets at all about having this surgery but, it's taken a lot of time away from my kids and created a lot of extra work for my friends and family. I'd like to keep any more disruptions down to a minimum if I can.
For the next week, it's more TV time and blogging away (I'd love any recommendations on must-see movies and TV shows) and hiding in my bedroom while Ma and Pa (they leave tomorrow, but I am SO thankful for their help this week) and our beloved Mary Poppins wrangle the Cowkids. In two weeks I can once again lift LittleMissH and slowly get back to all my chores and housework. In four weeks, I can do Yoga and Run, and will no longer have to wear a bra 24/7.
Lots of love to you, and thanks for the prayers and support xoxox
PS If you want your own Wyoming as folk shirt (and why wouldn't you) you can head over to Surf Wyoming!
Categories: Exchange Surgery, Preventive Mastectomy
Tags: , breast cancer, breast implants, breast reconstruction, breast surgery, exchange surgery, mastectomy, pics of mastectomy, preventive mastectomy, scar care, support, week two