Prairie Wives vs LA: Part 2
Posted April 3, 2017 by Prairie Wife - 2 comments
We ended our first post with Prairie Wives 15pts LA 14pts…let's see how the second half of the saga goes.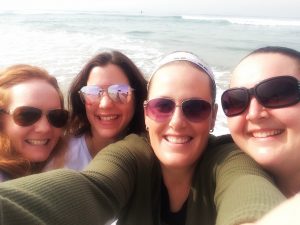 Saturday found us awake with the beautiful LA sun and ready to hit the beach. We slathered on sunscreen (and a few brave souls put on suits as well) typed Venice Beach into our GPS and hit the road. We reached the beach with no trouble at all (PW:16pts), laid out our towels and took in the ocean views. There were surfers, sun, and even some dolphins. We took walks and collected seashells and enjoyed the people watching (PW:17pts) and then TallGirlJ shared a dream…
Her dream of riding a Segway down the boardwalk, hair flowing in the LA breeze and the ocean views rushing past her in a blur.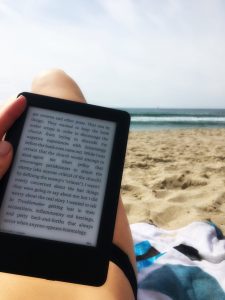 I was shocked, as I myself never had that particular dream (and had no clue what a Segway was) but, apparently the other Prairie Wives felt the same way because they hit the road and headed to rent Segways. I chose to spend my time basking in the sun and reading…which is absolutely one of my favorite things to do. I told the girls to text me when they were close so I could take a picture.
Soon my phone buzzed and I turned around to see three lovely ladies perfectly balanced on Segways waving from the boardwalk. I jumped up an began to run towards them. Because I was a bikini on an LA beach I felt that a slow motion Baywatch run was called for so, I began to do my best reenactment.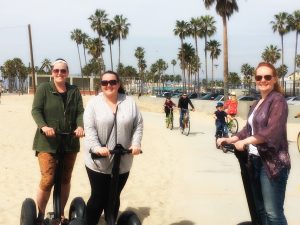 According to the other Prairie Wives it was amazing. The wind was blowing my hair back and the sun was reflecting off the waves giving me a glowing sheen (PW:18pts). Until my foot hit a hole and I completely and utterly face planted in front of hundreds of people (LA: 15pts). I can best describe my position in the sand as that of a sea star. It took me a bit to push myself out of the sand and stop laughing so I could stand up, but eventually I was back standing. My sweet friends were all still standing on their Segways, though their laughter was causing them some balance issues. I gathered myself up enough to snap a few pictures and film them hitting the road and walked back to my blanket to soak up some more sun and sooth my battered body. My fall was an epic moment that I wish were caught on film, it would totally have made us famous…or is it infamous?
After our fun in the sun we headed back to the hotel and freshened up for a night on the town.
Our Uber showed up with no problems at all, and our driver was totally normal (PW: 19pts). We had big plans to hit the town and didn't want to have to worry about a designated driver. We had dinner at a fabulous restaurant called The Parlor and the food and drinks were fabulous! We had the cutest waitress ever, and she was totally on the ball. We chatted off and on with her all night, and we are all sending her some good vibes and hoping she remembers us when she makes it big in the business. After dinner we headed to The Groundlings for a live comedy/skit show and it was hilarious…I have to admit that our fav part was when RedHeadK had to go to the bathroom and the director all but leaped down the steps and grabbed her by the hair to pull her towards the back stairs so she wouldn't ruin the scene (LA: 16pts).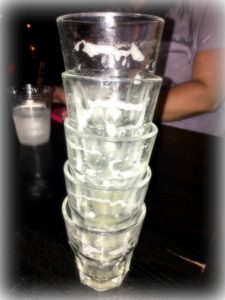 We walked down Melrose to a local pub for more drinks and had possibly the WORST waitress ever…so we left (LA:17pts). We headed back to The Parlor where we knew the service and drinks were exceptional and proceeded to have a really good time. There may have been some pirate sword fights with strangers and WAY to much time spent taking pics in the photo booth. (PW: 20pts)
When it was time to call it a night our Uber promptly showed up and headed to the hotel. I have to say, when it was announced that one of us (I'm not mentioning any names) was feeling less than stellar with the movement in the car, his speed and navigation skills got us back to the hotel in record time (LA: 18pts).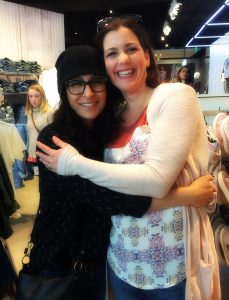 The next morning the other girls were up and going while this Prairie Wife was dragging aka hungover (LA: 19pts). We (meaning me) finally go up and going around lunch and we headed to The Grove for some shopping. We hit Dylan's Candy Bar to buy souvenirs for the kids (and more chocolate for us) and I bought two amazing dresses to wear in Vegas (PW: 21pts) and joy of joys meet Past Prairie Wife of the Week Kendra Richards in person. She is truly lovely and it was an absolute blast to hang out with her for a bit. She fit right into the Prairie Wife crew.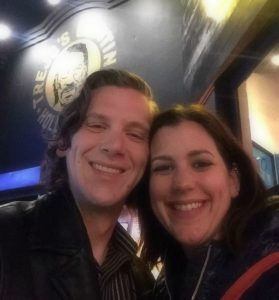 We followed up shopping with dinner with my oldest brother and his family, and called it an early night.
After all, we had a flight to catch in the morning…
Part Two Final Score PW 21 pts LA 19 pts
Categories: Life As It Happens, Prairie Life
Tags: , beach, california, Elk hunting, friends, funny, LA, Prairie Wives, Vacation