Prairie Wife's Famous Chicken Pot Pie
Posted January 10, 2020 by Prairie Wife -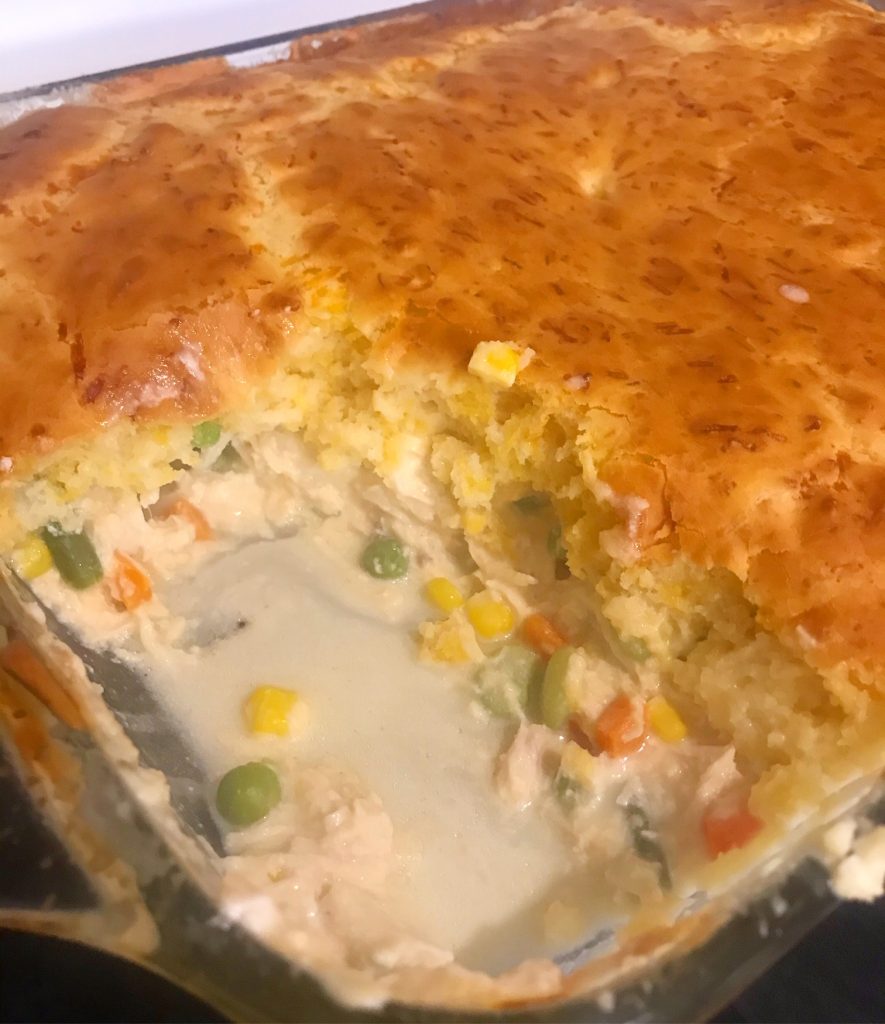 True credit for this recipe goes to Dedee Georges. She gave me the original recipe more than a decade ago when we were teaching first grade together. Every time I make it, I think of her and smile.
The Cowkids cheer every time they find out I'm making this so it's safe to say it's a family favorite.
The best part of this recipe is not that it's easy to make (because trust me it is) it's that all the filling is cooked ahead of time so you aren't stuck wondering if it's done. As soon as the top is golden brown it's time to take it out of the oven and eat.
NOTE: There are two ways to cook the chicken for this recipe. If you have a lot of time put the chicken breasts in the oven and cook for 30-45 minutes at 375 until done. Then use your kitchen aid mixer to shred the chicken. If you're short on time cut the chicken into small pieces and cook it until done in a skillet on the stove.
Prairie Wife's Famous Chicken Pot Pie
Cook Time: Filling-20 min Pot Pie-20 min Serves:8-10
Ingredients For Topping
2 eggs
1 cup Milk
2 tbsp Vegetable Oil
2 cups Bisquick
2 cups Shredded Cheese (sharp cheddar)
Ingredients For Filling
8 oz Cream Cheese
2 cups Milk
3 cooked Chicken Breasts (chopped or shredded)
1 cup Shredded Cheese (sharp cheddar)
1/2 cup Parmesan Cheese (powdered or shredded is fine)
1 clove garlic minced
1/2 tsp Onion Powder
Salt and Pepper to taste
1 bag frozen veggies (mixed veggies or broccoli are our favs)
Cook Chicken and chop or shred into bite-sized pieces
Set oven to 375 degrees
Combine wet ingredients for topping in large bowl
Add Bisquick and cheese, stir and set aside.
In a saucepan on stove (set to medium heat) combine all the ingredients for filling except chicken and frozen vegetables, stir frequently
When filling ingredients are all melted and combined, stir in frozen vegetables and chicken, let sit for 3 minutes, stirring occasionally.
Put filling in 9 x 13 glass casserole dish.
Spoon topping evenly over filling. It will barely sit on top, spread as evenly as you can but don't stress out about it 😉
Put Chicken Pot Pie in the oven and cook for 20 minutes or until topping is a deep golden brown.
Resist the urge to take it out when it is barely golden brown, you'll end up with raw topping in the middle.
No time to make this one tonight? Try our Chicken Pot Pie Soup.
Categories: Recipes, This and That
Tags: , chicken pot pie, chicken recipes, comfort food, Easy Recipe, Main Meals, pot pie