Easy Cheesy Chicken Pot Pie Soup
Posted February 12, 2019 by Prairie Wife - 2 comments
I invented this recipe last week, but the true credit goes to my co-worker Tom who put the idea in my head.
I was in the radio studio bemoaning the fact that I had no idea what to make for dinner and he mentioned Chicken Pot Pie Soup.  As I drove home I knew I didn't have enough time to make the soup I envisioned in the crock pot, and so I decided to make it on the stove. It was done in around 30 minutes, and it was a HUGE hit with the family so I knew I had a winner. I made it almost exactly like I make my Chicken Pot Pie filling which is one of the family top 10 favs so I wasn't surprised. And because I'm from Wisconsin, I had to make sure it was extra cheesy!
The recipe below is for making this soup on the stove. If you want to make this in the crockpot all you need to do is combine all the ingredients and set it to cook for 4-8 hours depending on the time you have available. It tastes great with a crusty roll to dip into the soup so make sure you buy/make some!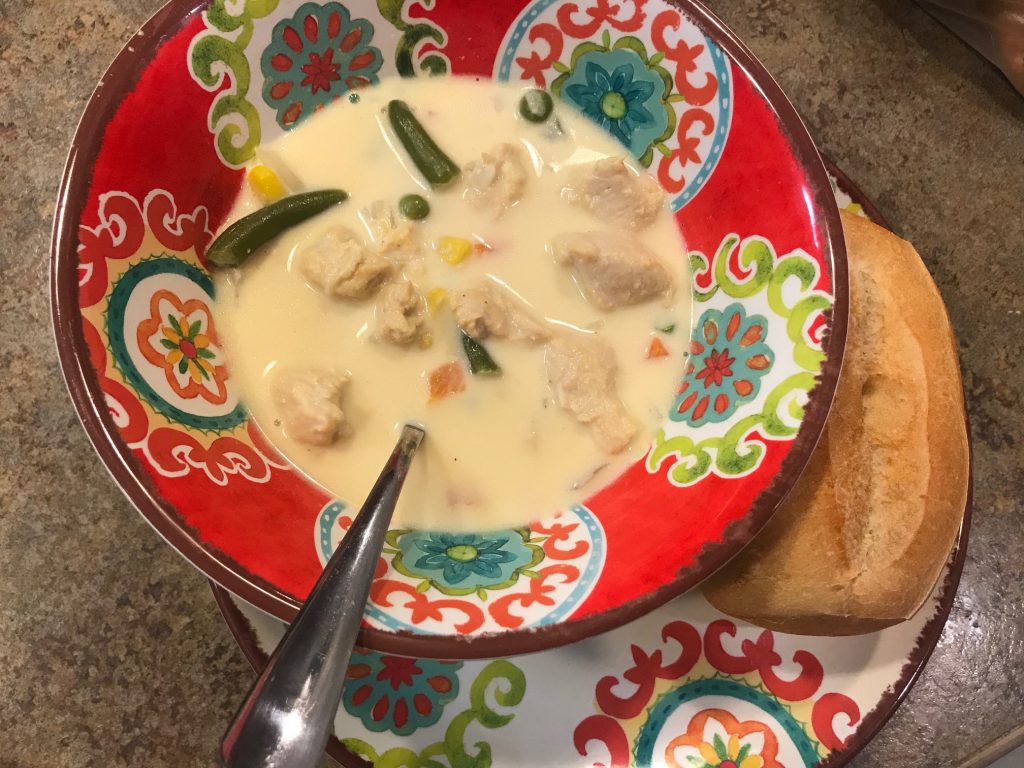 Easy Cheesy Chicken Pot Pie Soup
Prep Time: 8 minutes Cook Time: 25-30 minutes Serves: 8
3 thawed Chicken Breasts cut into bite-sized pieces
2 cloves of Garlic (minced)
1/2 medium Onion (minced)
Splash of Olive Oil
32oz Chicken Broth
1 cup of heavy whipping cream
1 small bag of Frozen Mixed Vegetables
4oz Cream Cheese
1 cup of shredded Cheddar Cheese
1/4 cup of Parmesan Cheese
1tsp Poultry Seasoning
Salt and Pepper to Taste
Add Olive Oil and Chicken in a large pot, cook until the meat is almost all the way white.
Add onions and garlic and cook until onions are almost clear.
Add all the ingredients EXCEPT the three kinds of cheese.
Stir until ingredients are boiling.
Turn heat down to a simmer and add all three kinds of cheese.
Keep stirring until all the ingredients are combined.
Serve warm with a crusty roll.
Categories: Recipes, This and That
Tags: , cheesy chicken pot pie soup, chicken pot pie soup, crockpot meals, easy meals, easy soup, Main Meals, meals for big families