Prairie Wife of the Week: Sabrina Spears Events #giveaway
Posted April 12, 2017 by Prairie Wife - 4 comments
If you're anything like me you have 100's of pins on your Pinterest boards that add up to the perfect birthday party, baby shower or girls night out…and that's where all the pins stay…on your computer or phone. Enter Sabrina Spears of Sabrina Spears Events. She took a chance when she left her job to become her own boss but, I think you'll agree with me that it was the right move. She uses her training and creativity to take the stress out of party planning and creates fabulous custom events that her clients will remember for decades. From weddings to children's birthday parties she's the one to call when you need help! Make sure you stop by the end of our post to enter our #giveaway.
Prairie Wife (PW): First tell us a little bit about you and your family.
Sabrina Spears (SS): I grew up on the twin islands Trinidad and Tobago in the Caribbean. I moved here in 2006 after I came to visit my brother. I met my husband two months afterwards. We were married in July of 2007 and now we have three girls ages 9, 8, and almost 1. My husband and I love living in Casper because it's the perfect environment to raise a family. The small-town values and the activities in the Summer appeal to us so much, that my mother and sister have moved here as well.
PW: Can you share with us a little bit about your small business and why you started it?
SS: My business is called Sabrina Spears Events. Before I was married, and for the first few years afterwards, I was working for NOWCAP. I loved my job. Finding ways to help support our community members with disabilities and their families was incredibly rewarding but, most of my pay check was going to childcare. So, I decided to leave and try something new.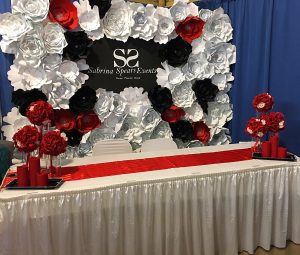 I knew from the beginning that I wanted to be my own boss. I thought about doing makeup and becoming a makeup artist, and I started to take the first steps needed to develop that. Then one day, my mother in law, Hannah suggested I should be an event planner! She saw something in me that I didn't at the time, she knew that I found joy in planning events for our family. I love to celebrate and transform spaces, and enjoy all the creative aspects that are part of creating an event instead of a party. I am someone who does a lot of research, and when I do something I do it 110% . Before I launched my business, I went and completed an online course at Lovegevity Wedding and Event Planning Institution. Not only did I like it, I loved it! At first I worked out of my home and did events for family and friends and then in 2014 I went public and turned Sabrina Spears Events into a full-time job and moved into my office space soon after.
PW: How does your business take the stress out of planning a party?
SS: My collaboration and planning process allows me to meet the needs of my clients and provide the event of their dreams, with no stress or work! The only thing my clients has to do is show up!
First, we have a consultation (which is free of charge). My clients tell me everything they envision for their event. I want to know what they want to experience as well as what they want their guests to experience.
Keeping my clients budget in mind, I create a design plan for the event and we meet again. I tweak my design plan based on their ideas and input at this second meeting.
The third meeting is to finalize party plans. After we have made all the decisions, I move forward and start ordering materials and creating all the thing needed for the event, like the table pieces. My clients and I stay in contact during this process (more frequently in the last two weeks before the event) in a way that keeps them informed but not overwhelmed.
PW: What do you think is key to planning a successful event?
SS: Thinking about the small details and incorporating unique elements. Many people think picking a color scheme and making centerpieces are the key to a party. The truth is, it's little things like styling your venue's restrooms to match your event and providing hygiene products for your guests. Including activities to entertain guests of all ages or adding touches like a masseuse or balloon twister.…these are the details that add up to create an amazing event. My job is to make your event an experience that you and your guests will remember for years to come.
PW: What are some of your favorite past events?
SS: I recently planned a wedding that was Marvel Comic combined with winter wonderland. It was so fun for me because they let me have full creative control as long as I stayed within their theme. I was able to provide a stress free, unique wedding that will be memorable for them as well as all their guests!
PW: Where do you get some of your ideas and inspiration?
SS: Before I start an event or project I pray for inspiration to come to me and to allow me to help my clients have their dream event, whatever that dream may be. I draw on the inspiration that comes from my clients and their excitement and ideas. With my expertise and experience, I can then take their ideas and create the perfect event for them. Pinterest can be both a blessing and a curse for my clients and I!
PW: What is a dream event or theme you'd love to have the opportunity to plan?
SS: I love Christmas, so much that I celebrate 100 days of Christmas. I go crazy all out for it! I would love to plan a huge Christmas Gala!
PW: Where do you hope to see your business in the next five years?
SS: I want to see my business grow to the point where I can have a larger staff, and offer mentoring opportunities to others in our area that would like to be party planners. I know I can offer something unique not only to the community and its people but, to other small businesses in the area. That's another part I enjoy about my job. Sabrina Spears Events not only provides an income for my family and I but, for the venues we use and all the other small businesses that I work with (photographers, caterers, custom clothing and gifts etc.) to create these events.
PW: Any last Prairie Wife words of wisdom?
SS: Life is about growth and prosperity, it's never about staying and being the same. Change is necessary for growth and there can never be growth without change…If the caterpillar feared the cocoon more than it's desire to evolve, we wouldn't have butterflies.
Everything you've ever wanted is one step outside your comfort zone!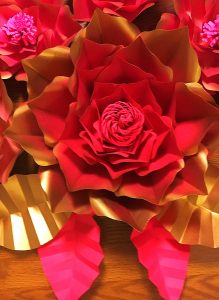 Take a moment to enter to win one of Sabrina Spears Events' custom created paper flower centerpieces! You can pick custom colors to match your home décor or to accentuate an event you have coming up. All you HAVE to do is tell us a dream event you'd like to plan or attend. You can earn more points towards the giveaway by following us on social media.
Feel free to contact Sabrina Spears Events through their FaceBook page or call her at 307-315-8744
Categories: Prairie Wife of the Week
Tags: , birthday, event planning, Giveaway, inspiration, party planning, Prairie Wife of the Week, sabrina spears, wedding