Prairie Wife of the Week 2015 February Flashback Grandma Catherine
Posted February 13, 2015 by Prairie Wife - 2 comments
Prairie Wife: One of our most popular Prairie Wives has been my Maternal Grandmother, Grandma Bea. As I prepared to do this month's posts it occurred to me what an amazing archive this blog will be for the Cowkids. The little stories about their childhood and family members will be wonderful to read when they are older, and almost as fun to look at as a photo album! I approached Pa and asked him if he would write about his mother so that the Cowkids could have a record of her life as well. Thankfully he was more than happy to take time out of his schedule and share with me her history and some stories from his childhood. I am so pleased that he was willing to do this for us, in reading this I learned several things that I didn't know about her…and I understand more how this city girl wound up out here living so happily with The Cowboy. Take a minute to read this amazing tribute to what was perhaps the first true Prairie Wife in our family.
Pa: My Mom was a first generation American, born and raised on the Minnesota prairie. As a young girl she wasn't particularly domestic, and much preferred helping my grandfather at his blacksmith's forge to helping with housework. She was an excellent student, and when she finished eighth grade she wanted to go on to high school. Her father (my Grandpa) was old country in many of his views. He wasn't about to waste money on higher education for a girl! He finally relented, but only if my mom went to a Catholic high school and could manage to pay for it herself. Foolishly he figured that would put an end to her desire to continue school.
Grandpa greatly underestimated my mom! At 13, during the Great Depression, she left home and went twenty miles away to the closest town with a Catholic high school. She found a job as a live-in housekeeper and worked her way through high school. At noon she would run from her school to the house, get lunch made for her employer, and then run to get back to school in time for classes. She went on to put herself through teacher's college. Her true ambition was to become a nurse but grandpa wouldn't stand for it.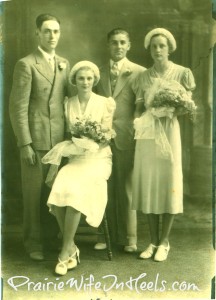 At nineteen, after teaching in a one room schoolhouse for a year, Mom married Dad (they are on the left in the picture). They had nine children – three of them delivered at home. After my sister was born breech, my Mom decided the hospital was the best place to have the rest! They bought a farm on the Minnesota prairie, and besides us kids they raised dairy cattle, pigs, chickens, ducks, and geese. That farm raised a lot of food, and Mom was a great cook. "Store-bought" anything was rare – I can still smell the way the bread came out of the oven. The garden was huge, and grew all of our vegetables and potatoes. Mom always made room for flowers, too – life had to have beauty in it.
Mom did not have a great singing voice (something I inherited). By her own admission she "couldn't carry a tune in a bushel basket". That didn't stop her, though. She would go around doing housework and cooking, singing or humming constantly. I've sung some of those same songs to put the Cowkids to sleep.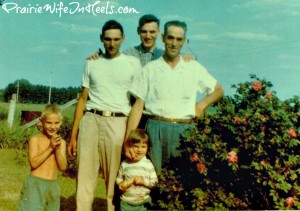 My Dad passed away from Leukemia when Mom was pregnant with baby number nine. Dad died on Saturday, he was buried on Monday, and my sister was born on Wednesday. That left Mom with eight of us still at home. Three of the nine were out of high school, and the rest ranged from high school senior to infant. Mom raised the rest of us alone, kept the farm out of foreclosure, and put all of us through Catholic grade school and high school. Education was very important to both Mom and Dad, and they had decided that no matter what all of us would finish high school.
After my Dad died Mom worked as a nurse's aide. With the encouragement of the hospital staff she went back to school in her late 40's and became a practical nurse. A few years later, in her 50's, she went back to school again and became a registered nurse. She was top of her class, and was so good that she gave classes to the doctors in reading electrocardiograms. She was also pretty tough – she was the one they called on to control the drunks when they went into the DT's.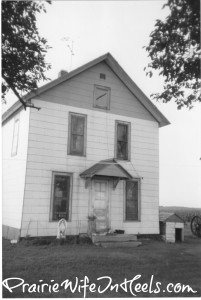 I learned about making do and making the best of things from Mom. One thing that really stays in my mind is watching her repaint the kitchen floor. The floor was linoleum, and the color wore off before the linoleum wore through. Instead of buying new flooring, she'd paint over the entire floor with brown paint. Then, to add a bit of color, she'd use vegetable brushes and put three colored paint splotches over the entire kitchen. She'd get several more years out of the linoleum, repaint it, and get a few more before it finally wore through!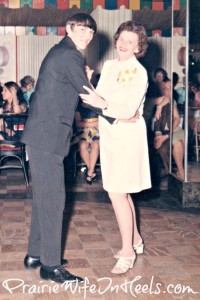 Shortly after becoming a registered nurse Mom pulled up stakes and moved with my youngest sister to the far west – she said she'd always wanted to live where she could see mountains. She ended up living on Puget Sound within sight of Mount Rainier. She worked as a nurse in an intensive care unit into her 70's. The hospital didn't want her to quit, but she decided that technology was changing and she wasn't sure she could keep up the same level of care for her patients. After her retirement, she took painting and language classes, volunteered for local charities, and traveled. She drove her own camper into her late eighties, including a trip clear down the west coast and back.
Religion was important to both Mom and Dad. It was rare to miss Sunday Mass, even when crops had to come in from the field. Their daily example truly showed faith in action. Mom maintained her strong faith life through all of her difficulties. She was always active in her parish. She maintained that God answers every prayer – just not always the way we want Him to. I can't recall her ever complaining about her burdens, and I don't think she ever doubted God would take her through them.
Her life of service to others continued to the end, when she went to her reward at age 94. Her last act was to donate her remains to the Mayo Clinic so she could help educate others in the medical field.
Mom definitely lived up to the Prairie Wife ideal: Love and loyalty to family and friends, determination to follow your dreams, and grace for sure. And grit – she had it in spades!
Categories: Prairie Wife of the Week
Tags: , depression era, family, family lore, February Flashback, Grandma Catherine, Prairie Wife, Prairie Wife of the Week