ModCloth.com Layered Looks for Fall 2014
Posted October 18, 2014 by Prairie Wife - 13 comments
When ModCloth.com approached us and asked PrairieWifeInHeels.com to put together a look for fall to share with our readers I was super excited. After all, here in Wyoming I've had my boots and sweaters out for weeks (it's already snowed twice)! I was especially pleased because ModCloth.com is a site that I've used for years, so working with them fit perfectly with our Prairie Wife Guarantee. ModCloth.com offers "Fashion for Everyone" which to me means quality pieces at affordable prices in a variety of sizes that work for women of all ages. As most of you readers know I am currently pregnant with CowBaby5. So, I picked pieces that will work with my current size and comfort needs, yet still look great after I've had the baby. With the constant changes in temperature layering in Fall is a must so, I chose several pieces that can all work together. I came up with over 8 outfit combos using these ModCloth.com peices, and I'll touch on a few of them. Stop by ModCloth.com to see their whole collection of fall sweaters and cardigans, you won't leave empty handed!
Fall Look: Casual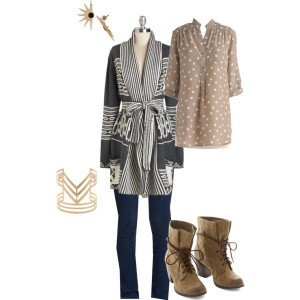 This Fall a huge trend is mixing prints, but it's one that can be a little intimidating. For this look I took two subdued prints (the Western Print Grey Sweater and the Polka Dot Tunic) in neutral colors and put them together for a realistic take on this trend. Skinny Jeans and Boots are still going strong this fall but I added a twist with these fab tie boots. At first I was going to do knee high boots but, these boots add a little bit of feminine uniqueness to the look. The sturdy heel adds height but will still be safe for this preggo mama to wear in the icy parking lots! The jewelry (The Art Deco Earrings and Bohemian Bracelet) gives a nod to the pattern on the sweater but keeps it from being too Southwestern/Cowgirly. I didn't pick a necklace because the two patterns showing at the neck offer enough interest. For those of you in warmer Fall Climates (like my big sis Texas Two Steppin'), simply take off the sweater and tuck in just the front of the blouse (you have to show off the cool button details on the waist of these skinny jeans).
Fall Look: Dressy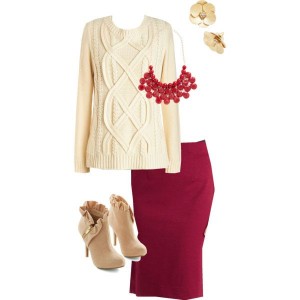 This look is perfect for the office, date night, or Sunday brunch with the in-laws. The Wine Colored Skirt (a hot color for Fall) adds a punch of Fall color, and with it's practical (and on trend) length I don't need to worry about anything showing if I need to bend over and pick up a Cowkid. The cozy Cream Sweater keeps the outfit from being too over the top. I just love the ruffle and zipper detail on these sweet (and a little sexy) booties! The Red Bib Necklace adds a bit of color near your face and the Feminine Earrings add a subtle bit of sparkle. For our warmer climate readers just take the Polka Dot Tunic (from the casual outfit) and tuck it into the Wine Colored Skirt. The rich color of the skirt and the Close Toed Booties will give you that Fall look you crave but, you won't get too hot!
Mix and Match for More Outfits
Add the Jewelry and Cream Sweater from the Dressy Look to the Skinny Jeans and Tie Boots from the Casual Look and your ready to cozy up with your Sweetie and some Hot Cocoa in front of the fire.
Take the Booties, Cream Sweater and Jewelry from the Dressy Look and pair them with the Skinny Jeans from our Casual Look. Add a Leather Jacket, curl your hair and put on an extra layer of mascara and you're ready for date night!
Switch out the Polka Dot Tunic for a fun Vintage T-shirt and keep the rest of the Casual Look for a practical but cool errand day outfit.
If you love the hipster vibe simply put the Tie Boots and Jewelry from the Casual Look with the Wine Skirt and Cream Sweater from the Dressy Look. Add some thick tights, dark rimmed glasses, and throw your hair up in a perfectly unkempt bun!
I can't wait to hear what you think of these looks! If you love what you see let me know in the comments, or share how you would wear these Fall clothes from ModCloth.com. Don't forget to Pin this look, and stop by my Prairie Wife Style Board on Pinterest to see more of my outfit picks from ModCloth.com! They had so many cute sweaters and boots I just couldn't stop 😉
Categories: Fashion, Prairie Wife Style
Tags: , Fall Fashion, Fall Fashion Inspiration, Fall Looks, Fashion for moms, Layered Looks, maternity fashion, ModCloth.com, Outfit Ideas