Love, Torture, and Happily Ever After: A Hallmark After Dark Movie (Part 2)
Posted November 20, 2017 by Prairie Wife - 1 comment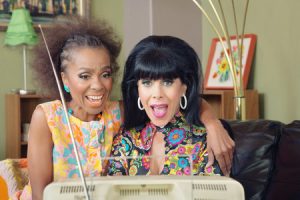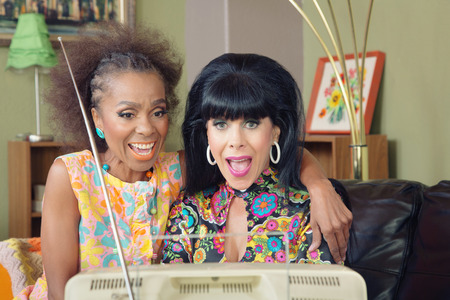 Instead of a regular blog post telling you all about our girls' trip to Arizona, I invented the idea of a Hallmark After Dark Movie. Our trip wasn't gritty enough for Lifetime but some parts you won't want the kids to know about….I hope you enjoy!
Tiffany rolled over and glanced at the clock, and had to do a double take…
It read 9:00! The mom of five luxuriously stretched and tried to think of the last time that she had slept so late, and came up empty. She padded across the room and slipped on a sweater as she turned the TV to her favorite channel…HGTV. She sent a quick text to her husband letting him know she was indeed alive and well and snuggled under the blankets for a few hours of House Hunter and Property Brothers bliss.
Back in her room, Natasha tried hard to take some deep breaths and relax. A flurry of personal and work texts had kept her from dozing back to sleep and she focused on the fact that she would soon be at the pool and able to justify turning the ringer off. In the bed next to her, Sarah stirred and began to wake up. The two girls chit chatted about this and that and played around on their phones.
As if by some sort of psychic sense the girls gathered in the kitchen at the same time.
"I need to eat!" Natasha exclaimed, grabbing her stomach and grimacing.
"You know me, I'm never one to turn down a chance to have a meal." Tiffany winked and headed into her bedroom to lather on some sunscreen and throw on her suit.
Sarah sleepily smiled and chatted with Natasha about her sick son while she gathered up her bag full of items for the pool.
The girls walked through the resort, gossiping about their plans for the day (pool, sun, more sun, dinner, drinks and dancing) and found the restaurant. It was in truth a small coffee shop/mini store that also served a few plated items rather than a full restaurant. The girls were a bit taken aback at first, but they soon agreed that a light breakfast was all they really needed!
They ate their food on the patio and enjoyed the quiet (it was obviously off season for this resort) and sun while chatting about their plans for the evening. As they finished their meal and headed to the pool they agreed that a lazy day dozing in the sun was just what the doctor ordered. They could wander back to their room when the sun started to go down and prepare for a dinner at a local hotspot Culinary Dropout…and then see where the night took them.
Natasha tilted her head back and gave a throaty laugh, "As long as we get some drinking and dancing in I'll consider the evening a success."
"My friend said that the W is the best place for that so let's start there after dinner!" Sarah was always prepared, even in High School she was the one who kept the girls on track. She pulled out her phone and looked up the menu for the Culinary Dropout. "This is going to be great, I am so excited for this weekend!"
"My main concern is what the heck am I going to wear tonight! Please promise me you will help me pick? I don't want to stick out like a sore thumb." While Tiffany loved fashion and was seen as a bit of a risk taker back home, she knew that Wyoming was not exactly a hotspot for trends and style. She had packed her "Vegas clothes" that she wore when playing her trophy wife role with her husband. She wanted to fit in, but knew that she wasn't quite as daring as her hottie friends!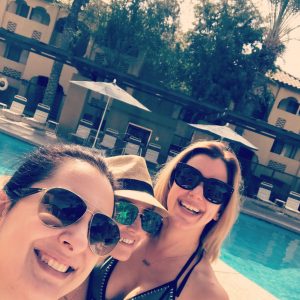 "Honey you're going to be fine, trust me!" Sarah looked up and down at Tiffany as she made herself comfortable on the lounge chair. Her bikini clad body didn't leave much to the imagination.
"Oh hush Tiffany, you don't even look like you've had one kid not to mention five!" Natasha giggled as Sarah lightly smacked her bottom.
"Look who's talking sexy lady!" Sarah said as she rolled her eyes. Natasha laughed as she suggestively wiggled her bum and winked at Sarah.
"I can't take my eyes of your boobies in that suit, I mean holy cow Sarah you're going to give those guys a heart attack."  Tiffany gestured to the decidedly geriatric crowd that was in the hot tub.
The girls giggled like they were in High School and caught up on the last four months. You name a topic…they covered it. From struggles in relationships…boyfriends, husbands, ex husbands, and family members…to work, fashion, health and of course beauty products they couldn't live without.
There is a special kind of heaven that comes from being with women that get you.
Friendships where you don't need to explain your motivation and justify your actions.
Women that won't judge you for admitting that you don't feel a bit guilty for running away for a weekend and who can giggle over the article about "the best sex moves of 2017"  one moment and then have a serious political discussion the next.
When the sun became too hot they dipped their feet into the pool and reapplied sunscreen. The hours slipped by and as the afternoon wore on the girls laid back in a happy silence, and listened to Natasha's hot Miami dance hall music on her speaker.
"Alright girls, it's time to head back and relax in our room." Sarah glanced at her phone and sat up. They chit chatted and gathered up their items and strolled back to their suite. Before they walked inside they simultaneously tilted their heads up to the sun filled sky, enjoying the view of palm trees overhead. They picked a time to leave (7:30) and split up to go relax in their rooms.
Tiffany flipped on her beloved HGTV and snuggled under the blankets to let a few brain cells die a happy death. Natasha and Sarah both mindlessly played with their phones as they relaxed in bed and eventually both of them nodded off for a nap.
******************************
"OK, jump around again and let me see." Tiffany stood back and gazed at Sarah's chest as she wiggled, danced and twirled. "Yup, it's all staying in, you're good to go hot stuff!" Sarah giggled and gave one more shimmy as she left the room and headed back to finish her makeup. After a few minutes Tiffany approached the other bedroom and stuck her head in.
"What do you think, straight or curly hair with this outfit?" She popped out her hip and struck a pose.
"Straight!" Sarah and Natasha said at the same time. Tiffany laughed and hustled back to her room to take care of her hair. The girls padded around barefoot and helped each other add finishing touches to their makeup and hair.
"OK, your eyes look phenomenal!" Tiffany squealed to Sarah.
"Natasha gave me a smoky eye, I think I need to learn how to do it now!" Sarah winked and sashayed in her sexy pantsuit to the door. "Now let's hit the road. Our Uber will be here in three minutes." The girls all grabbed a few last minute items and headed out for a night of fun. They giggled and complimented each other on the way down to the front desk, and were laughing at some off color comment when they loaded in to the Uber.
They chatted politely with the driver, and the always on the ball Sarah, ensured that both the Culinary Dropout and the W were good choices for a fun evening out on the town.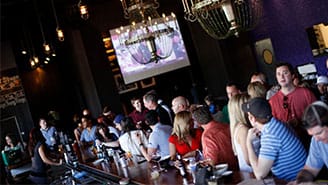 The girls sauntered and sashayed into the restaurant, between their outfits and confident attitude, more than a few heads turned their way. They put their name on the list and settled in by the bar for their hour wait. They chitchatted and sipped cocktails while gently dancing along with the live music. As the hour wore on, they couldn't help but get a little rowdy with the heady combination of freedom and alcohol on an empty stomach.
When the all male band played a rousing rendition of "Genie in a Bottle" They bumped hips and waved their hands in the air while singing along.
Somehow this conveyed a "come over here and talk to us" vibe to the creepy gentleman that had been eyeing Natasha for the last hour.
"Hey, do you know you have an infectious smile." He said to Tiffany while leering at Natasha's breasts.
Tiffany rolled her eyes and said "Thanks!" While grabbing Natasha and moving her out of his line of sight. Sarah and Tiffany then promptly moved into the "circle the wagons" position where you stand back out and protect your friend reciveing the unwanted attention. The creeper eventually got the hint but it took an uncomfortably long amount of time.
When the hostess called their name all three of them cheered and almost ran her over as they stampeded to their table. A quick look at the menu resulted in an agonizing discussion over what to eat! In the real world it was actually bedtime, and dinner should have been served three hours before. To the starving ladies, every single item on the menu seemed perfect.
When the waitress arrived, they quickly ordered more drinks and food, and prayed that the restaurant Gods were smiling upon them and would deliver their food sooner rather than later.
Tiffany glanced around and quietly gestured behind her.
"Look at those girls, who wants to bet they are going to have a story to tell by the end of the night?" The women sneakily looked behind them and rolled their eyes as they discussed the fact that the two girls were A. Alarmingly drunk B. Dressed in less than flattering ways (one in a too tight slightly dingy white jersey dress and the other wearing faded high waisted black shorts with a crop top) C. Not sitting with their legs crossed D. Debated whether to be worried for them and finally E. Fondly recalled their own youthful days of indiscretion.
When their meal was served Tiffany couldn't help but notice the three gentleman a few feet away that were occasionally glancing their way. She knew the light in the bar was forgiving, but it would still be obvious to anyone that they were in their 30's. The men themselves seemed to be closer to (if not squarely in) their 40's, but were well dressed and seemed to be harmless enough.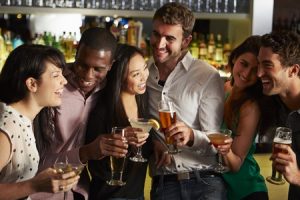 Natasha and Sarah made whispered bets on how long before they made their way over and Sarah was the winner. She claimed they would be gentlemen and wait until they finished their entrees. Like a moth to flame, as soon as the waitress whisked away the last plate, the men surrounded them and introductions were made.
"I'm Tiffany, happily married mom of five." Tiffany believed in honesty above all and didn't want anyone to think she was leading them on. The men were a bit taken aback but when Sarah and Natasha introduced themselves in the more traditional way (a smile and their name) they got back in their grove. They chatted about work and where they all came from, what brought them to Arizona and the normal bar small talk.
Suddenly, a shadow came over the table. Natasha abruptly moved away as the afore mentioned girl in the faded black high waisted shorts pushed herself next to her and leaned across her chair.
"What. The. Hell." She pointed her finger at one of the men at the table (Roy). The women glanced at each other and scooted back in their seats, as if the few more inches of space between them and the "victim" would somehow save them from whatever happened next.
"You met us at the bar three hours ago, we follow you here and then…" Her voice was getting progressively louder as her finger was getting closer and closer to Roy's face. Roy was simply looking down into his half empty glass, and the only sign of his discomfort was his hand that clutched the edge of the table. "THEN. THEN…I turn around and see you f#%$ers over here chatting up these HOOTCHIES!!!"
Come on back next week for part 3.
Names have been changed and some details have been modified for the protection of the innocent and enjoyment of our readers.
Categories: Life As It Happens, Prairie Life
Tags: , arizona, Fiction, girls trip, hallmark after dark, love, torture and happily every after