Prairie Wife Parenting Challenge: I Let My Family Dress Me for a Week
Posted December 6, 2017 by Prairie Wife - 1 comment
I let my family dress me for a week and I have be honest…this was really hard for me.
I knew that letting my family dress me would for sure result in a few days of fashion faux pas…after all I see how my kids dress themselves! I wasn't too worried about looking a bit silly. As a work from home mom I don't usually have anything to do where people d0n't already know me, and I totally admit to being seen in public unshowered and in sweats. I also admit to strategically planning a bit what days I gave each Cowkid. Until this challenge, I never realized how much of my personal attitude and energy comes from what I wear.
Those of you that follow us on Instagram have already had a sneak peak into my outfits, but let's do a quick recap!
The first day was Cowgirl G (9yr).
It was a church day and I knew I could count on her to pick something that would be appropriate and cute. Cowrgirl G didn't disappoint and it was absolutely adorable how excited she was to do this Prairie Wife Parenting Challenge! She is my mini me, even down to making me try on a few different pairs of shoes after I was dressed before picking one. She choose silver accessories (and the biggest blingiest nose stud I have) which made my skin crawl a bit, I would have chosen gold. For makeup she went for a bright red lip and blue eyeshadow…It seems we do still have a bit of training to do before I set her free into the world lol. Part of the challenge was for the Cowkids to pose me and take the pics, Cowgirl G often helps me with this part of blogging so she was a true pro!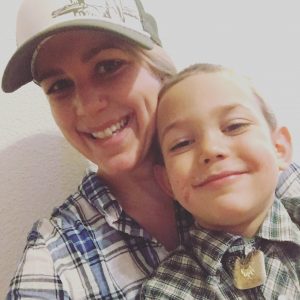 Next up was Cowboy C (4yr).
I had a few errands to run (like going to the vet) so I wasn't too nervous about today's outfit. Knowing Cowboy C, I figured he would go with a Cowgirl look, and I was right! He picked out my pointy cowgirl boots, boot cut jeans, a plaid shirt, and a trucker hat. He also insisted I wear a belt. When he came upstairs from getting dressed himself, I thought it was pretty adorable that we were dressed like twins. He even helped LittleMissH pick out cowgirl clothes too. As you can see from the pic he was pretty proud of his choices and I was relieved at how well this was all going.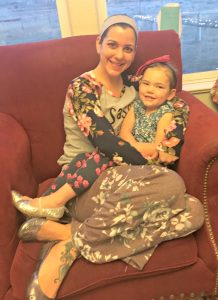 LittleMissH (2yr) was the third Cowkid to participate in the challenge, and I placed her day on a stay at home day.
With her love of princesses and her favorite game of "lets wear all of Mommy's high heels and leave them all around the house for everyone to trip over" I thought for sure I would end up in a dress and heels all day! Instead, LittleMissH picked floral sweat pants and a floral sweatshirt and shiny silver ballet flats. Just like her sister she loved the chance to dress me and even picked out a headband for me to wear! To add to the sweetness she insisted on dressing the same way, right down to the silver shoes and headband! I have to say it made me cringe a bit to wear floral with floral because despite it "matching"…it doesn't really match…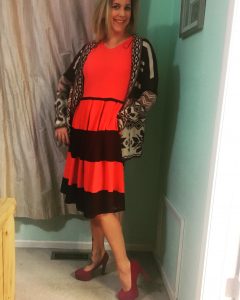 Cowboy W (7yr) was my wildcard!
This kid is all about style. He rocked heels and a crown non-stop the first few years of his life and even now relishes the chance to wear a tie, blazer and sweater vest. He often pairs that combo with a T-shirt so I was more nervous for his pick than the other Cowkids. His day was also normally my day to volunteer in his classroom, but I ended up not needing to go in. Alas, I did have a PTO meeting at my oldest's school. I was sweating bullets after I saw what Cowboy W picked. The meeting was full of people who didn't know me, and in my words, I was going to have to go into it looking like a walking acid trip. I texted TallGirlJ (who was also attending) and made her promise to sit next to me. Her face in this LIVE Facebook video says it all…There were more than a few looks and the folks I knew came up to me laughing and asking "Who dressed you today?" It was embarrassing and I did not feel like my usual outspoken confident self. I tried to hide it the best I could, but I have to admit it hurt my pride a bit to "rock" this look. Note: I never acted less than thrilled to Cowboy W and he too loved picking out clothes and put a lot of thought into choosing pink suede hooker heels, an orange dress, and Aztec print sweater!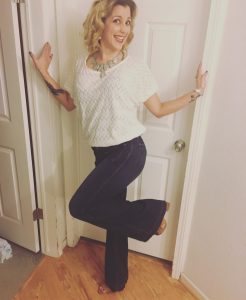 The Cowboy (38yr) is obviously not one of my kids, but I wanted him to participate in this Prairie Wife Parenting Challenge too!
Friday night was our monthly date night and I was very interested to see what The Cowboy would pick. I know he gets sick of always seeing me in sweats when he comes home each evening, but I also know he prefers me in jeans and a baseball hat to the dressing up. I've always felt that this was more of a time issue than what he likes to see me wearing…this was my test. He walked into the closet, and after a few minutes of staring at clothes, he came out and pleaded with me to let him off the hook. Nope, too bad buddy! In the end he picked a lace top and a pair of wide leg jeans. Like a true man of the 70's he asked me to do "Farrah Fawcett hair and red lips." He even managed to pick heeled shoes that looked great with the jeans (though I wouldn't have done open toed in December). Like his daughter, he picked Silver jewelry when I would have done Gold…obv I have issues. Overall, I was super impressed with how well he did, and we went on to have a wonderful evening!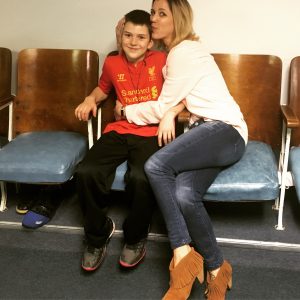 Last, but not least, Cowboy J (11yr)!
Cowboy J loves to wear athletic wear 24/7 so I was sure that's what he would pick for me. His day was Saturday and while most of the day was spent at home we had a bowling birthday party to attend that evening…which would be fine to wear leggings and a hoodie to! When I announced it was his turn he rolled his eyes randomly reached in and picked out a top, jeans and shoes. He shrugged and handed them to me with a smirk. I was not surprised that he was totally not into this challenge yet grateful that by shear luck he picked a cute look. I made him pay the price by taking a picture with me snuggling him. See how much he loves his mommy?!
So, this is what I learned…
Clothes help determine my mood.
Even though for the most part my family did an amazing job, I walked around every day this last week feeling a bit off, a bit uncomfortable wearing clothes I didn't pick out. Which is weird because they were still all MY clothes!
When I was forced to look less than my best at the PTO meeting, it affected my whole mindset and demeanor. I know that I have certain clothes I always wear that help me feel confident and strong, but this challenge really made me see how dressing for success is more than just a cliché for me. I was SO happy to be able to pick out my clothes this week. Even wearing sweats and a hoodie felt better to me when they were items that matched!
I guess it was good to go outside of the box a bit. It was nice to learn that my littlest kids do still look up to me. Seeing how excited they were to dress the same as me made me think perhaps we should do it a bit more often! I was also happy to see how much Cowgirl G really likes to play around with style and fashion…sometimes I worry I'm forcing my ideas on her. It was a bit sad to see how Cowboy J is growing into a typical male, but hey, at least I know I can still have some fashion fun with Cowboy W 😉 And major props to The Cowboy for his picks, I guess he's more stylish than I thought!
Would you ever let your family dress you?
Categories: Fashion, Life As It Happens, Parenting, Prairie Wife Style
Tags: , children, clothes, family, Fashion, parenting, prairie wife parenting challenge