I've Seen Then End Of You By W. Lee Warren, MD
Posted May 9, 2020 by Prairie Wife -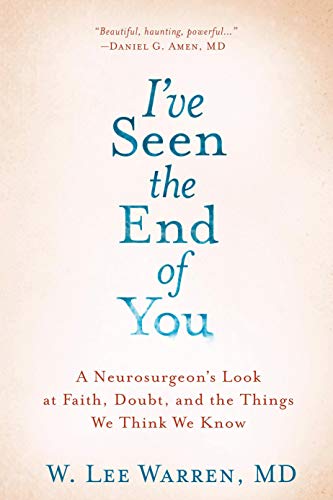 I've Seen the End of You by W. Lee Warren, MD
This book was recommended to me by my friends Sara and Gerise that own a local shop called Blessed Are They. 
While it's not normally the kind of book I go for, they've proven over and over that they know how to pick fabulous inspiring reads.
The full title of this book is "I've Seen the End of You: A Neurosurgeon's Look at Faith, Doubt, and the Things We Think We Know."
I knew that this book was going to deal with death and dying and I admit to being a bit apprehensive as I dove in. When I came up for air hours later I was filled with appreciation for how well this book was written, and its raw honesty. As I read about patients and Dr. Lee Warren's struggles with his faith and confidence in God, I couldn't help but recognize the similar struggle within myself.
So often we find ourselves wondering what the point of prayer is…Is it worth it when God already has set in motion His will?
Dr. Lee Warren tackles this question with eloquence and honesty.
I can't recommend this book enough.
"Faith allows us to see that it's okay to have doubt…It allows us to hold on and even grow into better people during and despite the troubles of this life."
I felt so strongly about this book that I sent a copy to my Father and a close family friend.
I asked them to take a moment to write down a few thoughts about the book for me.
This book is much more than the typical self-help book. Dr. Lee Warren takes us on a journey of courage and hope – his own and his patients. It's gritty and real, not at all the insipid recitation of platitudes I half expected. It is written in an engaging style, full of people you come to care for and faith you come to respect. -Tom Jenkins
This is a fascinating book about a Scientist's raw faith and his Spiritual Gifts of wisdom, knowledge, and fortitude (Isaiah 11).  It is a book about hope when the evidence suggests hopelessness.  Besides being a really good read, this book is a message to all believers to put faith above all things and that living your faith provides strength to face devastating loss and the courage to grieve.  I thought the first several paragraphs of chapter 3 to be a view into a Christian mind and soul.  As the doctor prepares for surgery, he prayerfully acknowledges the sacred and holy place he is about to enter.  Through prayer, he gives his hands to God. Wow. A powerful message for daily living. -Vince Mockensturm
Dr. Lee Warren has a podcast that you can listen to here.
Learn more about his books, read blog posts, and contact him through his website wleewarrenmd.com
Local readers have an opportunity to attend a book signing on May 30th and hear Dr. Warren speak a bit about his experiences. 
Follow this link to learn more about the event!
Need some more suggestions for books to read?
Categories: Book Reviews, Reviews
Tags: , books on faith, Dr. Lee Warren, faith, i've seen the end of you, neurosurgeon, non fiction books, power of prayer, self help