In The 45 Plus Crowd? Here's How To Do Your Makeup
Posted May 8, 2020 by Guest Poster -
Hey PrairieWifeInHeels.com readers!
Kori from Kor&Co here, your local makeup expert.
As a professional makeup artist, I work with women of all ages, from teenagers to women well into their 70's.
It's my job to create a makeup look that flatters my client and helps her to feel the best version of herself.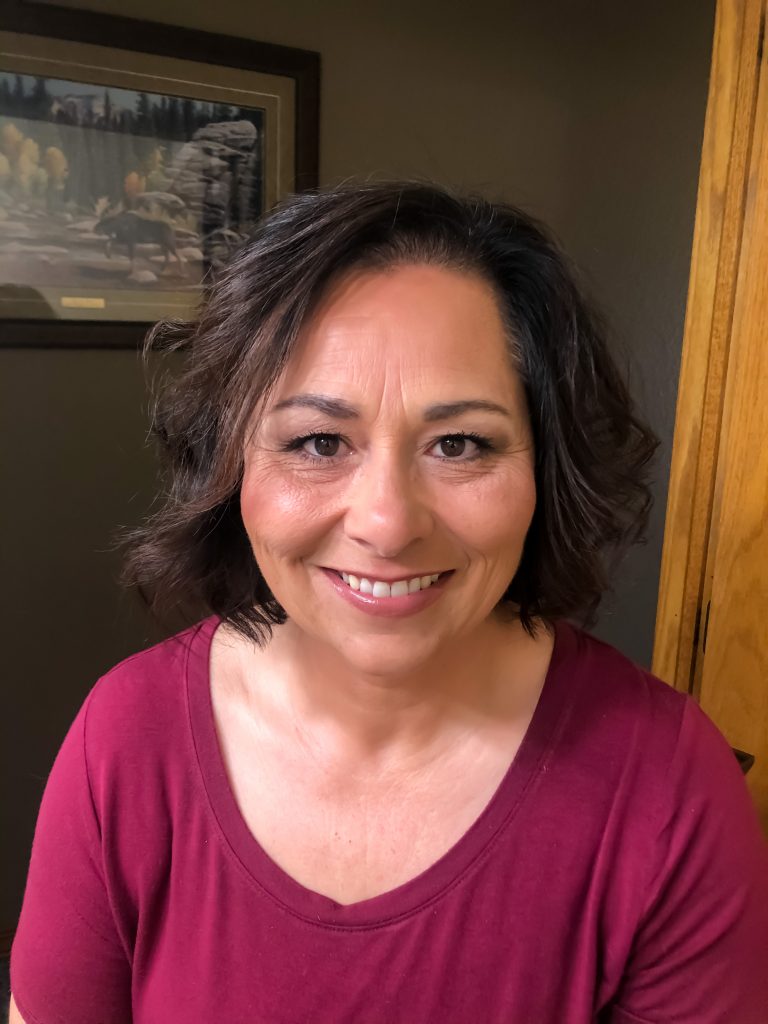 I thought I would share with those of you that are in the 45 plus crowd some tips and tricks to look your best when applying makeup.
Our skin matures for many reasons, one of those reasons is the loss of the fatty layer between skin and muscle. You'd thinking losing fat would be a good thing, but not when it's from here.
At around age 20, our bodies produce 1% less collagen each year.
By the time we near menopause our bodies stop creating collagen almost completely. 
We SHOULD start using anti-aging skincare in our twenties; and it's never to late to protect our skin from harmful effects of sun exposure, pollution, poor nutrition, smoking, heavy drinking, and wait for it…even our sleep positions can affect how our skin ages!
Here is a look at a LIVE Facebook I did with my mom, and then all the tips are written out below for you.

The skincare and makeup tips below will not only help you look amazing NOW, but keep you looking fabulous in the future.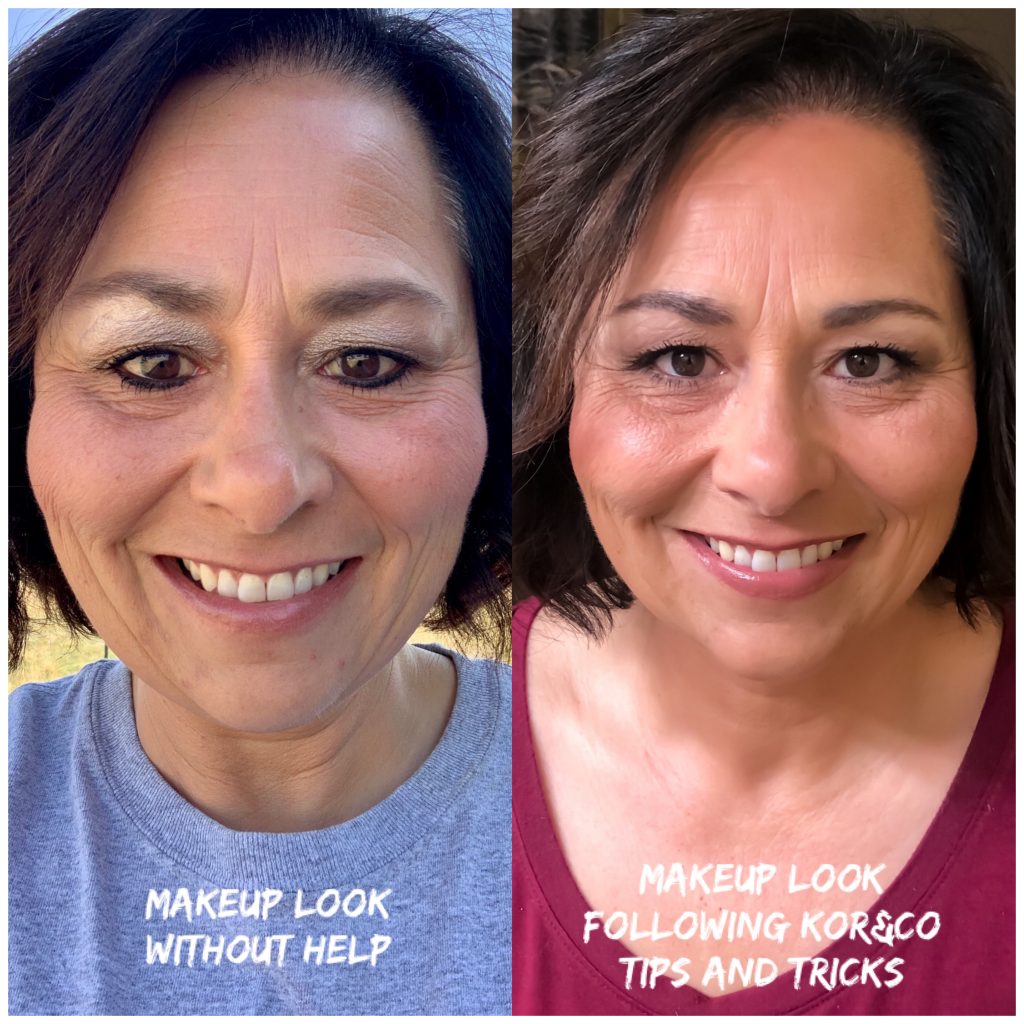 A youthful glow is still attainable, and something you can easily create.
Moisturize every morning and evening.

Use light layers!

Switch your foundation to a BB or CC cream. It will still give you some coverage but is light, and has SPF. 

You can still use your regular foundation but, cut the amount in half and

mix it with a tinted moisturizer or your day cream!
Translucent powder is your friend. This powder is light and will allow you to keep that youthful glow, but still seal in your foundation without overdoing it.

Eyelid primer is a must. It will cut the redness in your eyelid and give you a solid foundation to start applying eyeshadow. 

Concealer is important as well. If you have dark under-eye bags, look for an orange or warm tinted concealer to counteract the blueness. L

ook for this keyword *

creaseless

 

As we get older our brows tend to thin. If you are able to, invest the money and get your brows microbladed. It will be the best money you've ever spent! If this isn't an option,

LIGHTLY fill in your brows with a POWDER and a thin brush and follow your natural shape.

Sparkley eye shadow is now a no, sorry! A very subtle shimmer is ok, but not in darker colors. Stick with flat/matte nudes and browns. Blue eyes can add in some grey and green tones, and brown eyes can add in some plum. 

BLEND!!! You don't want any hard lines or edges. This is not the time for a bold makeup look. Use a designated blending brush for your eyes and make light swirls over your eyeshadow to keep your look subtle and natural.

Contouring. I know, ahhhhhhhh, scary ;). But, it doesn't have to be! Use a powder with minimal to no shimmer and create the #3 shapes on your face starting at your forehead, to right below your cheekbone, to under your chin. Then add a small amount of a peachy pink blush NOT on the apples of your cheeks, but just behind them. This puts color back into your skin, which is something we all need and will give you a gentle your "sunkissed" look!

Tight line your eyes. This means to line the upper lid, right under your lashes. This creates a more open look and makes your eyes pop. 

Mascara is a must! Use an extra volume mascara and use several coats to make them really fly!

Avoid putting dark colors on your bottom lash line. It can make your eyes look like they are sagging. If you put anything on the bottom, use a very subtle shadow with a thin brush on the outer corner of your lash line not too much, and follow up with a very light layer of mascara on the outer corner!

For everyday lip colors stick to pinky nudes and peachy pink colors. LINE THOSE LIPS! Lining your lips prevents your lip color from bleeding into the little nooks and crannies outside of the lip line. Darken the color slightly for date night or events, keep to those deep pinks (not red or brown) and still line your lips in a very similar color.
Here is a fun contouring video I created with Prairie Wife and Tall Girl J.
https://www.facebook.com/Korandcompany/posts/221780442508429?__xts__[0]=68.ARDjZaVcFWrw22apQxXIPc0_d7KzbYu60JTOOY0z0KpDVVgMuef2XKntRliYnG0EJwrLQTUfwXE34fTvoTMOoWJeodavi6CDa0mSNdcvaqnZcenBoaUDzAsgzvhDoMvwNmD67hn0FGKl2ps4EgPpARBuuZYhzhTZ6AHp9qJTlG0dXGzUHWxgrSWossN4oI9IgVOnVf7dCcL5HC4g6qbyTIRbf-H8AsvqeyWCQZzSMcLtyU-3PdBcF8uWC2lYyVBBEWYRHuj05Xh6_h7NOPRtEBncDugvFjUn0OV-fity1S25Wap5AOCjz52gdctH4K5dFDyzT2gF0S5MLjxWNG3LqB6nXFnyhJmMLqf_9kr2J7GQgITtUFSCxmOry5-70P_Xxh6Oc53B00fx5jdhRB0SmpvGMQIDrtyp5S64bcUpkCK_RMLAhc5sMAnSK9u7jhtaYLy-6EDqCP3ULb3D3IM88I-kpvo6as5nMcaluBilHxdJlM1PcVXc9q8l5aGJCguw&__tn__=-R
Categories: Beauty, Prairie Wife Style
Tags: , easy makeup, Makeup, makeup for 45 plus, makeup for older women, makeup how to, makeup tips and tricks, makeup videos