I Really Wanted to Win
Posted June 12, 2019 by Prairie Wife - 4 comments
I can often be heard saying I'm not a competitive person.
Those that know me well roll their eyes when I say that.
I guess I should say instead "when it comes to sports or athletics I'm not competitive, but in all other aspects I like to do my best and will actively work my ass off to ensure to try and exceed everyone's expectations."
Maybe that makes me competitive…or maybe it's just another example of my people pleasing issues.
Earlier this year Doc and I submitted a clip to the Wyoming Association of Broadcasting (WAB) to see if we were good enough be nominated for Best Radio show in Wyoming (large market) at their annual WAB Awards.
I crossed my fingers and anxiously waited to hear back. I felt like if we were nominated, it would prove to everyone that they had made the right call when they hired me…a SAHM of five kids with no idea what she was doing.
When I learned that the clips were actually sent out all across the US to radio experts and professionals for review, I was a hot mess.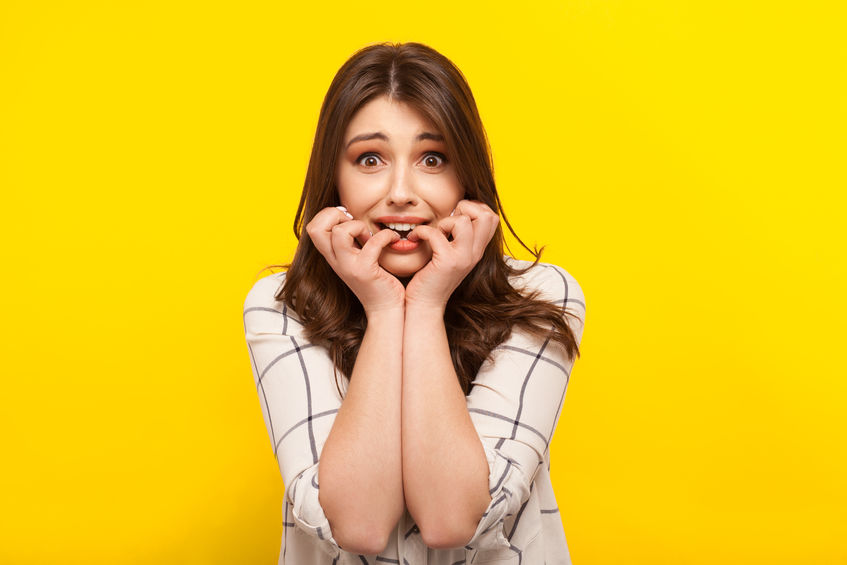 Would they be able to tell I was a newbie?!
Would they get our Wyoming jokes and sense of humor?
We found out in April that we were nominated.
Just being nominated means that you are in first or second place.
Let me tell you, I was ecstatic!
And then immediately I began to do something that Brene Brown talks about often.
I began to tell myself that just being nominated was amazing, that I was perfectly proud and happy if that's all there was. I told myself we were new and that the chances of winning were slim to none. I only told my closest friends and family about the nomination because I didn't want to jinx it. I told myself to not get excited about it because as the new kid on the block I had no reason to expect to win.
Brene says talks about the fear of joy often in her book "The Gifts of Imperfection"
"Our anxiety and fear can manifest as scarcity. We think to ourselves: I'm not going to allow myself to feel joy because it won't last."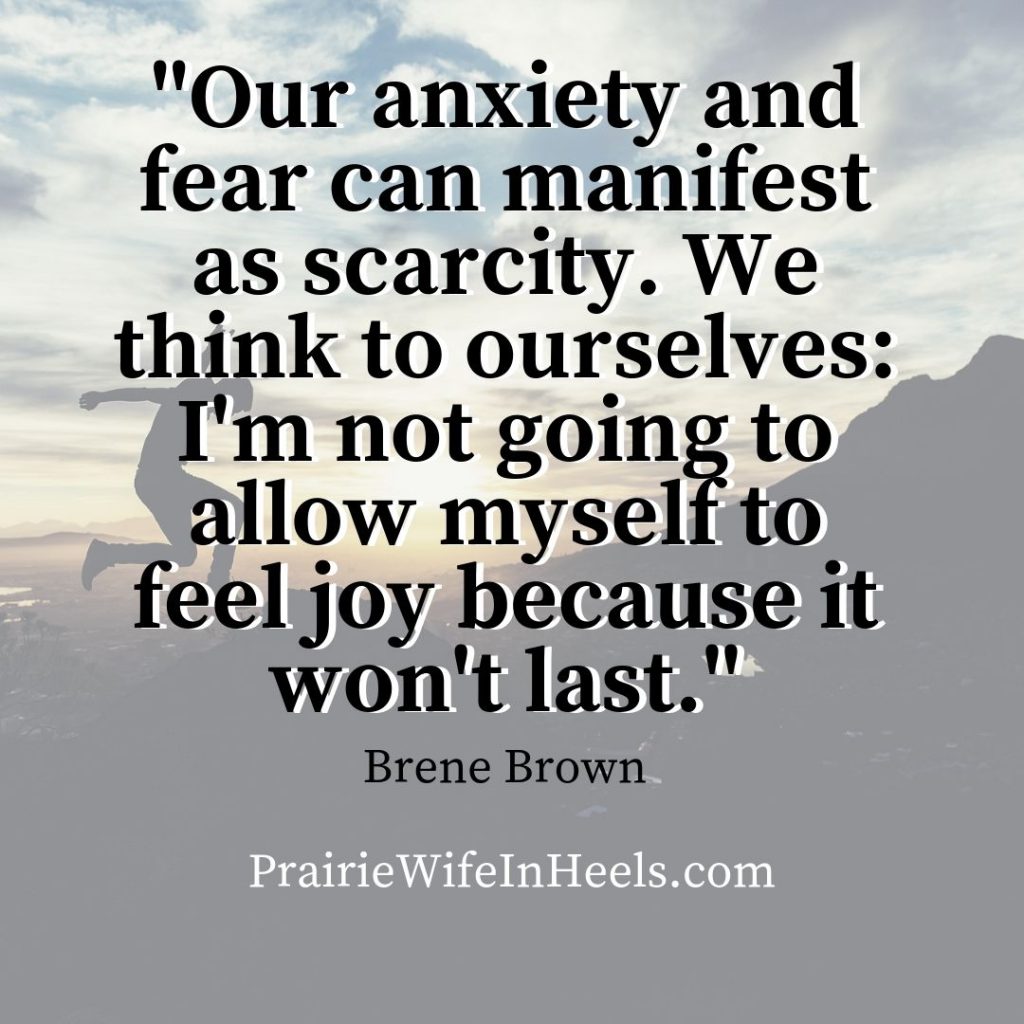 The night before we hit the road for the awards ceremony I read about "foreboding joy" in Brown's book "Daring Greatly" I know it wasn't a coincidence.
To sum it up Brown says that we must allow ourselves to be vulnerable. We need to allow ourselves to experience joy and hope. Even though we know we may be disappointed, or that it will be but a brief moment of time.
It's that whole "better to have loved and lost than never loved at all" concept.
So, I put my emotions out there.
I allowed myself to hope.
I admitted out loud that I would be disappointed if we didn't get first.
Yes, I was still proud to have been nominated.
Yes, being in second would still be a huge achievement.
But, I really wanted to win.
For myself, my family, for Doc, for my bosses, and for the entire team at the radio station.
So, as we waited to hear the final announcment I was a knee wiggling, under the table hand clenching, nervous mess.
You can see by my gasp in the video that it took me a minute to realize when we won.
And then…it was pure joy!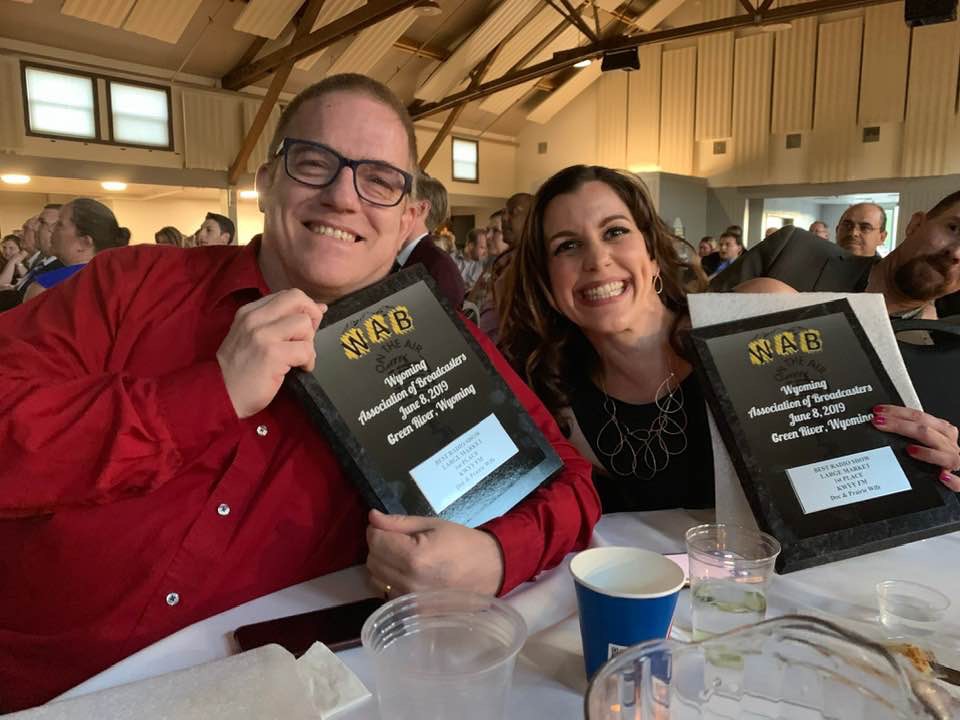 And frankly, I'm still on a big joyful heart high even today…four days later.
Doc and I have worked hard, and our listeners have let us know by their amazing and fun frequent interactions through social media and phone calls (yes can you believe it, people call into our radio show to talk to us) that they are enjoying what we do.
It makes the time away from The Cowkids easier to bear, knowing that we are doing well.
I am honored that our professional peers recognize our talent and the effort we have put into our show.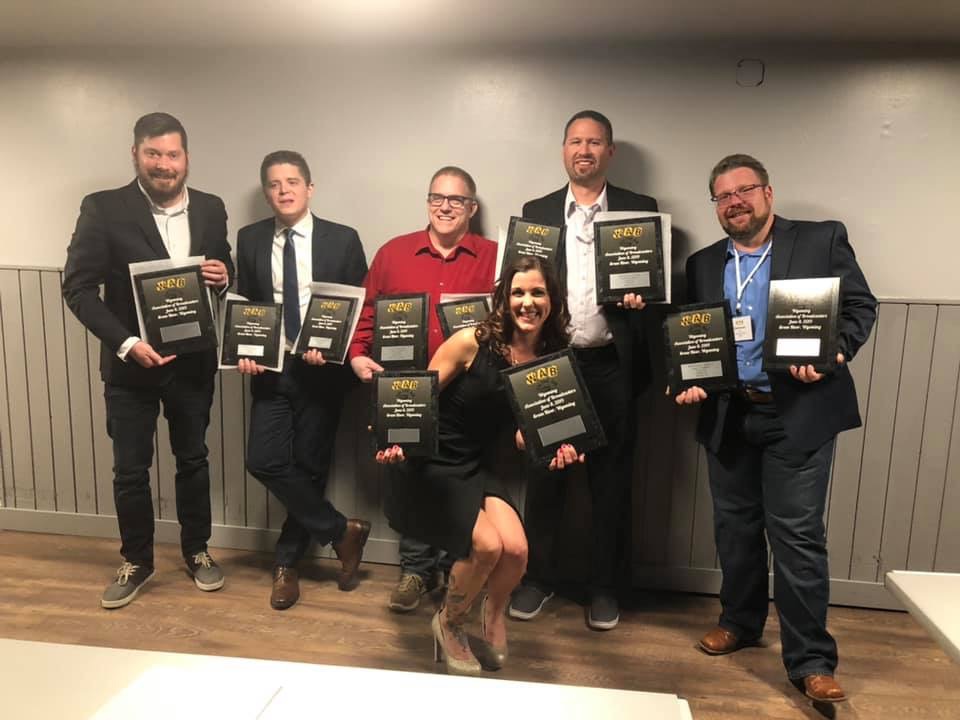 I wanted to win.
I put myself out there to lose.
And you better believe that I'm going to celebrate that we won.
My dad always says "It's not bragging if you can do it."
Thanks to all of you that have stuck with me through all the changes over the last year.
Thank you to all of you that are brand new here and cheering us on.
Thank you to my friends and family that encouraged me to take a chance.
I can't wait to see what happens next!
Categories: Life As It Happens
Tags: