How To Style Flares
Posted April 6, 2021 by Prairie Wife -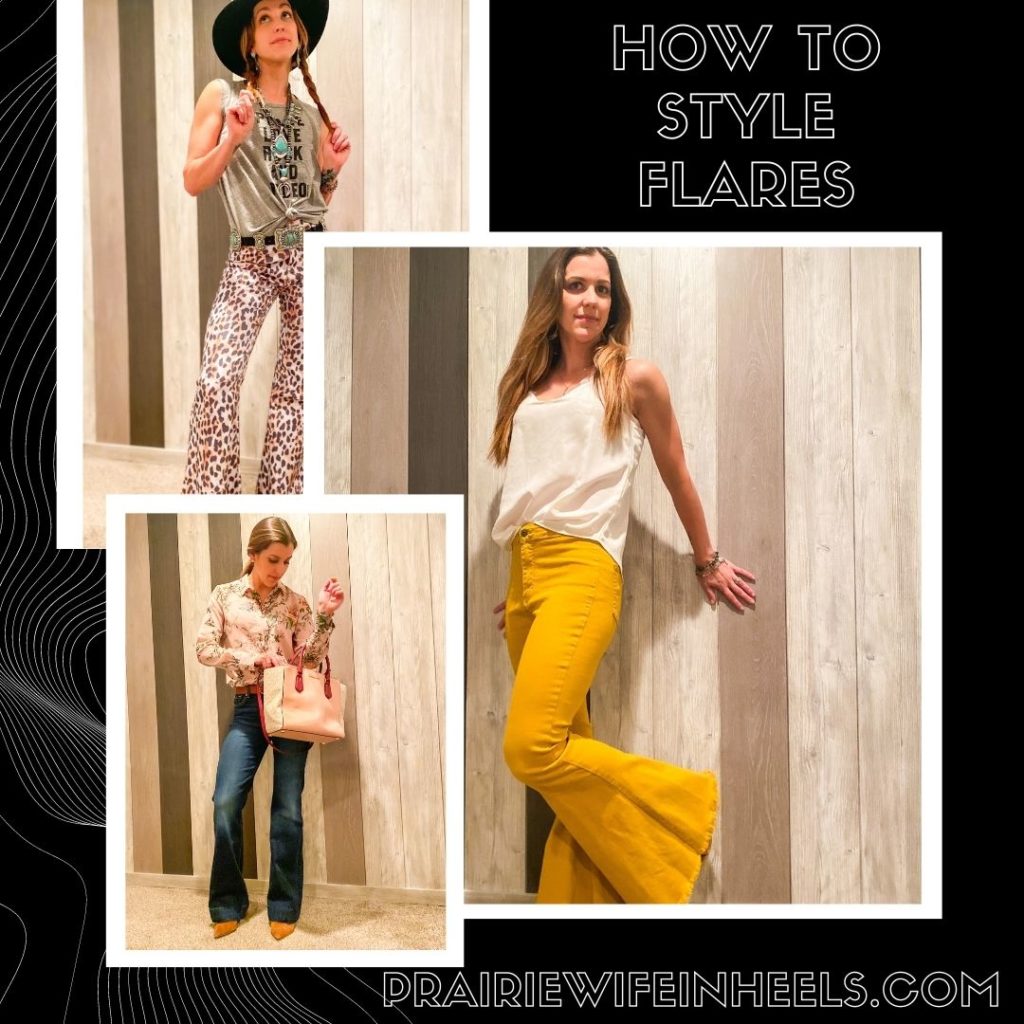 I get it, flares (wide-leg pants/bell bottoms) are a BOLD look.
Flares began to sneak back into fashion a year or so ago, and have suddenly gone full-on TRENDY in the last few months.
I personally have been wearing this style of jeans for well over a decade.
So, I feel totally comfortable rocking every kind of flare out there.
There are a ton of styles available now and a huge variety of ways to wear them.
Many of you have messaged me asking for tips on how to wear flares in a way that's flattering to your body and personal style, so here you go!
First, a few tips for EVERY body type.
Mid to High waisted styles are the best fit for every body type
It's worth the cost to have them tailored to hit the floor
Jean fabric in a dark wash is the most flattering
Wide leg and flare is a good cut to start with
Extreme flare and bellbottom are bigger and bolder
Now let's look at some ways you can style your flares.
As always, I've done my best to link to the clothes I'm wearing, but feel free to ask me for more details in the comments. I've also dropped the Prairie Wife discount codes for the boutiques that we have partnerships with, so you can save yourself some cash when trying this trend.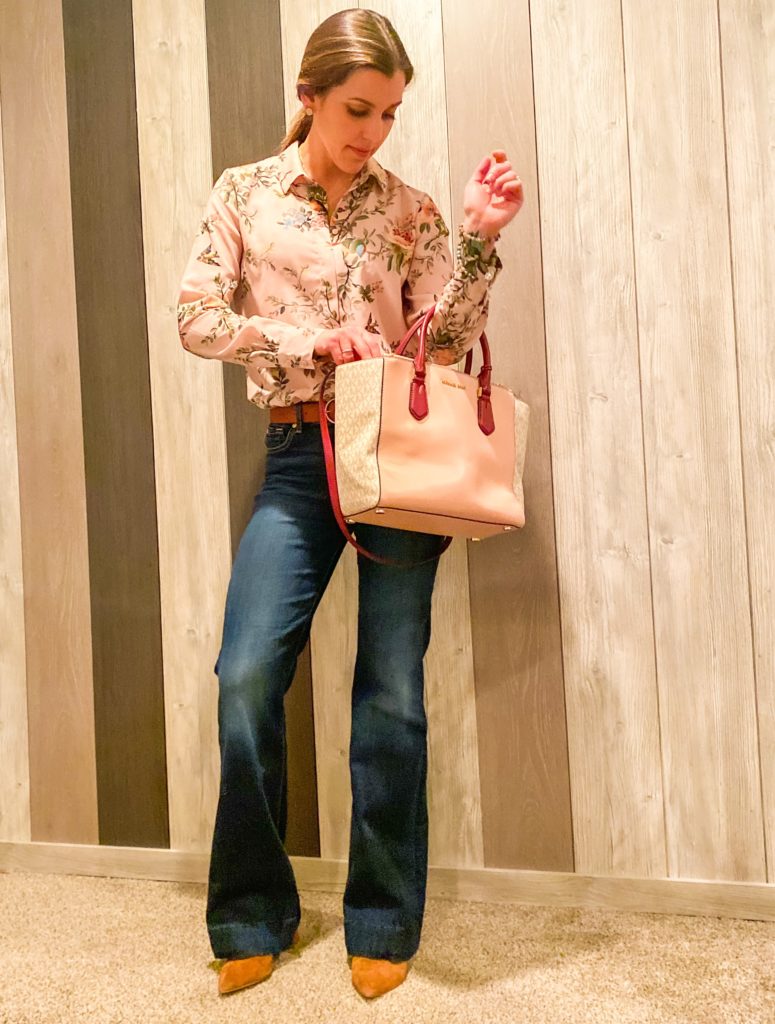 Work
When wearing flares to work keep the look chic and simple. Dark wash jeans with a slight flare and a pointed bootie or heel are a perfect professional combo. Add a belt with a tucked-in blouse (rather than a t-shirt) to keep it dressy. Accessories like a structured bag and simple jewelry also keep this look a bit more office-appropriate.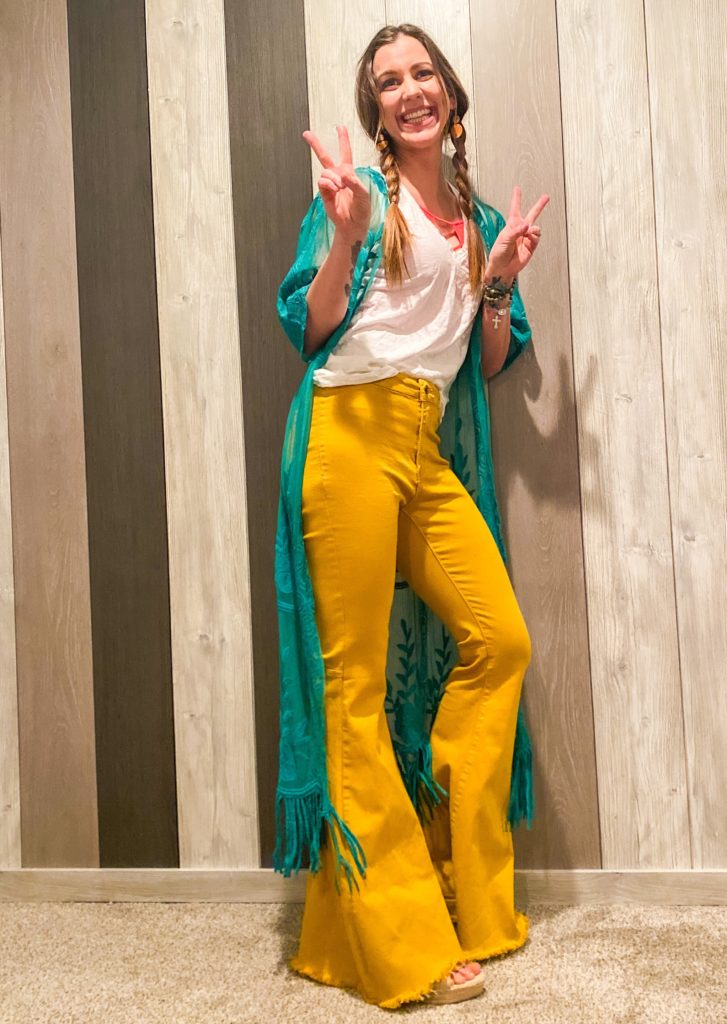 Boho
If you're going for the Boho look I think you need to go all out. This summer festival style is about bold color and FUN! These yellow flares from The Painted Pony (PRAIRIEWIFE15 for 15% off) make me smile every time I wear them, and I paired them with a bright green lace kimono from The Shade Tree (PRAIREIWIFE15 for 15% off). I kept my shirt a plain white t but added a bold orange criss-cross bra from Simply Creative (PRAIRIEWIFE for 20% off) that peeks out from underneath. A platform shoe gives you that hippie vibe and so will some fun dangly earrings.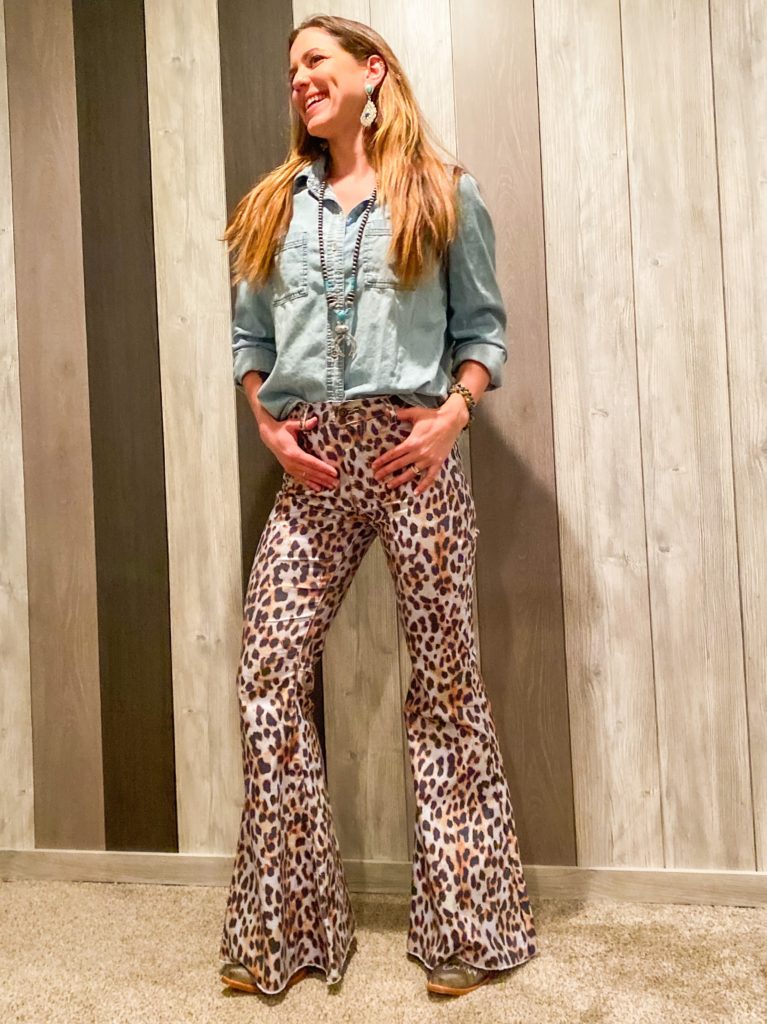 A Little Bit Country
These Leopard flares from The Painted Pony (PRAIRIEWIFE15 for 15% off) are AMAZING! They're made from a stretchy fabric, and any time I wear them I get stopped (in a good way). If you want to tone them down but still look western, pair them with Cowgirl boots, a jean top (PRAIRIEWIFE 20% off), and a bit of turquoise jewelry.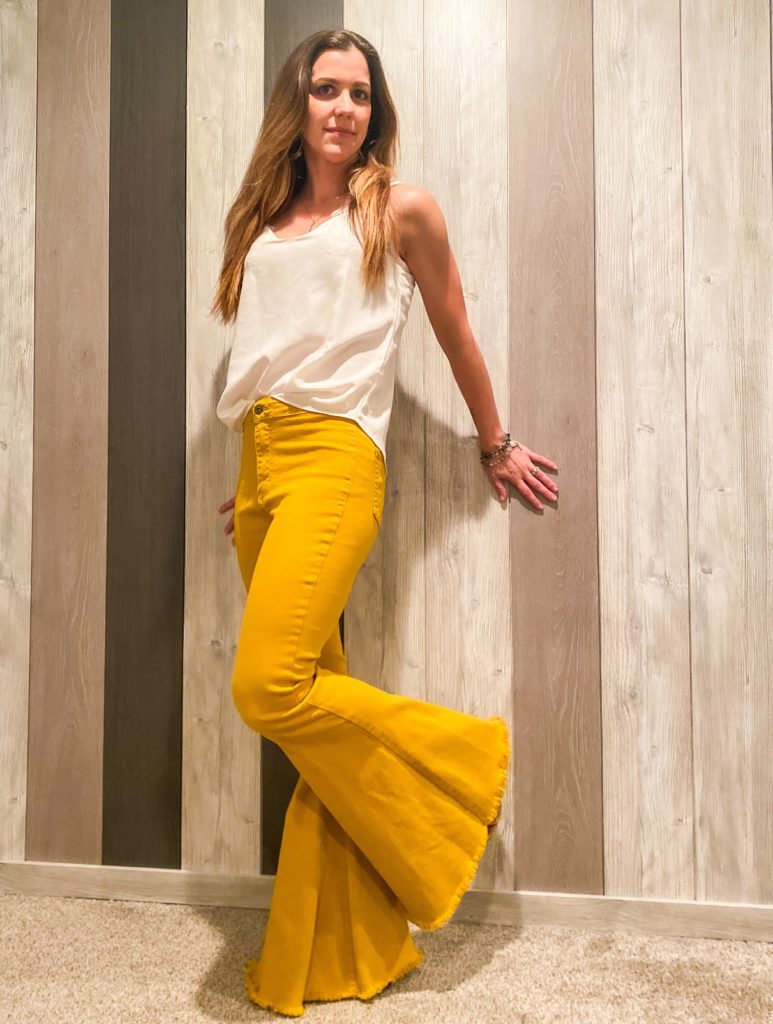 Date Night
Sexy up your flares (PRAIRIEWIFE15 for 15% off) with strappy heels and a silk tank top. A front tuck or slim-cut top is a must to keep the look sleek. I like to use delicate accessories with this style and recommend doing heavier smokey eye makeup and adding a bold lip. I didn't do that for these pictures but trust me..it'll make you look and feel next level!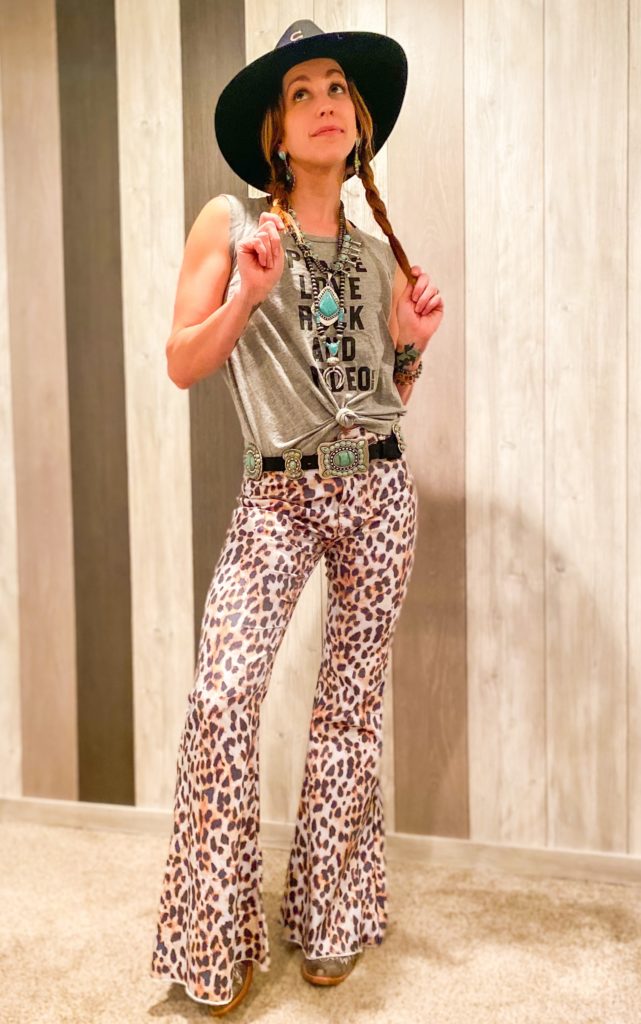 Cowboy Take Me Away
This look is Western and then some 😉 I like to think of this as the perfect outfit for a night at the rodeo followed by a fabulous outdoor country music concert. Cowgirl boots and Western accessories like the hat, TONS of turquoise jewelry, and a blingy cowgirl belt let everyone know you are ready to have a good time! I added a great statement top from Rodeo Hippie to keep it fun, but a black lace cami would add a bit more sex appeal if you want to set even more hearts on fire.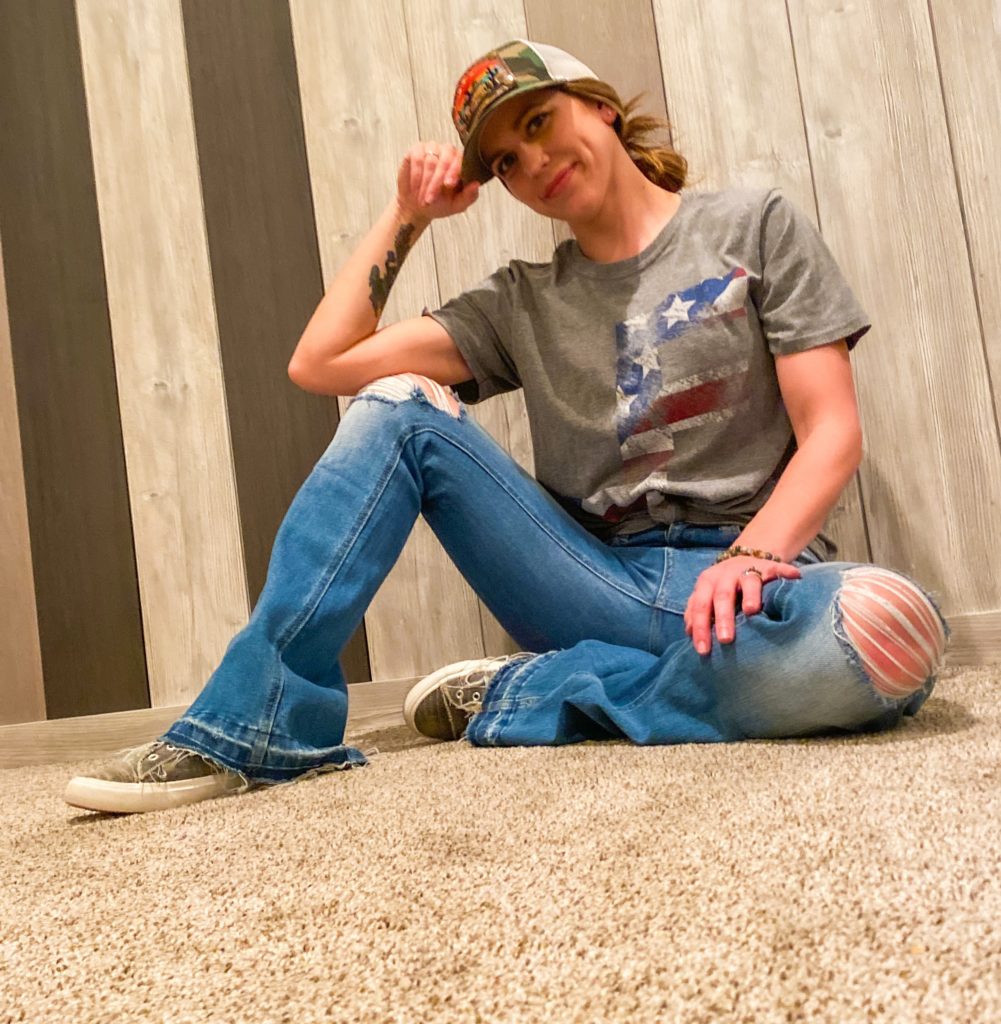 Casual
Flares don't always have to be dressed up. They look just as cute styled casually. These distressed flares go perfectly with my camo sneakers from Simply Creative (PRAIRIEWIFE for 20% off). Add a comfy t-shirt and a cute baseball hat from Pure Dixie (PRAIRIE10 for 10% off) and you're ready to go!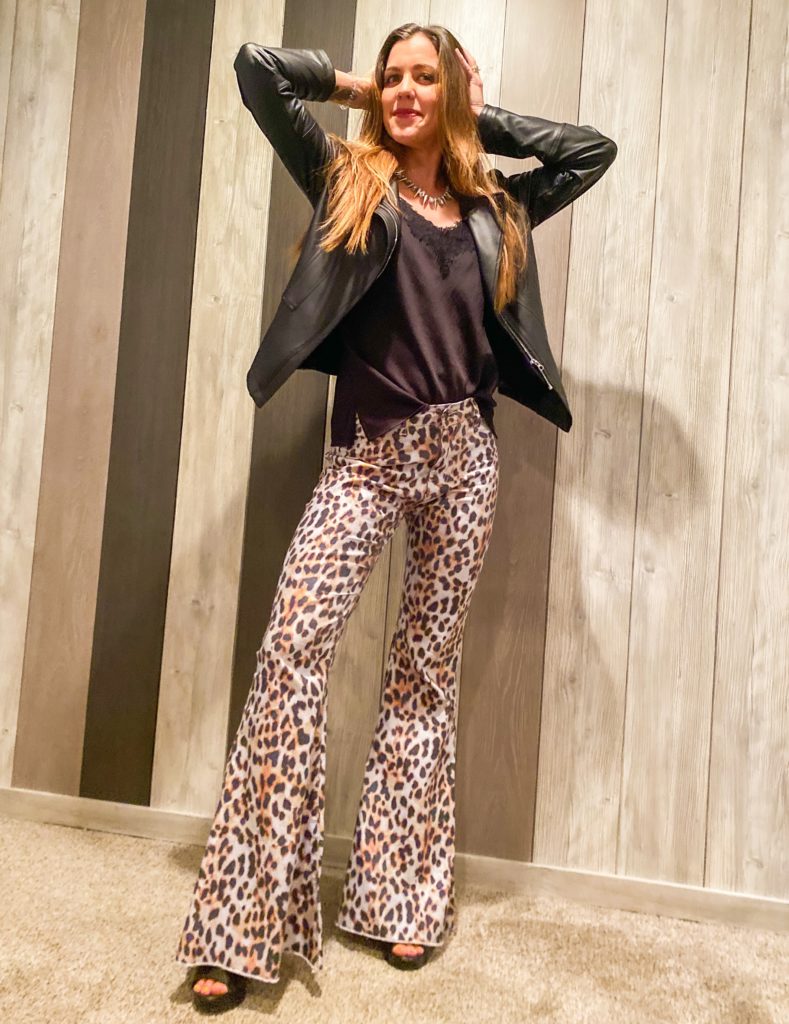 Rocker Mama
People usually associate flares with Boho or Western looks but PLEASE don't forget that they are 100% perfect for the rocker mama in you. Channel your inner Aerosmith and get wild! Pair your flairs with chunky black heels, a silky lace top, and of course a leather moto jacket. Keep your accessories bold and blingy and add a sexy red lip to complete the look.
What was your favorite look?
If you decided to dive into the flare trend, make sure you post a pic and tag us so we can see!
Categories: Fashion, Prairie Wife Style
Tags: , bel bottoms, boho, fashion trends, flares, how to style, rocker, style flares, western