Grandma Connie's 3 Ingredient Cherry Chocolate Dump Cake
Posted November 15, 2022 by Prairie Wife -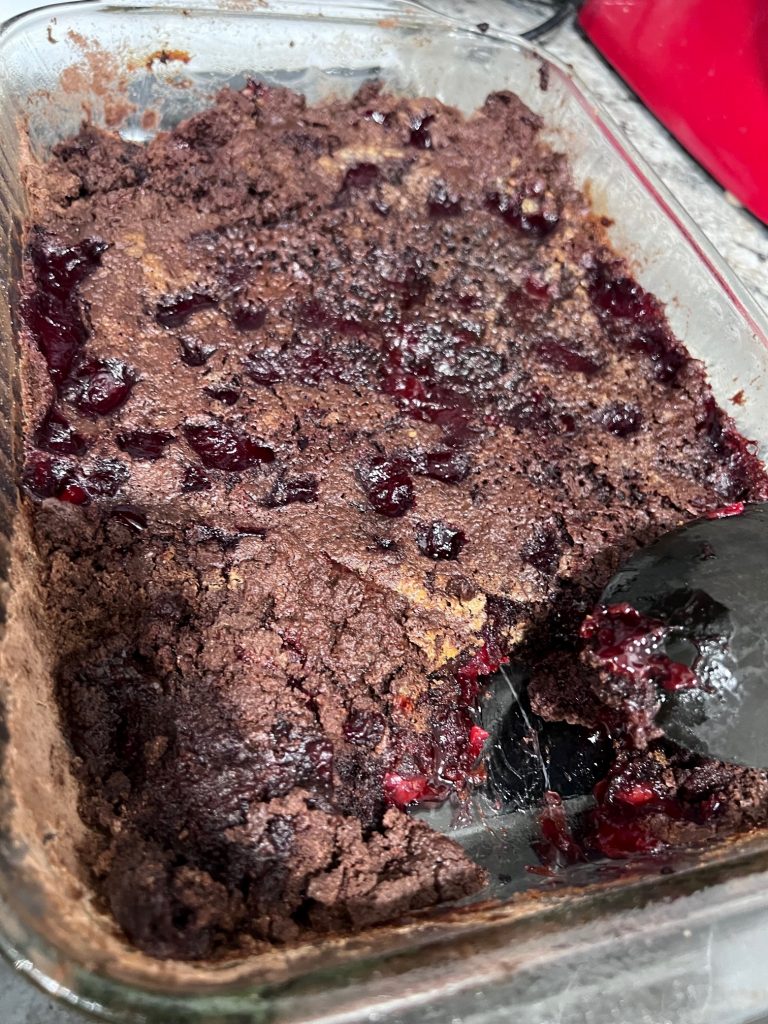 This 3 Ingredient Cherry Chocolate Dump Cake wasn't technically invented by "Grandma Connie" (my mother-in-law), but the entire reason I tried to make a dump cake was her influence!
The last time I traveled out of town to emcee an event, I found myself in the same town as her, so of course, I stopped by and spent a few hours hanging out.
While we sat and chatted, Grandma Connie mentioned that she had fallen in love with dump cakes…something I had somehow never heard of. She mentioned a recipe that involved pineapple, and I made a mental note to keep the idea in mind.
Fast forward a few weeks, and I found myself in need of a quick and easy dessert. So I googled "dump cakes" and grasped the basic idea of how they work. Then I looked at what I had in my pantry and picked a flavor combination that looked like it would be good.
Really any pie filling and boxed cake mix will work for a dump cake, but I think we can all agree that Funfetti Cake Mix with Blackberry Pie Filling doesn't have quite the same YUM factor as chocolate and cherry!
I learned when making this that you must ensure the melted butter on the top spreads out to all the corners. It'll prevent clumps of dried cake mix from remaining after you cook it. Don't mix it in; take a spoon and spread the melted butter to where you need it to go.
NOTE: This ooey gooey cake is best served hot with ice cream, so make sure you have some on hand!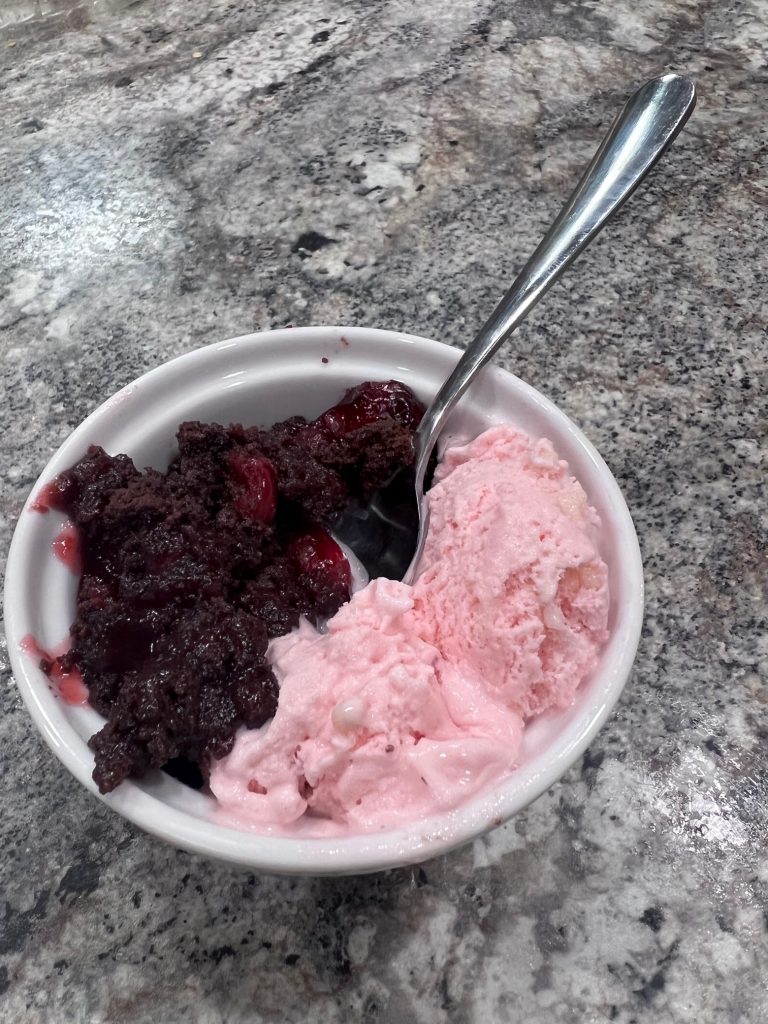 Grandma Connie's 3 Ingredient Cherry Chocolate Dump Cake
Prep Time: 5 Minutes Bake Time: 50-60 Minutes
Ingredients
1 Cup melted butter
30 oz Cherry Pie Filling
1 box Chocolate Cake Mix
Heat oven to 350 degrees
Spray 9 x 13 glass baking pan with nonstick cooking spray
Melt butter
Dump in Cherry Pie filling and spread evenly
Dump boxed cake mix evenly on top of Cherry Pie Filling
Pour melted butter evenly over the top of the cake mix
Place in oven for 50-60 minutes, or until cake is almost totally baked
This cake will NOT be solid like a regular cake. It's made to be ooey and gooey and full of flavor, so when serving this rich dessert, remember a little bit goes a long way!
Looking for more great chocolate dessert ideas? Try these Salted Caramel Chocolate Cookies!
Categories: Recipes, This and That
Tags: , big family dessert, chocolate dessert, Dessert, dessert with ice cream, dump cake, quick desserts, recipe, sweat treat