Get Ready for The Jackalope Jump
Posted February 16, 2015 by TallGirlJ - 2 comments
It's winter in Wyoming, even though it's been in the 40's and 50's the last two weeks, we all know it won't last! As I take a look at my friend's Facebook feeds every January I have always seen pictures of all those crazy people who do the Polar Bear Challenge. Just in case you don't know what the Polar Bear Challenge is, people strip down to their undies and jump into a freezing frozen river or lake. Usually for a simple T-shirt and bragging rights. It holds no appeal to me, just going out and doing chores is enough cold wet weather "fun" for me. More recently there has also been the ALS ice bucket challenge but today I'm here to talk about The Jackalope Jump… and how I got roped into participating…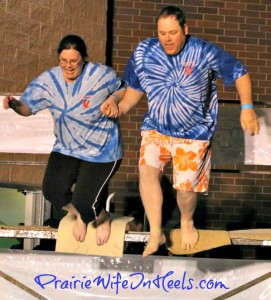 What is The Jackalope jump? Well I like to tell myself it's not quite as crazy as the Polar Bear business, and it IS to support a great cause. For The Jackalope Jump we all gather in a local arena or stadium and take a plunge into a pool of ice cold water, all to support Special Olympics of Wyoming. The Jackalope Jump is a  Wyoming tradition that currently is active in 17 towns. There are opportunities to jump as a team or an individual (right now there are 36 teams registered at ours), there are costumes and team shirts, and a whole lot of squealing, shivering, laughs for the participants and the crowd that always gathers to cheer us on!
Special Olympics is an organization that is near and dear to our family. Those of you that are frequent readers have all learned I have a fabulous brother, and he competes in "Special O" as Michael calls it! Special Olympics provides year round sports training for children and adults with intellectual delays. My brother has been involved in Special O since he was a child. I can remember going and cheering him on in my younger days and I continued to participate by volunteering when I was old enough to help.More recently I have had the honor of getting my kids involved. They love cheering on their Uncle Michael!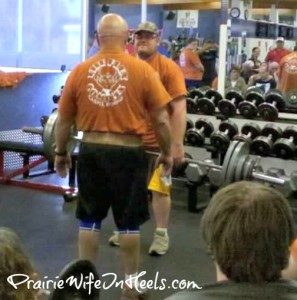 Currently Michael competes in Special Olympics in several events. He excels at Weight Lifting and is very strong (he is dead lifting 345lb in this picture) so is always competing in the heavy weights, like 300lb or more…and his top competitor is in his 60's! Michael also does track and field, skiing, horse back riding, and bowling. If you ask him, his favorite part is going to State (they compete in towns to qualify for Statewide events) and attending the dance…. This is where all the pretty girls can be found, another favorite for Michael lol! Special O is all Michael will talk about for weeks both before and after. Through his many years of participation it has taught him dedication, sportsmanship, and is a great time for him to be social. It's always a big party because he gets to see friends he only see's once or twice a year at these events.
As a family member standing on the sidelines the pride that I have in Michael and all he has achieved and overcome can't be put into words. The positivity of all the athletes, coaches, and families is contagious. Even if you don't know anyone that is participating I would encourage you to attend a local event. The strength of the human spirit is evident everywhere and you can't help but leave feeling exuberant and hopeful for the future.
The Jackalope Jump is one of the top fundraisers Wyoming Special Olympics does. Michael has been doing the jump for years! This will be my daughter and my 2nd year jumping and my son's first year. It's a wonderful opportunity to teach kids about helping their community and the power of fundraising! My daughter T even likes to give her own money, which tells me our message has really hit home. Our team is the Grose Jumpers and we always strive to be the top earning team because nothing feels better than raising money for something you believe in! We take the plunge next Friday the 20th so wish us warm thoughts, and be sure to check out PrairieWifeInHeels.com on Twitter, Instagram and Facebook for pictures!
If you are interested in supporting us please click the links below. Even a simple share on Social Media of this post is a wonderful way to help spread the word about Special Olympics of Wyoming and the amazing Special Olympics organization as a whole!
My daughter's donation link
My son's donation link
Categories: Life As It Happens
Tags: , charity, children with special needs, community service, donating, Prairie Wife Life, Special Olympics, Special olympics of Wyoming, TallGirlJ