Baked Ham, Cheese, and Pasta Casserole
Posted November 26, 2019 by Prairie Wife -
'Tis the season for leftovers!
And it can be overwhelming to figure out what to do with them. Ham is something that we often have extras of during the holidays and while I love to use it to make Ham and Cheese Bundles, even those can get old.
I created this casserole out of things I had hanging around and it was such a big hit with my family (as in no leftovers at all) that I asked you on Instagram if you wanted the recipe. You responded YES, and so here is the recipe.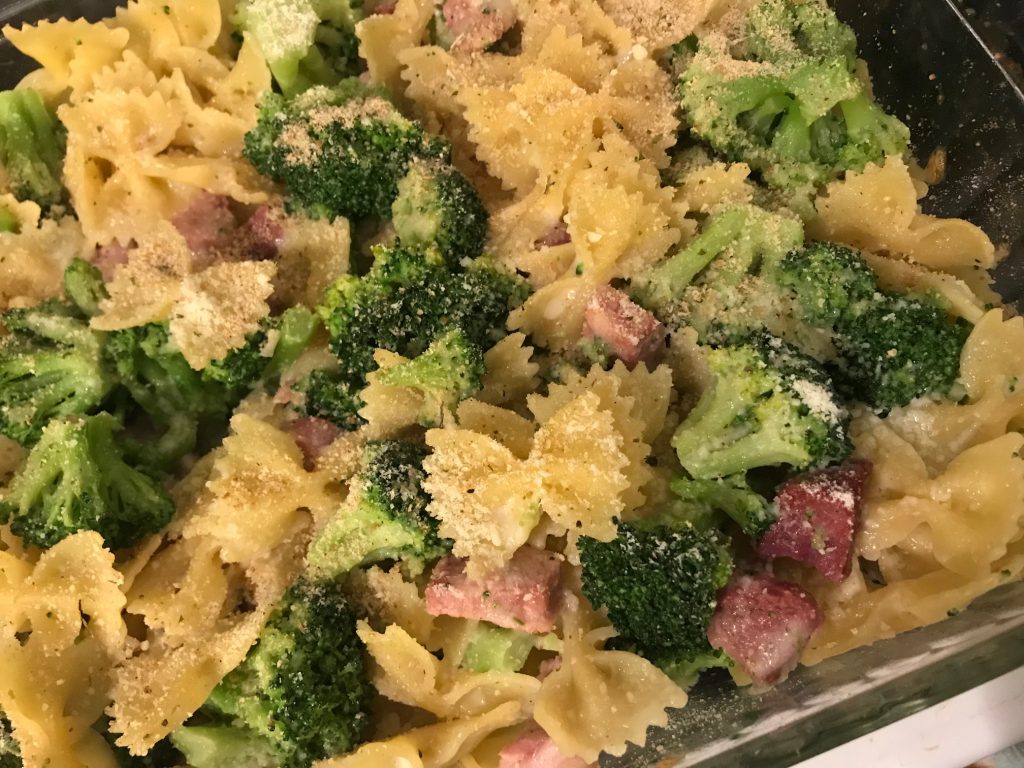 Baked Ham, Cheese, and Pasta Casserole
Prep Time: 5 min Cook Time: 12 min Bake Time: 15-20 min
Ingredients
1 box of Bowtie Pasta (penne or ziti will work too)
1 1/2 cups of Heavy Cream (for creamer pasta add an extra 1/2 cup)
1 1/2 cups of Mozzarella Cheese
1 tbsp Olive Oil
2 cups chopped cooked Ham
1/2 med Onion diced
2 cloves Garlic diced
1 bag Steamed Broccoli
1/4 cup of bread crumbs (plus 3tbsp more to sprinkle on top)
1/4 cup Parmesan Cheese
Salt and Pepper to Taste
Start water boiling and cook pasta following instructions on the box.
Preheat oven to 375
Take Ham, Olive Oil, Onion, Galic and salt and pepper and saute in pan, set aside.
Steam Broccoli following directions on the bag.
Spray a glass 4 qt (15″ x 10″) casserole dish with nonstick spray.
Combine all the ingredients EXCEPT Parmesan Cheese and 3 tbsp Bread Crumbs in the dish.
Sprinkle the top evenly with Bread Crumbs and Parmesan Cheese.
Bake Casserole 20 minutes or until bubbly and warm all the way through.
Serve hot.
NOTE: This recipe would also be delicious with leftover turkey or chicken!
Categories: Recipes, This and That
Tags: , casseroles, Easy Recipe, ham, leftovers, Main Meals, Pasta