3 Podcasts You Should Be Listening to Right Now
Posted July 3, 2018 by Prairie Wife - 2 comments
I admit that I am a bit late to the Podcast game…
I have friends that have been devoted Podcast listeners for years, and it never really caught on with me.
Perhaps it was my busy lifestyle, or maybe it's because lately I've been working on enjoying silence (stop by Thursday for more about this).
Or maybe, it's because I am a visual learner. If I read something I tend to remember it forever…and my number one time suck is NOT kitten videos but reading articles and other blogs online.
Lately in my search for inner peace, or let's call it what it really is…sanity and balance…I've begun to find new ways to do things I enjoy. With my new radio job I find myself spending less time reading than I'd like. So I switched to using Audible when I go on my solo hikes, and it's been pretty awesome!
When I went back to school this year to renew my teaching certification I had dozens of videos I had to watch. Rather than sit and stare at my computer, I started to play them while I was putting laundry away or doing dishes. The topics were all kid friendly (unlike some of the books I listen to on Audible) so I didn't have to worry if the kids were listening in.
Then I had an ah ha moment, I realized that I could totally do the same thing with podcasts.
If you've ever delved into the world of podcasts you know exactly what I mean when I say it can be completely overwhelming.
I'm not a huge fan of religious themed ones, I don't feel the need to listen to parenting podcasts, and the financial ones made me want to fall asleep.
So, I decided podcasts weren't for me, and I backed away slowly from the idea…
Then I read the book "Girl Wash Your Face" Well, actually I listened to it AND then read it because it was so good. And in the process of online stalking Rachel Hollis I came across her Podcast…
RISE Podcast with Rachel Hollis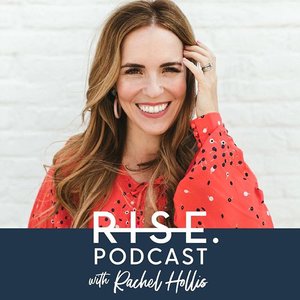 The blurb says "A bold conversation with fellow business powerhouses that provides the listener with real-life tangible takeaway" I would add that it's heartfelt, humorous, insightful and inspiring. I appreciate that Hollis' guests are both male and female because it offers a fresh new perspective on her topics. From tech help, friendship and relationship tips to health and wellness, and fashion and finances this podcast has something to offer everyone! "Overcome Distraction in Work and Life" is my favorite podcast so far, I love the insight into how the brain works and practical tips that can apply to both work and home.
Christy Wright's Business Boutique Podcast

I learned about this author/speaker from guest posters Katie and Gerise and when I began following her on Twitter I learned she had a Podcast. I began to listen to it and have learned a ton!
This podcast is described as "A podcast where "Christy will inspire and equip you, answer your questions about business and share success stories from other women just like you." As the title implies this podcast IS more business than lifestyle based, but I've found it really useful as a blogger and as I venture out to turn "Prairie Wife In Heels" into a brand of it's own. When The Cowboy and I traveled to Texas last week we listened to this podcast "Excuses That Kill Your Time" both of us learned from it and several times I paused the podcast and had some really great discussions with The Cowboy. He was even laughing a few times…always a win! Note: Laura Vanderkam was the guest on this episode and she is pretty amazing too!
Last but not least is a podcast that makes me feel like I'm in a room chatting with some extremely intelligent women. I first came in contact with Kimberly Corban when I was Senior Producer for a radio show out of Colorado. When I heard she and her bestie Kirsta Rinehart were creating a podcast I was cheering them on the whole time!
Yes, I began listening to this Podcast in support of Kim, but was soon a fan after listening to the hilarious and oh so brilliant duo as they discussed everything under the sun. "Talking serious issues, doling out advice they wish they'd taken and snort-laughing at inappropriate times makes this highly-relatable duo like the big sisters you never had. Aimed towards young women, Kim and Kirsta speak to those ready to have tough-topic discussions in a non-threatening way." From politics to parenting, therapy to llamas Kim and Kirsta's podcast is extremely thought provoking. I have a ton of favorite episodes, but I think this one has been my favorite so far "She Leaves a Little Sparkle" Note: These gals cover some pretty tough topics so this podcast is one I wouldn't listen to around children.
I'm always on the lookout for new Podcasts to listen to, so let me know in the comments if you have any to recommend!
Categories: Book Reviews, Health and Wellness, Life As It Happens, Prairie Life
Tags: , buisness, buisness boutique, christy wright, kimberly corban, kirsta rinehart, lifes as she knows it, lifestyle, podcasts, rachel hollis, rise, support