Wyoming Has Changed Me, And I Can't Thank You Enough
Posted February 28, 2020 by Guest Poster - 15 comments
NOTE: Sloan is a dear friend of our family, and it was an honor when he asked me if he could use this blog as a platform to say thank you and goodbye to Wyoming as he moves forward in his career. Sloan, you will be sorely missed at Sunday dinners. But know that you will always have a home here in Wyoming with us, and a warm meal and a saddled horse ready for you any time you wish. God bless.
Open spaces are hard to come by in a metropolitan area of six million people.
I was not aware of how badly my soul needed open space until I uprooted myself from Washington DC to start a job as a reporter far away at K2TV here in Casper Wyoming.
At first, the open spaces were daunting.
They presented a silence and a solitude that laid bare the carousel of racing thoughts and ambitions still reeling in my head from the hustle in a big city.
But then something changed.
The silence and solitude brought that carousel to a stop; its repetitive melodies of self-doubt hushed, and its flashing lights of comparison dimmed.
The moment I was able to close my eyes and hear nothing but the rustling wind over a July prairie was the moment I knew that this place was in the process of transforming me.
The transformation was slow and even unnoticed at times, experiences serving as reminders that this unique place can heal and change a person.
Moments became markers; a drive down a backroad, a smile and nod from a complete stranger, a new town, a first rodeo, a campsite under a symphony of stars, a handshake from a loyal viewer, a dinner with a loving family, a snowmobile adventure, complete silence.
Those moments, and multitudes more, proved to a reluctant convert that there is value to life outside of a hustle for success.
For 27 years it was easily overlooked by this coastal creature.
As the Code of the West puts it 'some things are not for sale.'
As a reporter, these experiences have been invaluable.
Policy, economics and culture mean nothing without the individuals who are impacted. You have opened your businesses and homes for me to glimpse and share a snapshot of Wyoming's intricate and rich story.
To work with and for Wyoming as an anchor at K2TV over the past three years has been more than a privilege.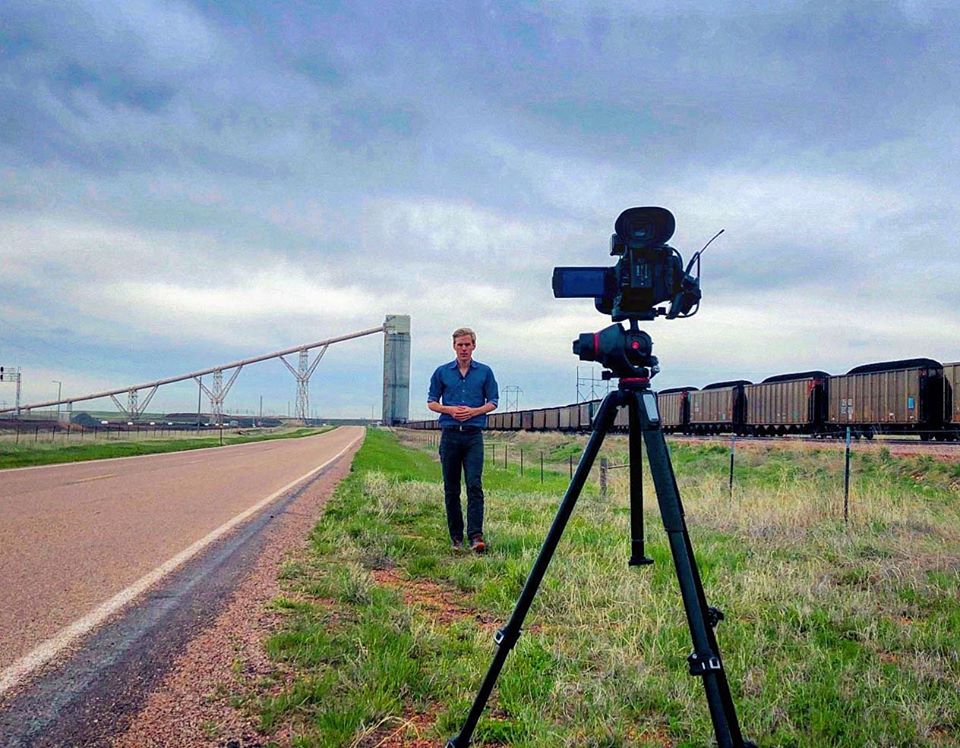 Covering stories from the hallways of the state capitol in Cheyenne to the peaks of the Grand Teton Mountains and everywhere in between has been one of the great joys of my life. Not only have you trusted me, but you have welcomed me, an outsider, to share in the unique and beautiful culture that you have built on the plains of the untamed West.
You have taught me what it means to be present, to shape the moment and location in existence right now, not in a far-off place or well into the future. You have also taught me what it means to be proud of home.
Wyoming contains within itself beauty and purpose enough to instill generations with a way-of-life that is found in few other places.
I am humbled and heartbroken to leave this place.
I could not imagine when I first passed the 'Welcome to Wyoming' sign in my brand-new Wrangler, that you would accept me and take pride in sewing my story into yours.
Your leaders have shared with me your hopes and dreams.
Your laborers have taught me what it means to take pride in my work.
Your families have saved a seat for me at your tables.
I have tried my best over the past three years to share those stories.
With the amazing team at K2TV, we have worked every day to reflect a little piece of the intricate tapestry of Wyoming's story back to you. I hope to continue reflecting Wyoming's story as I follow this journey of life.
You have changed me, and I cannot thank you enough.
So, as I drive off in my Jeep with a '307' sticker boldly plastered on the back, I will be thinking of every moment you shared with me and the Wyoming way which has been branded on my soul.
Categories: Life As It Happens, Prairie Life
Tags: , goodbye, k two news, saying goodbye, saying thank you, sloan dickey, Wyoming