Wyo Sal: The Most Important Minute
Posted August 18, 2016 by Wyo Sal - 2 comments
The drive took 40 minutes, the task less than five.
Knowing we would be out of town for the primary election, we voted absentee for the first time in our many decades of voting. We did get stickers, but we certainly don't deserve any special praise. I would never consider not voting.
When I say I am an American, that means I need to vote.
When I fly my flag with pride, that means I need to vote.
When I cry at the Star-Spangled Banner, yes, that means I need to vote.
I didn't drive in a covered wagon over rutted dirt to vote, but I did leave my office, pick up the friend halfway, and then drive to a different town to vote.
Do I wish we could vote at home? Yes. Was it completely inconvenient to have to do what we did? Yes.
I have friends who say they don't like politics. Too controversial, they say. Doesn't affect them or their lives, they say.
I could not possibly disagree more.
If you don't think the makeup of a town council doesn't matter, then obviously you haven't been to a meeting recently.
If you don't think the county commission lineup doesn't matter, then you have not driven on county roads, needed county law enforcement, or paid your taxes.
Voting matters. Every time. Every place. The only wrong choice is not doing it.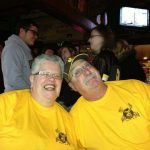 WyoSal is a Catholic mom and grandma and works full-time at a job that still usually overwhelms her. She loves football and food and books. She hopes to win the lottery some day.
Copyright: lightwise / 123RF Stock Photo
Categories: This and That, Wyo Sal
Tags: , America, citizenship, election, election year, government, politics, USA, vote