Wyo Sal: Blueprint for the Perfect Day
Posted July 20, 2017 by Wyo Sal -
Every girl deserves a perfect day once in awhile. Mine happened on my birthday.
For the first time in a long time, I took the week off of work with no travel plans. I have long had more paid annual leave than the friend's travel budget allows, so I have had staycations before, but not as indulgent.
I began the day with a 6:38 a.m. phone call from my mom, who apologized profusely because my card would be late. I said that made me happy, because it would stretch out the festivities.
My first errand was a pedicure, long, long overdue. With the whole day off, I hadn't worried about an appointment in advance.
I was the first one in the salon and enjoyed undivided attention from the manager. The hot towel wrap on my legs is my favorite indulgence, but my pretty pink toes made the hour well worth the time.
A couple of mundane errands ended with a stop at the post office, where a pile of cards and a package awaited.
My mom's card was among them, so I called her quickly to let her know. I lazed away the afternoon, making good progress on a mammoth book I have been in for almost two months.
Two calls rather than texts from my two children were a midday highlight. They both cringe at the thought of calling me, because I tend to go on and on.
Mid afternoon, I opened the stack of accumulated cards, as well as a box from my sister. The mother of the newly committed Iowa Hawkeye offensive tackle sent not one, but two pair of Hawkeye footwear, fur-lined slippers and yellow and black flip flops, so every season of the year is covered.
Since the niece and nephews were little, I have sent them cash to equal their years in their birthday cards. When they get to the late teens, I often round up.
So imagine my delight when my sister-in-law used that idea and sent cash equaling my birthday!
Dressing for my dinner date, I realized that I rarely make an effort to do the whole makeup thing anymore. I did that night, and wore a dress. It felt festive to take the time.
My dinner place of choice sadly has not been in our regular rotation, primarily because it is on the other side of Casper. Our meal was superb and we will be back.
And after seeing unkind comments posted about the prices there, we thought our one appetizer- two entrée-two bar drink total of $80 was beyond reasonable and fair.
We took a drive to check the Sacred Heart of Jesus (lights weren't on yet –bummer), and we drove home in time to watch the Rockies win on TV. I treated myself to a personal sized bottle of champagne I have had since New Year's Eve and the friend had a beer brand  that I usually reserve for myself.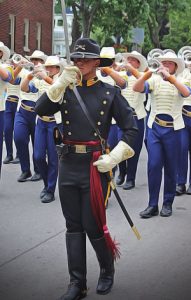 As I was individually liking the kind Facebook birthday wishes, I found the full performance of the Troopers in Denver on Saturday night.
After bidding the friend good night, I sat in the dark with the dog and watched and listened. And as it has since I first heard them play it, Nessun Dorma brought me to tears.
I felt as though they were playing it just for me, but the lengthy standing ovation they received let me know I was not alone.
From the beginning of the day to its end, it was perfect.
Wyo Sal is a Catholic mom and grandma and works full-time at a job that still usually overwhelms her. She loves football and food and books. She hopes to win the lottery some day
Categories: This and That, Wyo Sal
Tags: , birthdays, family, friends, indulge, love, perfect day, relax, Wyo Sal