NEW TreeTop Pouches #Giveaway
Posted July 17, 2017 by Prairie Wife - 30 comments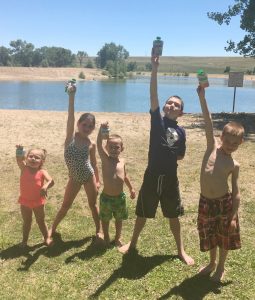 Summer is half way over for most of us…and if you're like me you may be wondering where has the time gone?
I've kept to my promise of a schedule free Summer, and the results have been pretty awesome.
We've spent tons of time together as a family and been able to say yes to almost every invitation we've received.
Our favorite thing to do has been to head over to our local state park for swimming, paddle boarding, playing in the sand and picnics in the shade.
When I'm packing a picnic lunch for my kids I'm all about keeping it simple, quick and healthy.
When TreeTop reached out to me and told me about their new Pouches I immediately said yes to trying them. I was so excited when they sent me not only 7 pouches to try but, an insulated tote and some fun activities for the Cowkids…and then sent me another TreeTop Pouch Package to give to a lucky reader.
The Cowkids (and TallGirlJ's kiddos) couldn't agree which flavor was the best but, I can tell you that the Fruit and Grain Peach Cobbler and Apple Cobbler appealed to all of the kids (ages 11-2). And they all sucked down the Fruit and Veggie pouches and declared them delicious!
TreeTop pouches were the perfect way to add a healthy and tasty treat to our picnic.
I have visions of the Cobblers becoming the perfect item to fix those "We're running late but still need breakfast!" mornings coming up when school starts…but let's not talk about that right now.
Do you want to win a TreeTop Pouch Package of your own?
Let me know where you're going this Summer and let me know why TreeTop pouches would be perfect for you and your family! You can earn more points towards the giveaway by following us on social media!
I can't wait to read about your Summer plans 🙂
Categories: #GiveAways, Product Reviews, Reviews
Tags: , apple sauce, breakfast food, food, Giveaway, lunch, picnic food, product review, treetop, treetop pouches