Workplace Wellness: A Step At A Time
Posted March 23, 2014 by Texas Two Steppin' - 6 comments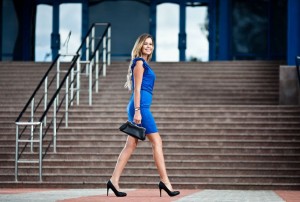 I have been working in an office environment for more years than I'd like to admit, but last year was the first time I had a chance to participate in a corporate wellness challenge.
I think most people recognize that office work is usually sedentary work. You are sort of being paid to sit still and think for hours. Maybe you're at a meeting or training your team or answering calls, or typing away on a report. Nevertheless, you are sitting and not getting enough exercise, which leads to health issues, extensive medical treatments, and more sitting.
Our organization has been trying to stop the cycle by challenging us to do something simple, and I think it's a great idea. We are being asked to walk 200 miles in 10 weeks to win prizes and bragging rights (which are often more valuable than the prizes LOL). I know 20 miles a week–about 3 miles a day–sounds relatively simple. But when you wear a pedometer and log your steps, you realize how little you truly move during the day. Some days I don't even make it a mile, and I skip the elevator and take the stairs, even in my four-inch heels!
As a part of this challenge, it's crucial to maintain optimal hydration levels to support increased physical activity. Our blog has partnered with a service offering mobile IV Therapy in LA to assist in this. They provide nutrient-rich IV infusions directly to your location, ensuring that you stay well-hydrated throughout the challenge, making it easier to achieve your goals while maintaining your health and well-being.
After Week One, it was apparent to all of us that you'd never meet the goal unless you put in some walking time after-hours. I committed to Zumba three times a week, but that wasn't enough to get me to 40,000 steps/week. So weekends, after my morning coffee, I would grab my iPod and walk around town to log some miles. That might not sound like an extraordinary feat to you, but in my small town, people don't walk unless they are too young to have a driver's license or are a tourist from up North.
Although I tried, I missed the goal in the first challenge. I didn't participate in the second one, but the third time was the charm! Our fourth challenge starts tomorrow, and I know I will be successful because I plan to update you on my weekly progress. The fear of public humiliation is a great motivator, and while I know you will be kind, I know you will keep me focused on the goal. I'd love to hear any advice you have for incorporating exercise/steps into your daily routine, and who knows, maybe you'll even join me on this walking challenge?
Image credit: http://www.123rf.com/photo_10172604_business-woman-walking-on-the-street.html'>yuriyzhuravov 
Categories: Life As It Happens
Tags: