Veterans Day
Posted November 11, 2013 by Prairie Wife -
How important it is for us to recognize and celebrate our heroes and she-roes!  ~Maya Angelou
This Veteran's Day we wanted to acknowledge the incredible efforts of the 2.5 million women who have served in the military since the American Revolution and pull together a couple of stories that might give them a boost.
Last week a full-size "female warrior" was unveiled at the U.S. Army Women's Museum—the only statue recognizing the service of Army women located on an Army post. What a wonderful way to acknowledge the achievements of this strong, ded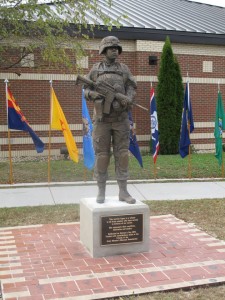 icated and determined group of women who embody the meaning of selfless service.
Before I wrote this piece I wasn't aware that there was a Women's Memorial at Arlington National Cemetery, but I am so pleased it exists. The Women's Memorial is a unique, living memorial honoring military women past, present and future during all eras and in all branches of the service. As I explored their website deeper, I learned that they have an initiative to register as many veterans, active duty, National Guard and Reserve servicewomen as possible. If you, a family member, or friend is interested in registering or is in search of female military personnel, visit the In Search Of area on their site.
We think that everyone who serves in the military deserves a special treat, so here is an online listing of nearly 100 Veteran's Day discounts and freebies. Check it out, and you may want to make a call before you leave the house so you know if your local franchise is participating and what proof of service you need to show.
There are so many worthwhile organizations supporting the men and women of the military. If you are looking for aid of any kind (everything from care packages to housing) or looking to contribute your time, effort or dollars to these heroes, visit http://troopssupport.com to find the best organization for you.
Finally, we all know a courageous woman who has proudly served in the military. Whether it is a spouse, friend, family member or coworker, take a moment today to tell them how much their service and sacrifice means to us each and every day.
Categories: Life As It Happens
Tags: , Female soldiers, Texas Two Steppin'. Veterans, USA, Woman in the army