Two New Ways to Deal with Your Period
Posted October 14, 2016 by Prairie Wife - 1 comment
Warning: I think it's pretty clear from the title of this post…but just in case you missed it…this post will be candidly talking about menstruation. If this is a problem for you it's best to stop now!
Prairie Wife reviews THINX "Period Proof Underwear"
Despite the surgery I had earlier this year to prevent me from having monthly visits from "Aunt Flo" she always comes knocking every 28 days. While things are much more manageable than before, I still find myself feeling frustrated with the waste, chaffing, and dryness that results from standard tampons and pads.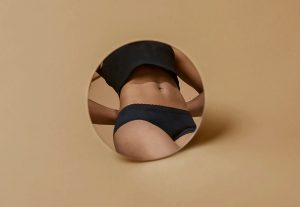 I came across an add for THINX "Period Proof Underwear" and began to read the reviews. Most of them were positive, though several women said they didn't last a morning for them. When you head to the site they show super cute underwear and clearly have stated how many tampons worth each pair/style holds. The women's complaints about them not lasting a morning made sense to me now, before my surgery  I would have gone through a pair in 2 hours.
I purchased 7 pairs in a mixed combo of hip hugger, cheeky, and sport. I'm a medium in regular underwear and they fit the same. I was pleasantly surprised at how they fit (the sport was my fav as I thought the hip hugger was a bit high on my waist) and how you couldn't tell there was anything in the crotch area. My first and second days of my cycle are heavier so, I went through three pairs in one day and wore one all night. If you have a very heavy cycle these would be perfect to wear instead of a pad as backup.
There was NO LEAKING and the smell was no different than a regular pad. I was comfortable and there was no VPL in my yoga pants or jeans. I had a friend that wears scrubs for work comment that the slippery (like satin) texture of the underwear didn't work well for her, her scrubs kept on slipping down.
I was the most thrilled with them at night. I was comfortable while I slept and there was no slipping or leaking. They were fabulous for those last few days of your cycle where you don't need anything…until you do!
I was home all day when I first tried them so, I just put the dirty pair in a plastic bag I hid under the sink. If you're at work this might cause an issue…perhaps a ziplock bag put into a small makeup bag would work? To wash them throw them in your washing machine and lay them out to air dry. In Wyoming things dry quickly, so it only took around 6 hours for them to dry. The hip hugger style holds more than cheeky so, they take longer to dry. I recommend turning them inside out, crotch up to dry! 7 pairs were perfect to get through my 6 day cycle, with me washing the dirty ones each night.
Those of you with daughters will love these. I was 11 when I had my first period and THINX would have saved me so much embarrassment and ruined clothing. THINX are also the perfect product for your sporty daughters. I wore them for yoga and running (5k) and there was no chaffing and not a bit of discomfort or leaking.
I'm obviously a HUGE fan of THINX (and they didn't even pay me or give my anything for free to say that)! Yes they are pricey (you get a discount the more you buy) but at least you can reuse them, unlike tampons and pads. I think they are 100% worth the cost.
Two more points. Part of every pair you purchase helps girls in developing countries. Also, if you know someone that has an older daughter with special needs, these could be a life changer for them!
BonitaBlueEyes reviews the Diva Cup
Any time I get a chance to tell a woman with a period about my Diva Cup, I get super excited….I know right?! Excited to talk about your period?
I've converted many friends away from their traditional feminine products by sharing my love for my little, surgical-grade, plastic reusable cup for periods.
I was reading Gorgeously Green when I was reminded that tampons are full of toxic chemicals, including bleach for whitening and asbestos to make you bleed more in order to use more tampons. You all know I'm an earthy type, so when I read this information I realized that I couldn't ignore what I had been putting in my body anymore!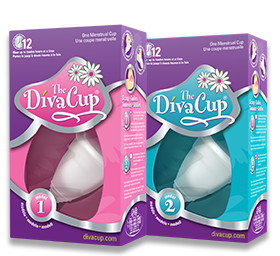 I immediately ordered a Diva Cup from Amazon. You can find other brands at your local pharmacy store, or even natural food stores.
Read the directions a few times before you start, and order the size that's recommend for you (there are size differences depending on if you've had a baby and/or your age)…trust me!
If you aren't used to getting your hands "up in there," you will have a bit of an adjustment as this is obviously necessary. You'll need to get more "hands on" than when using a tampon. Be patient with yourself, it may take a few tries to get it in and sitting comfortably in the right spot.
Warning, it can be a bit of a shock the first time you remove your cup. To see all of the blood in a container is a bit off putting. When using traditional period products the blood is absorbed and you really can't tell how much you are losing. You should plan on using a bit of a backup (like THINX underwear) on heavier days, and you will need to empty it more frequently on heavier days.
It's probably a good idea it practice removing your cup a few times before you venture out in public with it. When it's time to empty it, all you need to do is dump the blood into the toilet, rinse it out in the sink, and then place it back in where it belongs. This can be a bit embarrassing in public restrooms but, it's not like anyone that sees you won't know what you're doing! At the end of each cycle boil your cup (in water) for 5 minutes to keep in sanitary.
I found the Diva Cup really comfortable for sleeping, and there was no leakage or discomfort during my yoga practice. It was perfect for our many days at the beach and lake this Summer!
I can't recommend this product enough!
Diva Cups are better for you, the environment, cost effective and really…a modern day period fighting miracle!
What do you think readers? Would you try either of these?
Categories: Health and Wellness, Product Reviews, Reviews
Tags: , Diva Cup, feminine hygine, menstration, menstraul cup, period, period cups, period products, period underwear, that time of the month, THINX underwear