Trust Your Neighbors but Always Brand Your Calves
Posted June 28, 2014 by Prairie Wife - 7 comments
Around here branding is a community activity, and because The Cowboy knows what he's doing and is helpful, we usually go to several throughout the year. At this point we don't have any cows of our own (don't think The Cowboy isn't working me towards that) and it's actually a great family activity to head out and help our neighbors and friends brand. Last weekend we went and helped TallGirlJ and her family brand a few calves. Let me give some of you city folks a little background in branding before I continue.
Brands are put on the cows to mark ownership, if a cow gets through a fence a brand ensures that they get back to their owner. A traditional branding iron (metal heated in the fire) or an electric branding iron is used to burn the brand into the skin of the calf. Making sure you know who owns a cow is a big deal, this year a 3-5 year old cow with a calf (a cow and calf pair) can sell for up to $3,200.00. Anytime livestock crosses county line (like going to a sale or auction) or changes ownership it requires a brand inspection. A state employed brand inspector will come out to make sure that the brands on the animals match the paper of the seller.
At branding time cattle owners also take the opportunity to tag (put a plastic tag in the calves' ear with a number) calves. Tagging calves is a way to keep track of what calf came from what cow, and breeding lines. Some people also take this time to give vaccinations, castrate the bull calves, separate out the cows that were not bred and will be sold, and dip older cows (this means to put medicine on them). It's an important opportunity to check up on the overall health of the whole herd.
The first branding I went to was overwhelming, and a shock to my senses. I was a 19 year old city girl who still had a Wisconsin lilt to her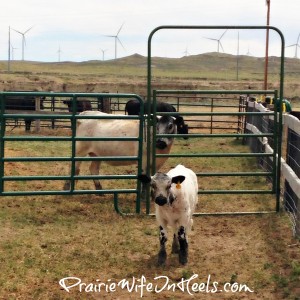 voice. I went with The Cowboy up to his Brother in Law's farm to help out. As soon as I jumped out of the truck I was bombarded by the noise of mama cows bellowing for their calves and the smell of burning hair. As part of the process the ranchers separate the babies from their mamas, no one needs an angry mama cow coming after them while they are trying to take care of branding a calf. I felt terrible; I couldn't blame the mamas for being upset.
Then I watched The Cowboy rope a calf by the foot and drag it away from its buddies. Then another guy flipped the calf, sat on it and held it while it was branded, castrated and vaccinated. I was appalled and almost in tears…and a little confused when they let the calf up and it simply shook itself off and went back with his buddies. Then they motioned to me and I was put in charge of helping flip and hold down the calves. I took a breath and charged forward ready to try it…
After my fifth attempt of trying to get the calf off its feet I was feeling a little less sympathetic, and after the third time of getting kicked in the guts by a calf I was downright pissed. Those little buggers are tough, and I'm not saying that the branding is a barrel of laughs for them, but they are seriously fine afterwards. When all is said and done, we send them back to their mamas and they nurse and usually lay down for a nap.
Take a look at our pictures from this weekend and let me know what you think!
Headed down to move the cows!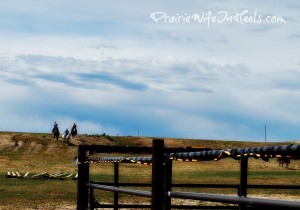 Moving the cows towards the pens.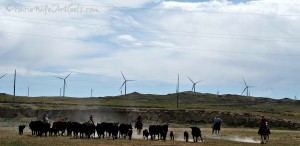 Hey guys…wait up!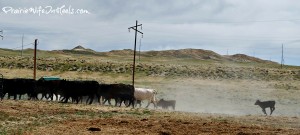 Mamas and calves separated out.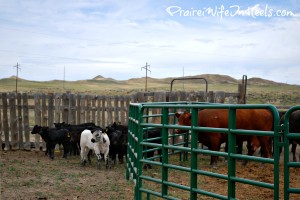 Cowboy C is taking it all in.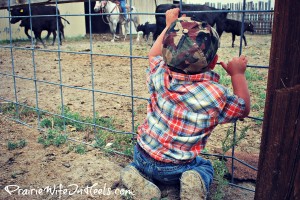 The Cowboy roping calves.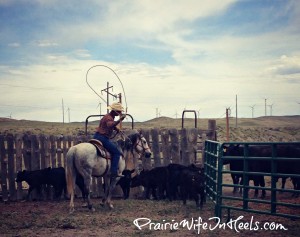 Dragging the calf.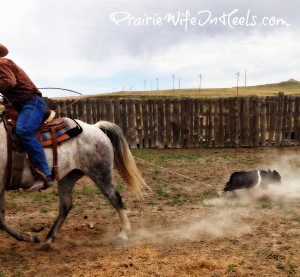 All the Cowkids (TallGirlJ's two as well) were learning by watching. Cowboy W was a little nervous…it's always nice to have a friend to offer some support!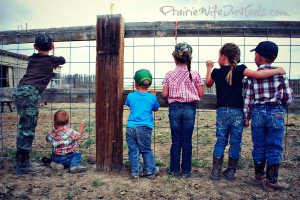 TallGirlJ's husband throwing the calf.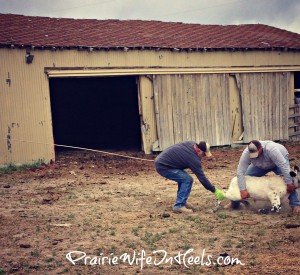 Cowgirl G helping hold the calf.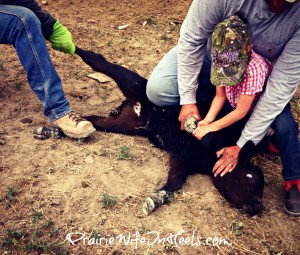 TallGirlJ branding with an electric brand.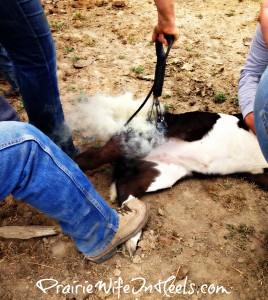 All done, paired up with mama, and resting!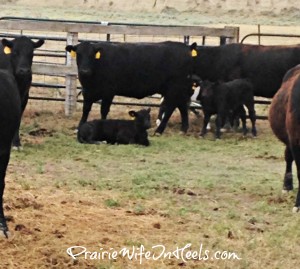 Hope you enjoyed this post, would you like to help with a branding…or is it just not for you?
Categories: Life As It Happens
Tags: , brand, branding, Calves, Cowkids, cows, family, helping friends, horses, roping, TallGirlJ