Prairie Wife of the Week June 27, 2014 #Giveaway
Posted June 27, 2014 by Texas Two Steppin' - 3 comments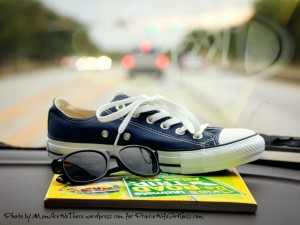 "ROADTRIP!" When I was in college this phrase meant throwing clothes in a bag, piling into a friend's car and heading to Chicago for a few days of freedom, adventure, and fun. Once I had kids, road trips meant packing for four people and bracing myself for cries of "S/he's looking at me," "S/he took my pillow," "S/he took off his/her shoes and his/her feet stink," and "S/he is breathing on me even though s/he is still on the other side of the imaginary line we have in the back seat of the pickup, I'm about to punch her/him." Sigh. You see, this was during the Stone Age of Family Travel–no GPSs, car phones, iPads, Game Boys, portable DVD players, etc. Seriously, young mothers, you have no idea how good you have it nowadays.
While I'm so glad you don't have to deal with the situations I did as we traveled across Texas nearly every weekend, you still might find yourself looking for ways to keep your kids entertained during road trips. Well, this week's Prairie Wife of the Week is a fellow blogger who has some awesome tips and tricks. Texas Gal is the creator of Mom, Are We There?, a compilation of "all things cool about family road trips."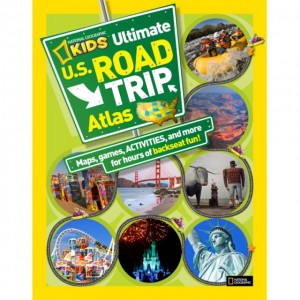 This busy graphic designer, wife and mother of twins started the blog to share road trip ideas, places to see, places to avoid and how to have fun along the way. And I'm thrilled that she is not only giving away a copy of National Geographic's Ultimate U.S. Road Trip Atlas but is also asking PrairieWifeInHeels.com readers to help her with her next activity book! Read on for details, and safe travels to you and your family this summer.
Texas Two Steppin': Texas Gal, tell us a bit about yourself and your family.
Texas Gal: Born and raised in Texas and love traveling with my family, but I guess you've already figured that part out. Man, did you see my shoes in that picture? If you did, then you now also know I have humongous feet (and trip over them daily). I'm also easily distracted. Moving on…I simply love and adore my family! Several years ago my husband and I found out we were having twins. We were totally shocked to hear this. Then while our doc was performing the sonogram, she followed it with, "Wait…let me make sure there isn't another one in there." Another one??? Ha!!
Texas Two Steppin': We could totally do another interview and just focus on your unique experiences as a mother of twins. But how do you find ways to achieve some sort of balance between your busy career and even busier family?
Texas Gal: I try to keep work at work and keep my family as my #1 priority! I find that a simple routine at home helps keep the stress levels down. When my husband and I get home from work, we talk about our day. This is our download for the ups and downs of work, and that's when we end the "work talk."

We then eat dinner as a family at our dinner table and talk with the kids about their day. This is our download from them on the wacky ups and downs of their day. I really, really love this part of my day. We have the best conversations at the dinner table! Seems simple, right? I wish! Balance is always tricky, but I guess another goal for our family is to not tackle too much in regards to extra-curricular activities for the kids. We let them choose one, and go with it!
Texas Two Steppin': I have always been amazed by your boundless artistic and entrepreneurial abilities. In your "spare" time you've learned jewelry making, crochet and photography. So what inspires you to constantly create and share beauty with others?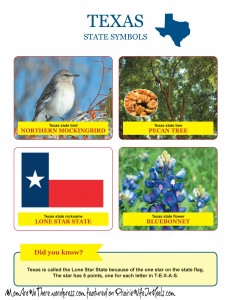 Texas Gal: So this is where I just get totally corny…sorry guys…
When I was a wee Texas Gal, I loved to play outside and explore around our house which was out in the country. There were these fields that would spring up in a sea of bluebonnets each year, and I would literally just sit there and look, breathe it all in, and listen to everything around me. It was all so beautiful! Every blade of grass, every individual color of every flower…ever single detail…was so amazing to me. Pretty deep for a little kid, huh? I wanted to capture what I saw, so photography was a natural direction for me to take. I kinda wish I still had that crappy Le Clic 110 camera…maybe Ebay…hmmm…sorry!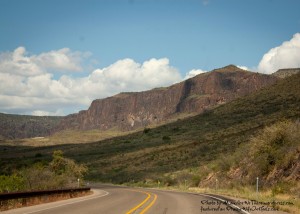 To answer this question fully, I need to explain that so many things inspire me! I just have to slow down sometimes and remember to see every beautiful detail, every branch on a tree, every blade of grass, just like I did when I was a child. We live in an inspiring and breathtaking world, don't we? 🙂
Texas Two Steppin': So tell us about your latest venture that melds your talents in graphic design, writing and parenting.
Texas Gal: Yes! So my husband and I made a pact many years ago that we would try and travel as much as we could afford to (we're on a tight budget, folks). We've carried that pact over to our kids and told them we would see as many states of the US as we could, together as a family. There are so many cool and amazing things to see out there! Isn't it exciting?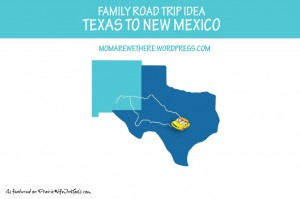 This then led to our first road trip with the kids from Texas to New Mexico. We had so much fun!! I kept thinking to myself during the trip, I wish I could share this with everyone. And so…the idea for the road trip blog for families was born! I love photography and graphic design and felt the need to put together this info, along with free downloads for kids that they can take along on their trip. The goal (and it's a BIG one) is to put together activity sheets for each state.
I would soooo love to hear from your readers on which state I should tackle next. Heck, I'd love to hear ideas from your readers on cool things to see and do in their neck of the woods too. I hope that they click over to http://momarewethere.wordpress.com/contact/…after they finish reading this interview, of course!
Texas Two Steppin': OK, now's your chance to give us one of your best tips for making any car ride peaceful and any final Prairie Wife words of wisdom that we just shouldn't live without.
Texas Gal: Two things – be prepared and be patient. Oh, three things – Pinterest! 🙂
Finally, love your family, love yourself, see the beauty in everything around you – every single detail – and welcome it!
Peace and safe travels my friends!
Texas Gal will be stopping by frequently to answer any questions, see what state and sites you nominate for her next activity book and to hear all about your family road trips. Be sure to enter the giveaway for the fabulous National Geographic book and remember you can earn extra entries by visiting her site Mom Are We There?  
a Rafflecopter giveaway

Categories: Prairie Wife of the Week
Tags: , art, book, free, Giveaway, kids, mom, new mexico, road trip, Texas, Travel, Vacation, yell free