Thank You for Trusting Me
Posted July 7, 2017 by Prairie Wife - 2 comments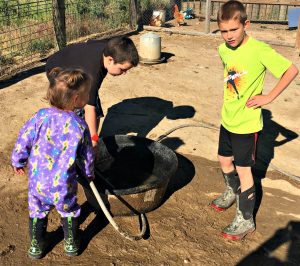 I can't imagine how hard it is for you to turn and walk away.
To get in your car and drive off and leave him behind.
But, I promise I'll treat him like my own.
If we're being honest, I'll treat him better than my own.
The kids love when he comes over, and have been gazing out the window for your car for over 10 minutes.
They fought over who could take him to do chores first, and we all cheered with him each time he helped.
He wanted to pet the horses but, was scared. So we encouraged him to take a few steps forward and I held him when it was too much. When he finally made it to the fence for some horse kisses we all clapped!
He helped Cowboy W clap for him, which of course resulted in lots of laughter all around.
When my friend came over with her daughter, he noticed and came up to gave her a hug.
Then it was time for Pirates, and when it got to be a bit much, the Cowkids let me know and I helped.
He let them know he was sorry for pinching and throwing toys, and they accepted his apology.
Some quiet time inside and he was ready to be back playing with his friends.
A gunfight downstairs trashed the house but, it was totally worth it for the big smiles.
I could tell he was missing you and getting tired so, we went outside with the littlest Cowkids for some time on the swings.
I don't know who was prouder of him pretending to rope cows while on the horse swing, me or him…or the other kids and my friend.
When you came to get him and he saw you, his smile was precious.
We talked about his day. I shared the good and the bad and when it was time to go he told us thank you and goodbye with the best of manners.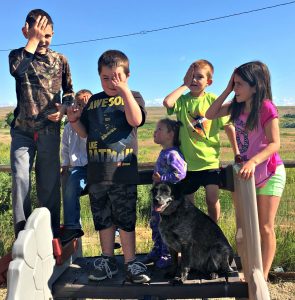 My kids have learned so much from him.
How to sign and pick up non verbal cues.
To be patient and take time to let others learn from them.
That different is OK and welcome.
That neighbors are friends and friends are family.
Thank you for trusting us.
I assure you that it means more to my family and I than you can ever know.
For more posts about families with special needs children click the links below.
Parenting a special needs child from infancy to adulthood.
Life with a brother with special needs.
A mother's story about searching for a diagnosis for her son.
Categories: Life As It Happens, Parenting
Tags: , babysitting, children with special needs, friends, parenting, Special Needs, support, trusting