Tag Teaming Little Punks
Posted December 9, 2013 by Prairie Wife - 6 comments
I'm feeling a little haggard this morning, and more than a little thankful it's the day for my weekly Starbucks date with friends. You see, last night my children tag teamed me…this is a phrase that I have come up with for a strange occurrence that happens when you have more than one child. Somehow, through an unknown form of communication, my older Cowkids (who have been sleeping through the night for years) and Cowbaby work together to ensure that Mommy doesn't get any rest. It almost always happens on a day when you don't get a nap, and when the following day is crazily abnormally busy. The end result of being tag teamed is a night of less than 4 hours of total sleep, and no more than an hour straight through. I will totally be following my own advice about covering up undereye bags, so I can go to the previously mentioned coffee date without making small children cry when they see me.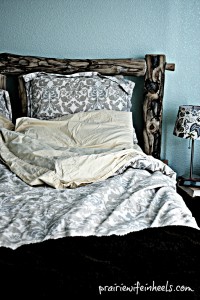 It all began last night at around eight when I sent my tired happy kids to bed with a kiss and a song. This is really how they go to bed; we do not have any tears or arguing from the Cowkids at bed time. I nursed Cowbaby as The Cowboy and I caught up on one of our favorite shows (Elementary); DVR is one of the best inventions for mothers ever. I tucked Cowbaby into his crib and began to get ready for bed. According to The Cowboy my face washing and pill regimen takes an hour but really it's only about 10 minutes.
I let the Cowdogs in, and because it has been -20 below or colder for a week straight I decided to let the Cowcats in as well. I turned off all the lights, made sure all the Cowkids are tucked in and breathing and hopped into bed with my Kindle. As my eyes started to droop I forced myself away from my current book (Sowing Secrets by Trisha Ashley) set the alarm on my phone, kissed the already slumbering Cowboy and turned off the light. It was a little after 10 pm.
Cue Cowbaby crying in his crib less than an hour later. No biggie, by Cowkid four I have totally come to terms with the fact that my children are missing the genetic component that allows them to sleep through the night until after they are one. But, I have recently night weaned him. This means I won't nurse him anymore at night, just rocking. An hour and a half later he finally let me put him down and he stayed asleep. Victory and time for a rest…
I had just fallen into the fabulous drool and snore inducing sleep of an exhausted mother, when I hear a tentative "Momm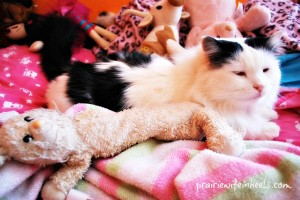 y?" from the doorway. "Mommy Mr. Sprinkles is in my bed and he won't let me sleep on my pillow." From the picture you can see the Mr. Sprinkles looks like a fluffy bundle of love. In truth he is more than a little bi-polar, and I think bitter about his name as well. He has sensed Cowgirl G's fear and he takes full advantage of it. I sighed and stumbled out of bed and grabbed the offending cat and threw him outside…this is how he repays me for letting him in out of the cold! Cowgirl G receives a swift kiss and a downright refusal to sing her a song.
Just as I am finally warm again and receiving another well deserved visit from The Sandman, I hear a massive amount of bumping and clunking from the basement. I run downstairs envisioning that Cowboy J has rolled out of his bunk bed and is flailing around on floor unable to call for help. Turns out he just drank too much water before bed and had to go to the bathroom. We discuss shutting doors quietly and waiting to flush the toilet until morning, and he too is sent back to bed with a kiss.
My head hits the pillow and within a few minutes sleep overtakes my weary body. Visions of English country gardens dance around my head (Trisha  Ashley books always give me great dreams) as I slumber the sleep of an exhausted mother. Suddenly, my walk through the climbing rose garden, is interrupted by a soft wailing noise. I sigh and stumble out of bed, grab my bathrobe and pick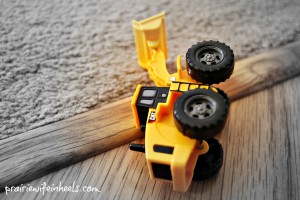 up the small (well kind of small) angry Cowbaby. We rock and sing for only a few minutes and he is snoring softly in my arms. I can't resist a few more minutes of snuggling and kissing the top of his sweet soft head. Even exhausted I know that this time will pass all too quickly. With fond thoughts of his sweet baby snuggliness (according to spell check this isn't a word, but you know what I mean) I walk back to my bedroom and step on a CAT wheel loader toy. How I missed it every other time I stumbled around, I have no idea! The pain shoots to my brain and immediately my heart receives a matching shot of adrenaline.  I say a few choice words and hop to the bathroom. After making sure there is no blood (I just changed the sheets on our bed) I turn off the bathroom light and crawl into bed.
At this point The Cowboy's cough medicine seems to wear off and I am treated to a symphony of coughing, sniffling, and grunting…as only a 30 something 6'3" man can do. I sigh as my heart rate finally returns to normal and look at the time…5am. I get out of bed, throw on some warm sweats and a hoodie, and proceed to write this blog post. Forgive me for any glaring errors or mistakes…because of my tag teaming little punks, it's been a long night.
Categories: Life As It Happens, Parenting
Tags: , bedtime, multiple children, Prairie Wife Life, tierd