Homemade Crockpot Chicken Noodle Soup
Posted December 8, 2013 by Prairie Wife - 1 comment
My Homemade Chicken Noodle Soup is by far Cowboy J's favorite meal. He loves it when winter comes along, and always asks for it whenever he is sick. This recipe freezes well but, I usually have to add some water to it when I heat it up. I have two sneaky tricks that make my soup taste like I took way more time than I actually did. Firstly, I recommend using your trusty crock pot, simmering your soup all day makes the flavors extra rich. Secondly, you need to use
egg noodles
, and put a lot of them in there! If you don't have time to use your crockpot don't worry. You can use the same recipe to cook this soup on the stove. Just cook the chicken first before you add the other ingredients and simmer them for 30 minutes. Then add the noodles for the last 15 minutes.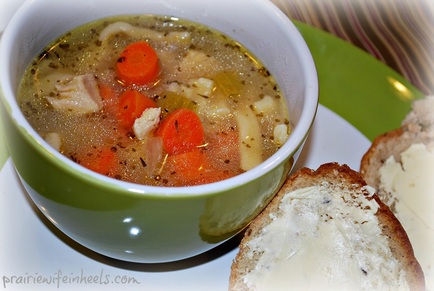 Homemade Crock Pot Chicken Noodle Soup
Prep time: 15min Cook Time: Crockpot 4-8 hours On Stove 45min
Serves: 8-10
2 cups chopped celery
2 cups chopped carrots
½ med onion finely chopped
4 ckn breasts
48oz ckn broth (vegetable broth works as well)
2 cups water
2 minced garlic cloves
½ tsp thyme
½ tsp marjoram
1 tsp dried parsley
4 cups of dried uncooked egg noodles
Salt and Pepper to taste
1. Cut up the chicken breast into small chunks.
2. Cut up all your vegetables.
3. Place all the ingredients (except the noodles) into your crockpot. Close and set cook time.
4. One hour before serving put the egg noodles into the crockpot.
Categories: Recipes, This and That
Tags: , Chicken Noodle Soup, Crock Pot, Main Meals