Some Beachy Books
Posted July 10, 2018 by Prairie Wife - 1 comment
Summer, summer, summer.
Are you as happy as I am that the sunshine and warm weather is back to stay for a while?
If you follow us on Instagram you know that we took a family vacation to Texas (SO MUCH FUN). Now that we back home in Wyoming our regular Summer schedule of lake/beach and mountain streams has resumed.
I. LOVE. WYOMING. 
As  you can see from the video below there are a ton of different things to do in the Summer. In Wyoming, we only have 3 months (give or take) of this kind of weather. We need to take advantage of it!
Between sunshine and work at the radio station (Shameless plug: Listen to me weekdays 3-7 and weekends 10-3) I have made a concentrated effort to cook and clean less and read more.
It's Summer, who cares if the house is trashed? The wet and muddy footprints just appear 5 minutes after I mop, so why bother? And don't you find your tastes change in the Summer too? Sandwiches and salads seem much more appealing (and easier to make) than a roast and potatoes.
Thanks to all this time spent devoted to reading I have some new book recommendations for you!
Perhaps you'll actually read these books at the beach, or maybe you'll be curled up on your couch with an iced coffee enjoying the modern marvel of air conditioning….wherever you are, trust me…these books are exactly what you need!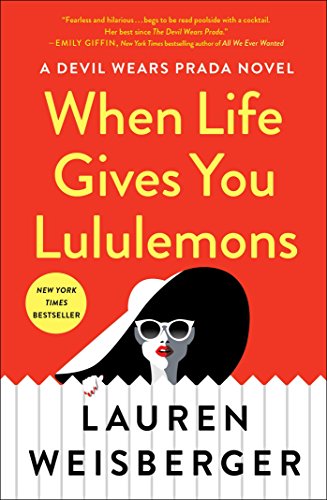 When Life Gives You Lululemons by Lauren Weisberger 
You may recognize this author from her novel The Devil Wears Prada which was later turned into an amazing movie. I admit I have only seen the movie, and haven't read the book. Though, now I AM planning to go back and read the other two books in the series! This fast paced book can stand on its own, but fans of Emily from The Devil Wears Prada will appreciate seeing her in this book, as well as the appearance of a few other familiar characters. Miriam, is a high powered NYC attorney who has recently transitioned to the suburbs and life as a SAHM. She is the center of the story and her friendship with Emily and former super model Karolina results in a book that takes an honest look at motherhood, aging, and marriage. What started as a visit to the 'burbs to lick her wounds as her celebrity stylist business slowly begins to shatter, results in Emily learning that perhaps she CAN soften a bit. When Karolina's life and marriage publicly implodes, all she wants to do is hide. Miriam refuses to let her do so and between her detective skills and Emily's connections they drag her back into the life she deserves. Weisberger mixes in a poignant look at motherhood and a hilarious peek into what really goes on behind closed doors in the ritzy suburbs, resulting in a book that you won't want to put down!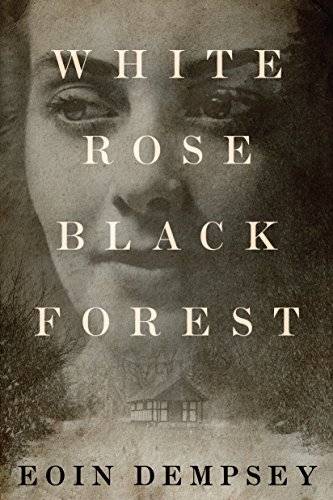 White Rose, Black Forest by Eoin Dempsey
Thought provoking, tragic, riveting, humbling and fascinating…I could keep going but I think you get the idea. Dempsey's book is nothing less than phenomenal. Franka Gerber is alone and hopeless, living in the wilds of Germany in 1943. Over the last few years she has watched her entire life crumble piece by piece as the Nazis take over her country. Out on a walk she comes across the body of a paratrooper, who is near death. He is wearing the uniform of a German solider, but something tells her he isn't all he seems to be. Franka is faced with a dilemma, should she leave him to die or bring him back to her home? The story is mixed with flashbacks that allow you to truly see the struggle between what you know is right, and what you feel you must do. Add intrigue, murder, government plots abound, and a dash of love story and you can see why I may have stayed up too late a few nights to finish this historical fiction novel. I have to add…the ending is well worth the wait!
Party Girl by Rachel Hollis
I first found Rachel Hollis when I read her non-fiction book Girl Wash Your Face . In the book she mentions her fiction novels, and I made a mental note to learn a bit more about them. When I saw that the first book in her "Party Girl Series" was on my Kindle Unlimited list I added it to my library. This light and fun read is exactly what I'd recommend for those of you looking to mentally get away for a bit. Party Girl follows small town girl Landon as she moves to Hollywood to begin her dream job working for an A-list party planner. Her new roommate is aloof and sophisticated and at first Landon flounders. As she learns to rely on her strengths she slowly begins to grow into the A-List party planner of her dreams…except it becomes more and more clear that maybe her dream wasn't all she thought it would be. Funny stories, relatable 20 something year old antics, and a cute boy round out Hollis' story and create the perfect read for any woman that's taken a risk…or dreamed of something better. The other books in this series were just as enjoyable as the first one, and I read all of them in less than a week. I was a bit bereaved when I reached the end of the series, but at least I can still get the same wit, humor, real life advice, and girl talk I loved in the books from Hollis' podcast!
A few more books to take a look at….
The Plastic Magician by Charlie N. Holmberg The latest book from the Fantasy Series "The Paper Magician" does not disappoint. A strong female main character, a little bit of love and a ton of intrigue make this book a page turner!
Sunbaked (Pineapple Kay Series Book 1) by Junie CoffeyTotally light hearted and easy to read, these fun books take place on a tropical island. 36 year old Nina moved to the island on a whim, but instead of relaxation she finds herself driving around the island with eccentric characters trying to solve a murder.
Match Making for Beginners by Maddie Dawson A magical love story (literally) that begins with a broken engagement, will help even the most cynical reader believe in the power of love.
As always let me know anything you're reading right now and loving 🙂
Categories: Book Reviews, Reviews
Tags: , book reveiws, Chic Lit, eoin dempsey, Fantasy, Fiction, Historical Fiction, Modern Fiction, party girl, rachel hollis, when life gives you lululemons. lauren weisberger, white rose black forest