Simple Stuffed Peppers
Posted February 12, 2018 by Prairie Wife - 4 comments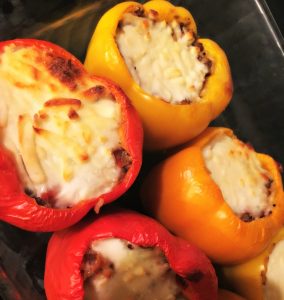 This is easily one of the top 10 favorite dinners in our house. The Cowboy and all the Cowkids like it and it's simple to make, perfect for those school nights where you have to be 20 places!  I buy the Seeds of Change Microwaveable Quinoa and Garlic Brown Rice in bulk from Sam's club, it only takes 90 seconds to cook, and it's healthy and tasty. It's also easy to make this vegetarian by taking out the meat and adding more rice and quinoa. You can also switch out the beef for shredded chicken. I usually have some left over filing, and if the Cowkids don't finish it off that night, it makes a wonderful healthy lunch on its own the next day.
Simple Stuffed Peppers
Prep/Cook Time: 35 min 6 Servings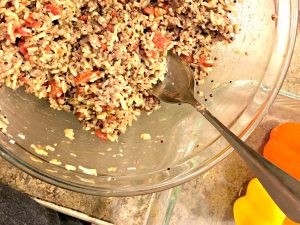 Ingredients
1 lb ground elk or beef
2 bags of microwaveable Quinoa and Garlic Brown Rice
1 1/2  cups of shredded cheddar cheese
1 can of Rotel Original Diced Tomatoes and Green Chilies (I use mild for the kids)
6 Large Sweet Peppers
1 cup shredded mozzarella cheese
Salt and Pepper to taste
Cook ground elk or beef on a pan on the stove and set the oven to 375 degrees.
While meat cooks cut the top off of sweet peppers and scrape out seeds and place in 9×13 glass baking dish (I spray it with nonstick spray).
Cook both bags of Quinoa and Garlic Brown Rice.
Combine cooked meat, quinoa, cheddar cheese, and Rotel in a bowl. Mix well.
Spoon filling into peppers, making sure to push it down and pack tight!
Sprinkle the top of each pepper with mozzarella cheese.
Place peppers into the oven and bake for 20 minutes or until the mozzarella cheese is melted and slightly golden.
Categories: Recipes, This and That
Tags: , healthy meals, Main Meals, quinoa, recipe, stuffed peppers, vegetarian, week night meals