Seeing Ione by Jansen Curry #giveaway
Posted January 4, 2016 by Prairie Wife - 19 comments
Last year I interviewed fellow Wyoming blogger from TheTallMom.com Jansen Curry. One of the questions I asked her was "Where do you hope to see your blog as well as you and your family in the next few years?" In her answer she stated "I hope to have published either with an agent/publishing house or self-published a book or two. I've discovered a love of writing fiction and I'd really like to see some projects completed."
In true Prairie Wife style, Jansen put in the time and the effort to make her dream become a reality. I am thrilled to announce that the book review that follows is of Jansen's first (hopefully of many) published book! I can't wait to be able to say…I knew her when…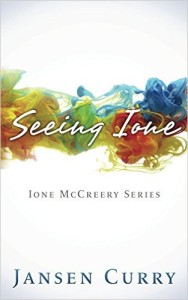 Seeing Ione by Jansen Curry is a fictional novel that begins with a grieving Ione, alone and confused in an empty house located in a small town in rural Wyoming. She has just lost her adoptive father and is struggling with a slowly deepening case of depression. As you read Curry's book it becomes clear that Ione is not your typical woman. She has a psychic "gift" that allows her to see the emotional imprints that people have left behind them. While her world is brightly colored with these emotions, she finds herself slowly fading.
As the story continues Ione's path is crossed by Adric, an alarmingly large and serious (and ruggedly handsome) man who is intent on possessing something that only Ione has. A string of violent murders forces Adric and Ione to become a team. As a whole new world opens up to Ione she must draw upon an inner strength and resolve she didn't know she had, and charge forward to save not only her dearest friend, but the world as we know it.
Curry's book is well written with detailed descriptions and a flowing plot that make it hard to put down. Fantasy, thriller, and love story all wrapped in one, Seeing Ione is a novel that will leave you asking…when is the next book being published?
Take a moment to tell us why you think you will like Seeing Ione in the comments and you'll be entered to win a signed copy of this amazing book! To earn more points towards the giveaway follow us on social media. Please be honest we WILL be checking.
Categories: #GiveAways, Reviews
Tags: , Book Review, Fantasy, Fiction, Ione McCreery Series, Jansen Curry, novel, psychic, Seeing Ione, thriller