Preventive Mastectomy: Weeks 4 and 5
Posted June 7, 2016 by Prairie Wife - 4 comments
Last week's fill was a bit rough, and it took me about three days to recover.
I'm proud to say, that once I was back on my feet I never looked back!
These last two weeks have mostly involved getting things back to normal around here.
I had my first physical therapy session, and it was a huge help. My therapist was able to give me some stretches that helped to ease the tightness in my chest, and she cleared me to do most Yoga stretches and even go for a short run. The Yoga has helped so much with the tightness in my back and my mood (I'll include the poses I did below for those of you going through this). Going on my first run was scary…I guess I had visions of my expanders falling out and rolling down the dirt road. I am happy to report that this did not happen, and other than a noticeably reduced lung capacity, it felt fabulous to hit the dirt road again.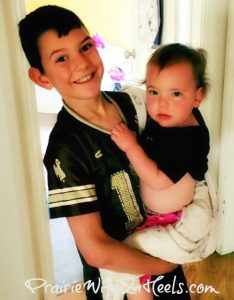 After doing my exercises and Yoga every day for a week, I was then cleared to do any kind of activity I wanted, including lifting the 25lb LittleMissH! I of course have to take it easy and work my way up to holding her as much as I did before the surgery but it's great to be able to be left alone with the Cowkids all day with no worries. Cowboy J has been a huge help getting her out of the crib for me, and it's been wonderful to see all the Cowkids step up to help over the last month. I have noticed that I am a bit sore at the end of each day, as my muscles are getting used to doing housework again.
I was unable to go to Denver for another fill after week 4 because my skin had still not healed from the last fill. I was one part relieved and one part disappointed. It was nice not to have to drive to Denver, and a break from the pain was welcome. I was even able to actually sleep on my side for a bit by the middle of week 5! I was disappointed because the three-month countdown to my next surgery can't begin until I have my last fill. So, each week I don't have a fill means my surgery gets pushed back. Hopefully, when I go down for a fill next week, I'll have some good news.
Mary Poppins and I have been on our own for these weeks, and I'm thrilled to say that it's actually gone really well. A huge part of that is my friends bringing by meals three days a week. It allows me to rest in the afternoon and gives Mary Poppins and The Cowboy a chance to focus on the kids in the evening instead of trying to run around getting dinner ready. I've been able to slowly get back to doing most of the household chores, and though I was excited at first, the shine wore off pretty quickly!
As TallGirlJ said last week when she came over, "Mama's back." It's been a bit of an adjustment for the Cowkids to have me back nagging and bossing them around. But I think it's safe to say that they're pleased to see life returning back to normal…just in time for Summer 🙂
Note: I am not a doctor so please consult your doctor and/or PT before doing these exercises. If you are unsure of some of the poses, please stop by our Prairie Wife Pinterest Health and Motivation Board for a helpful guide.
Yoga Poses for Week 4 (breath deeply and repeat cycle three times)
Mountain Pose (with arms rotating out in circular motions along with breathing)
Forward Fold
Cat/Cow Pose
Pigeon
Child's Pose
Bridge
Lay on back with legs straight up in the air (drains lymph nods)
Happy Baby/Wind Releasing Pose
Cat/Cow
Child's Pose
Forward Fold
Mountain Pose with arms
Yoga Poses for Week 5 (breath deeply and repeat cycle three times)
Mountain Pose (with arms rotating out in circular motions along with breathing)
Forward Fold
Plank
Modified pushup into Cobra
Cat/Cow Pose
Pigeon
Child's Pose
Downward Facing Dog
Warrior 1
Warrior 2
Reverse Warrior
Bridge
Wheel (only if you're ready this is a tricky one)
Lay on back with legs straight up in the air (drains lymph nods)
Happy Baby/Wind Releasing Pose
Cat/Cow
Child's Pose
Downward Facing Dog
Forward Fold
Mountain Pose with arms
Categories: Mastectomy Surgery, Preventive Mastectomy
Tags: , breast cancer, exercise after surgery, help, mastecotmy, preventive mastectomy, recovery, support, surgery recovery