Prairie Wife of the Week: Jen from Jiggly Knits
Posted November 14, 2016 by Prairie Wife -
This week's Prairie Wife offers all of us a great opportunity to learn more about a disease that we hear about all the time, Cystic Fibrosis. If you're like me you only have a vague notion about what it entails, and what life would be like if you have Cystic Fibrosis (CF). Not only is Jen a woman living with CF but, she become an advocate for others with this disease and those trying to eradicate it. Grab a cup of coffee (or wine) and take some time to learn more!
Prairie Wife (PW): First tell us a little bit about you and your family. 
Jiggly Knits (JK): I grew up in Casper, graduated from NCHS in 1998. I have a younger sister (a former Prairie Wife) Alaina (of Om on the Range Yoga & Massage). After I graduated from Casper College, I moved to Denver to go to the Art Institute and I ended up living there for about 8 years. I then lived in Missoula MT for a couple of years before settling in Bellingham WA. I love the fact that I'm from Wyoming and I'll always be a Wyoming girl at heart, but I love love LOVE the Pacific Northwest! My parents, sister & my in-laws all live in Casper, so I still go back every now and again. I first met my husband when we were in high school, and I was lucky enough to marry him about 7 years ago. Oh, I also have a cat named Olive. She's a huge brat, but I love her.
PW: You have Cystic Fibrosis. Can you share a little about this condition and how you were diagnosed?
JK: I think the Cystic Fibrosis Foundation explains it best "In people with CF, a defective gene causes a thick, buildup of mucus in the lungs, pancreas and other organs. In the lungs, the mucus clogs the airways and traps bacteria leading to infections, extensive lung damage and eventually, respiratory failure. In the pancreas, the mucus prevents the release of digestive enzymes that allow the body to break down food and absorb vital nutrients."
I wasn't diagnosed until I was 5. When I was younger my mom had noticed that I was extra salty after I'd been out playing & had heard about Cystic Fibrosis symptoms on the radio so she took me to a doctor. They told her she was being a paranoid first time mother and sent her away. A few years later, during my pre-K checkup, she asked the doctor about my distended belly, so he tested me for CF. This was in 1985, so with what doctors knew about CF at the time, my parents were told that I probably wouldn't live to be 18.
PW: What did this diagnosis mean to you as a child?
JK: I am really, really lucky with my CF. My lungs were always extremely healthy, so it didn't affect me nearly as much as it could have. For a while after my diagnosis, my parents had to do "percussion" treatments on my chest, sides, and back. Essentially it's pounding with cupped hands to knock loose any mucus. But my lungs were so good that at some point the doctors said we didn't need to do that anymore. Really the only things I had to do as a kid were take pills with every meal to help digest my food and go to Denver every 3 months for checkups. I think one of the hardest things for me was whenever I'd go to the CF doctors they would tell me that I was doing great but to just wait, that eventually I would get sick. I heard this pretty much every 3 months, so when I didn't ever really get sick I started to doubt my doctors and I think it even caused me to be a little rebellious about my CF.
PW: Looking back do you have any advice for parents who have a child with Cystic Fibrosis?
JK: Oh man, that's tough. I can only imagine what it's like to have a child with a terminal illness, but I'd say that I can only look back fondly at the way I grew up. I never felt like I couldn't do something because of it. I started playing soccer when I was 6 and played sports all through school. I'm not sure if my parents ever had doubts about it because of my CF, but if they did I never heard it. So I guess I'd say to just let your kid be a kid, and try not to treat them too differently from other kids. Educate them early on about what having CF means so that they can in turn educate their peers. That will (maybe) help take away some of the weirdness of having to do treatments that other kids don't have to do.
PW: As you became older how did your disease affect how you made decisions? 
JK: I probably shouldn't say this, but up until fairly recently I was pretty blasé about my CF. As selfish as this may sound, I kind of always just did what I wanted without really thinking about my CF at all. I guess going to college wasn't too difficult, because I went to school in Denver where my clinic was, so if I needed them they were right there.
When my husband and I were dating and it started to get serious, I did give him a chance to get out. But either he just really loves me or he didn't do enough research into what CF is because he's still around. We have decided not to have kids, but I don't think CF played into our decision. Parenthood just isn't something that either of us wanted.
I have had to think about CF during our last couple of moves, but that's just because CF clinics aren't readily available. It still isn't a deal breaker though, to go to my clinic now I drive an hour and a half to Seattle. I think from here on out though as my disease progresses, it will play more into my life decisions.
PW: Now as an adult can you walk us through a regular day? 
JK: I just started a new treatment that has to be done in the mornings, so I'm in the process of getting into a new routine. I get up at 5:25 to do that, it takes some time to do, what with nebulizing and cleaning. Then I eat breakfast and get ready to be at work at 7. When my body is cooperating, I'll go for a run during my lunch break, and then work until 4. Then I come home and strap into my Smart Vest and nebulize hypertonic saline for 30-45 minutes to help clear out my lungs. The vest is inflatable and hooked up to a compressor that pumps air rapidly to beat around my chest (a little higher tech version of what my parents had to do to me when I was a kid). After that, I eat dinner and then just kind of hang out with my husband and watch tv until it's time to go to bed. I don't sit still very well though, so I'm usually knitting or some other form of crafting while I watch tv.
PW: What advice do you have for other adults that have Cystic Fibrosis?
JK: I feel like I'm kind of just now learning how to have "real" CF, so I can probably learn more from other CFers than they can from me. But I think what I'm learning is to just take it a day at a time and that you know your body and you know when something is wrong, so be your own advocate for your health.  Don't be afraid to reach out to other CFers for advice or just to talk to someone that can truly understand what you're going through. Social media is amazing for this since we're not supposed to come within 6 feet of each other. Also talk about CF to get the word out. Not everyone has heard of it. There are only about 70,000 people that have it in the whole world, so the more awareness there is of this disease the more funding research will get!
PW: What about their partners and families?
JK: I think the most important thing is to be understanding. Our bodies fight extra hard every day just to keep working and it can be pretty exhausting. I know for me personally I already feel really guilty when I don't feel good enough to do something, so if I feel like he understands it helps to take some of that burden away. Also help keep track of medications and treatments, we have to do a lot so it can be easy to miss something. My husband always reminds me to bring my pills (digestive enzymes) when we're leaving the house and it's a huge help.
PW: You've turned your treatment time into a way to help others through your company/blog Jiggly Knits. Tell us how Jiggly Knits started and a bit about how it's helped you.
JK: Earlier this year my lung functions were going down and I knew that I really needed to just let go of my stubborness and pride and really start to be consistent with my vest treatments. So I was
getting a room situated for it and I had grabbed some yarn and needles so I could knit to pass the time. My husband saw me and said "maybe you should sell whatever you make and donate the money to the Cystic Fibrosis Foundation, you could call it jiggly knits". I guess I should explain that we've always call the Smart Vest my jiggly vest because of how it jiggles me while it's compressing (we're really mature). I kind of blew it off, but as I sat there that night I really started thinking about what he said and thought that it sounded like a great idea. I mean I'm already going to be spending all of this time doing my treatments, so why not do something to help out with CF research at the same time?
It is also really helping me to stay motivated to do the vest. I've never really liked it, but this just gives me an extra reason to do it. I even tattooed my logo on my arm so I see it every day to remind me of what's at stake and what it means to keep doing my treatments. I'm to the point where it feels like a second job and I feel sort of guilty when I don't do my vest or just don't knit while I'm doing it, because then I'm not contributing to the greater good.
I use my Facebook page and blog as more of a tool to educate people about CF and show what it's like to live with it.
PW: What are your hopes for the future of Cystic Fibrosis research?
JK: I really hope that I'll see CF cured in my lifetime, and with the way things are progressing I think that just might happen.
PW: Where do you hope to see yourself in the next 10 years?
JK: Honestly pretty much where I am now. I love where I live, I have a great job, and everything is going great right now. I'd like to travel more, but other than that I don't really know that I'd want to much to change. Maybe to convince some of our friends & family to move out here (wink, wink).
PW: Any last Prairie Wife words of wisdom?
JK: I love that meme that pops up every now and again that essentially says to be nice to everyone because you don't know what they're going through. It's so true. This world needs more kindness and understanding.
Take a second to stop and see all the amazing knitted items in Jen's Jiggly Knits Etsy Shop! They would make perfect gifts for your loved ones…or yourself 😉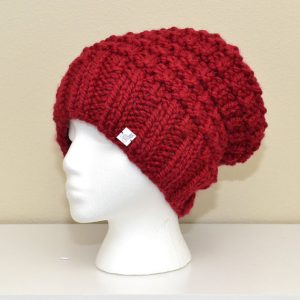 Categories: Prairie Wife of the Week
Tags: , CF, cystic fibrosis, donations, interview, jiggly knits, knitted gifts, living with CF, Prairie Wife of the Week, support, support for cysitc fibrosis