Prairie Wife of the Week 2015 February Flashback Katy #giveaway
Posted February 20, 2015 by Prairie Wife - 17 comments
Taking care of your skin is something that I just can't emphasize the importance of enough. As our past Prairie Wife of the Week Eliza pointed out it's the biggest organ in your body. Us gals here at PrairieWifeInHeels.com are a loyal bunch and both Texas Two Steppin' and I have been fans of Rodan and Fields' skincare line for years. Chatting with Katy over a year ago Texas Two Steppin' got some great skincare advice as well as some helpful hints for our readers looking to help add to their family's finances. I am so pleased to have the chance to talk with Katy again, and not only learn more about some of the latest skincare advances but, to hear her advice for trying to sell products in our current economy. Add to that an amazing giveaway with not one but TWO winners and you'll be happy you stopped by for this months February Flashback Prairie Wife!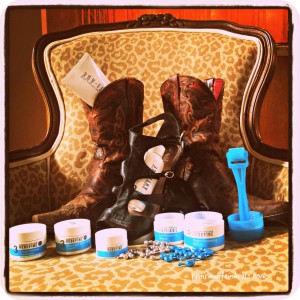 Prairie Wife (PW): It's been over a year since you were a Prairie Wife, how time flies! Tell us how you and your family are?
Katy (K): We are good. The busyness never seems to stop but we wouldn't have it any other way! Well maybe I would take more sleep!:)
PW: With three busy boys and a landscaping business you must have some great tips on how to balance your time (and stay sane)! Please share?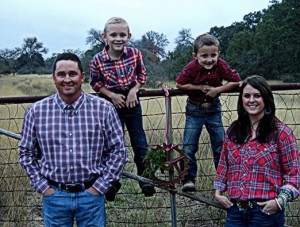 K: Hmmmm….Define Sane? Haha! For me it is all about my day planner! I always order myself a cute one from Tiny Prints when I get my Christmas cards and I can't live without it! I have tried to use my phone but I guess I am just old fashioned and it seems that if I write it down there is a better chance of remembering it. I also keep a note pad beside my bed so if something comes to me before I go to sleep or even in the middle of the night I can write it down and have a better chance of accomplishing it the next day.
PW: In your last interview you shared with us your love of selling (and using) Rodan and Fields. Can you give our readers an overview of your work with the company and why you enjoy it so much?
K: I am coming up on my 3 year anniversary with the company and I have to admit I have never done anything (work related) that has brought me this much joy! I get to work with some of the most amazing women everyday, we collaborate, share excitement and support each other! My team is amazing and hard working and I am better for having worked with all of them! Our business is simple, we share our amazing products and the business opportunity! The products speak for themselves with the results they provide and the business, well it is full of happy successful men and women with amazing skin…enough said! Our company has grown to $329 million in sales annually and just recently opened business in Canada, our first international launch. So very exciting things are happening for us! I have been fortunate enough to attend corporate events in Dallas, Nashville, Atlanta and earned an all expense paid trip to Napa Valley and San Francisco, which was an amazing time spent with fellow consultants where we received wonderful perks and great training from our corporate office! I love the travel but am excited that our annual convention will be held in Austin, Texas this year and I get to host all my friends who will come from all over the country!
PW: Can you share some of your biggest skin and sales success stories with us?
K: Success stories….well we have so many! I suffered from Melasma or pregnancy mask and had tried just about everything, after using our Reverse Regimen for 60 days my spots and splotches were almost completely gone and since that time I feel like my skin looks more amazing each day! Our Soothe line for sensative skin has helped so many people who struggled to put anything on their face period, and Unblemish which is for acne keeps many of my customers happy by treating their acne and helping fight the signs of aging. But our holy grale, aka Redefine, is what keeps our customers coming back, it helps with fine lines, wrinkles and loss of firmness, which most of us struggle with. Here is the Real Results page from my website or simply take a look at this video!
PW: In the last year Rodan and Fields has come out with a multitude of new products, can you tell me about a few of your favorites?
K: Well we have entered another market with our in- home skin care tools. Our Macro Exfoliator is one of my favorite things. It removes millions of dead skin cells from your face using it once per week for 5 minutes! It is truly amazing!
Our new product is called Acute Care and well the best way to explain it is this…fill a wrinkle while you sleep, NO NEEDLE REQUIRED! These are patches you apply to your problem areas or wrinkles, like for me it was deep crows feet. I apply them at night, go to sleep and let them do the work. These come in a box of 10 packets/2 strips per packet and you use them every third night, so each box lasts around 1 month. I used them back in October and am still thrilled with my results and lack of crows feet!
PW: What three skin care products should every woman always have and use?
K: Well every woman should use a moisturizer with SPF every single day, NO EXCEPTIONS! You have to protect your most seen piece of real estate! And the other two are just personal preference but I can't live with out my eye cream, it fights crows feet, dark circles and puffiness, which I need daily and third I can't live without my redefine hand regimen, we often use products to help fight the signs of aging on our face but forget about our hands and you can usually always tell someones age by looking at their hands!!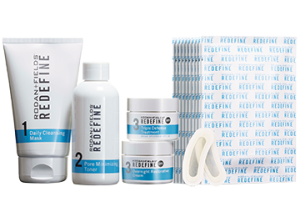 PW: Can we expect to see anything new and exciting from Rodan and Fields in 2015?
K: New product launches with our company are always kept very secret but we are always amazed at what these doctors will come up with next! They are so innovative and creative and truly committed to helping people with aging skin and all skin issues so the sky is the limit! I am sure I will have news of the newest amazing product in September 2015 at our annual convention! So stay tuned…
PW: Many people are still on tight budgets due to the struggling economy, how has this impacted you? Any advice for other woman that sell products that may be having trouble?
K: I think this is always a struggle with many people. For me, aligning myself with a company that focuses on results and putting out a great product has made a big difference in my business. People want to take care of their skin and use a product that is proven. Our regimens are 60 days and come with an empty bottle money back guarantee so people can try it risk free. And so many of my team members have gotten involved with this business because they are looking for a Plan B or side income and want to change their families financial future. This business model has attracted a lot of people because it can be done in very part time hours and not take time away from your family and the things that are important to you. If you get involved with a company like this the best tips I can give are believe in your product, be confident and hungry and simply share without being pushy, don't take the "NO's" personally, be open to learning and be coachable!
PW: How can our readers contact you if they are interested in purchasing Rodan and Fields or becoming part of your team?
K: The easiest way is probably through my websites.
https://katyo.myrandf.com (Product Website)
https://katyo.myrandf.biz (Business Website)
PW: Any last Prairie Wife words of Wisdom?
K: Be yourself, love others and find happiness in each day because life is short!
Katy will be stopping by to answer any questions!
As part of our We LOVE Our Readers month of giveaways,  we have two chances for you to win! One winner will receive a jar of REDEFINE Multi-Function Eye Cream and another winner will receive the REDEFINE Hand Treatment Regimen! Feel free to enter both giveaways and GOOD LUCK!
All you HAVE to do to enter the giveaway is comment on this post and tell us your main skincare concern. Earn more points by following us on social media. Please be honest, we will be checking!
Categories: #GiveAways, Prairie Wife of the Week
Tags: , Beauty, February Flashback, Giveaway, Prairie Wife of the Week, Rodan and Fields, sales, sales tips, skincare