Prairie Wife vs Short Shorts
Posted June 21, 2018 by Prairie Wife - 2 comments
In case you missed it, I kind of had a mental break down on Facebook live over short shorts last week…
Apparently I'm not the only one that feels that there is a desperate need for "middle ground" shorts, because this video has been a BIG hit.
I'm not asking for a lot, just a pair of shorts that covers my bum and doesn't let my hoo ha hang out.
Yes I know there are long Bermuda style shorts but I hate how they squeeze my thighs and let's be honest, they aren't really cute.
There were hundreds (literally) of comments on this video letting me know where readers found shorts that were "middle ground" so because I love you all…I spent some time cruising the internet and gathering links and pictures of my favorites from the recommendations. A huge thank you to those of you that shared the video (those likes and shares are this bloggers bread and butter) AND an even bigger thank you to those of you that took the time to comment and share your favorite places to shop for shorts.
If there are any places with "middle ground" shorts that I failed to mention…help us out and let us know in the comments.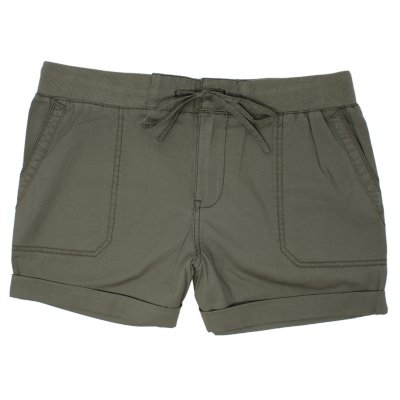 Sam's Club
This store was mentioned several times as the go to place for shorts. TallGirlJ is always getting cute clothes there (at great prices) and sent me a picture of adorable embroidered jean shorts she recently bought. When I headed to their website I found some casual and trouser style shorts that looked OK but didn't find the ones that TallGirlJ had. It might be worth taking a look next time you do your weekly grocery shopping!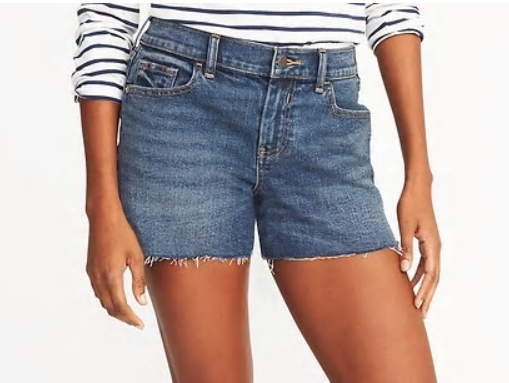 Old Navy
I never think of this store because we don't have one in the state…but after all the votes from readers I was super excited to check it out. I was NOT disappointed. They seem to be one of the best places to find a wide variety of lengths, styles, colors and sizes AND each short is specifically labeled with the inseam length. These cut offs were my favorite but they had a few distressed cuffed ones that I really loved too!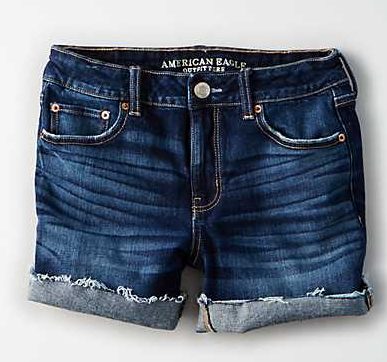 American Eagle Outfitters
This used to be my go to store for jeans so it's not surprising to me that they were recommended as THE place to get shorts. First, right now they have a sale going on buy one pair and get the second pair half off, second it's super easy to navigate the site and find the length you want. The "mom short" is pretty cute, but honestly I think that "tom girl midi shorts" are more my vibe. I really liked the variety in washes and colors, and their khaki colored shorts are super cute!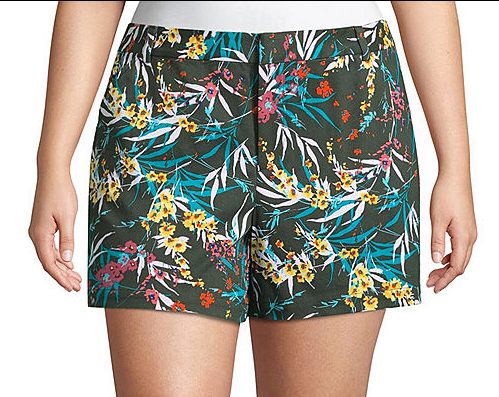 JC Penny 
This suggestion surprised me…I honestly never think of JC Penny as a good place to buy clothes anymore. When I hit their website I was really excited about the variety of styles and sizes. Like Old Navy they also list the inseam (it makes it so much easier) and I found several athletic styles I really liked. These patterned fun Twill shorts were by far my fav…how cute would they look with my fav gray v neck t-shirt?
Bass Pro Shop
I know, I'm as surprised as you. But when a reader took the time to message me about shorts she found at Bass Pro Shop that have a flat front, are super comfy and looked adorable on her, you bet I went to check it out. The shorts here are more casual, but she was right…there are for some cute choices! The ones in the pic are the Columbia shorts she recommended to our readers.
Honorable mention…Maurices. There were some mixed reviews about this store but enough people mentioned it that I wanted to include it.
TallGirlJ and I stopped by Kohls the other day and saw a few pairs of Sonoma brand shorts that would looked great too, so they might be another place to add to your list.
I am also going to brag that there were TWO pairs of cute shorts in my latest Trunk Club box. You can check them out and get all the details by following this link.
You can also get some great Summer Fashion inspiration here 😉
Categories: Fashion, Prairie Wife Style
Tags: , middle ground shorts, modest shorts, mom shorts, places to buy shorts, shorty shorts, summer 2018, summer fashion