Prairie Wife and Loaf 'N Jug #giveaway
Posted March 7, 2016 by Prairie Wife - 18 comments
Here at PrairieWifeInHeels.com we are loyal to our own.
You won't find a kinder  group of readers anywhere, just take a second to read some of the sweet and supportive comments they left on this post about my decision to have a Preventive Mastectomy! We make it clear in our mission statement that we will be open and honest with you about our collaborations (and compensation) with brands and businesses. If we like or love a product, book, or business we tell you about it in our Gotta Have It section. You won't ever read a bad review here, not because we love everything but, because we refuse to waste your time. Why should you spend five minutes of your precious time reading about something that we don't think will enrich your life?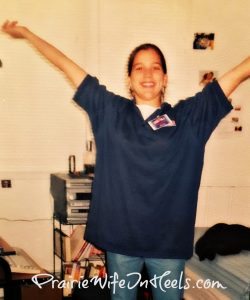 When the people of Loaf 'N Jug approached me and asked me to help them spread the word about their new Bonus Points program I had to laugh, it's a company that I've supported for many years.
Loaf 'N Jug and I have a long history together…If you take a second to pop over and read this post you'll see I mentioned that I worked graveyard shift at a gas station. Take a close look at this fabulous picture of me from back in the day, and you may be able to see the Loaf 'N Jug label under my super swanky name tag!
As a mom of five kids one of my main jobs is chauffeur. We actually spend over an hour a day in the car simply taking the older Cowkids to and from school. Add to that errands, playdates, after school activities and the occasional road trip and you can see why it's not an exaggeration to say we practically live in our car. I find myself stopping almost weekly at our local Loaf 'N Jug to fill up on gas. Occasionally, I'll even treat us all to a few snacks and special treats.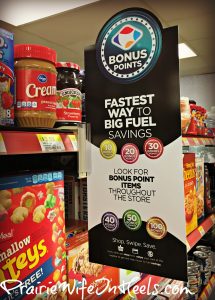 I'm all about saving money and with our large family of growing kids I need to pinch pennies whenever I can. I already take advantage of Loaf 'N Jug's shared points with our local Smith's grocery store…and when I learned about their new Bonus Points program I told them I'd gladly spread the word with our readers.
Cowboy J and I went on a mother/son date this weekend and we took a minute to stop by one of our local Loaf 'N Jug stores. I showed him the sign with the Bonus Points medallions and we went on a treasure hunt to find them all around the store. I'm sure everyone thought we were crazy because we were getting so excited every time we found one!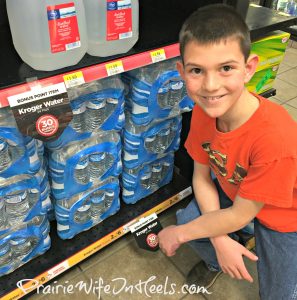 Cowboy J was ecstatic to find that the case of bottled water we already were planning on buying would earn us 30 bonus points. I'm a huge Skittles fan (ok addict) and I'm not ashamed to say I grabbed three big bags to take home, after all I earned 10 Bonus Points a bag! We got some Coke for The Cowboy and Pepsi for me (20 Bonus Points each) and I even indulged Cowboy J and let him get a big 44oz soda (a huge treat for us) because of the 20 Bonus Points it earned. We bought a few packs of gum to keep in the car, it's one of my favorite ways to way to bribe a few smiles our of a grouchy Cowkid, and racked up 10 Bonus Points a pack.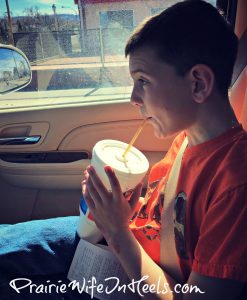 When we purchased our items, I was shocked at how many Loaf 'N Jug Bonus Points we had earned with our purchases. We spent $20 on name brand items our family normally purchases and earned almost 200 points. That's a lot of fuel savings!
Next time you stop by Loaf 'N Jug make sure you keep your eyes open for their Bonus Points medallions, you'll be amazed at how quickly the Bonus Points add up when you buy your favorite brands and items!
A huge thanks to Loaf 'N Jug who has generously offered to give one lucky reader a $25 Loaf 'N Jug gift card
All you have to do to enter is comment below and let us know what your favorite treat is at Loaf 'N Jug. You can earn extra points by following us on social media. Please only enter if you live in the Western United States where Loaf 'N Jug gas stations are located.
Note: I received a Loaf 'N Jug  gift card which I used to make the above mentioned purchases.
Categories: #GiveAways, Reviews
Tags: , bonus medalions, bonus points, budget, budget shopping, fuel savings, Giveaway, Loaf 'N Jug, loaf n jug bonus programs, saving money