Prairie Homestead Upstairs Remodel 2021: Painting
Posted November 26, 2021 by Prairie Wife -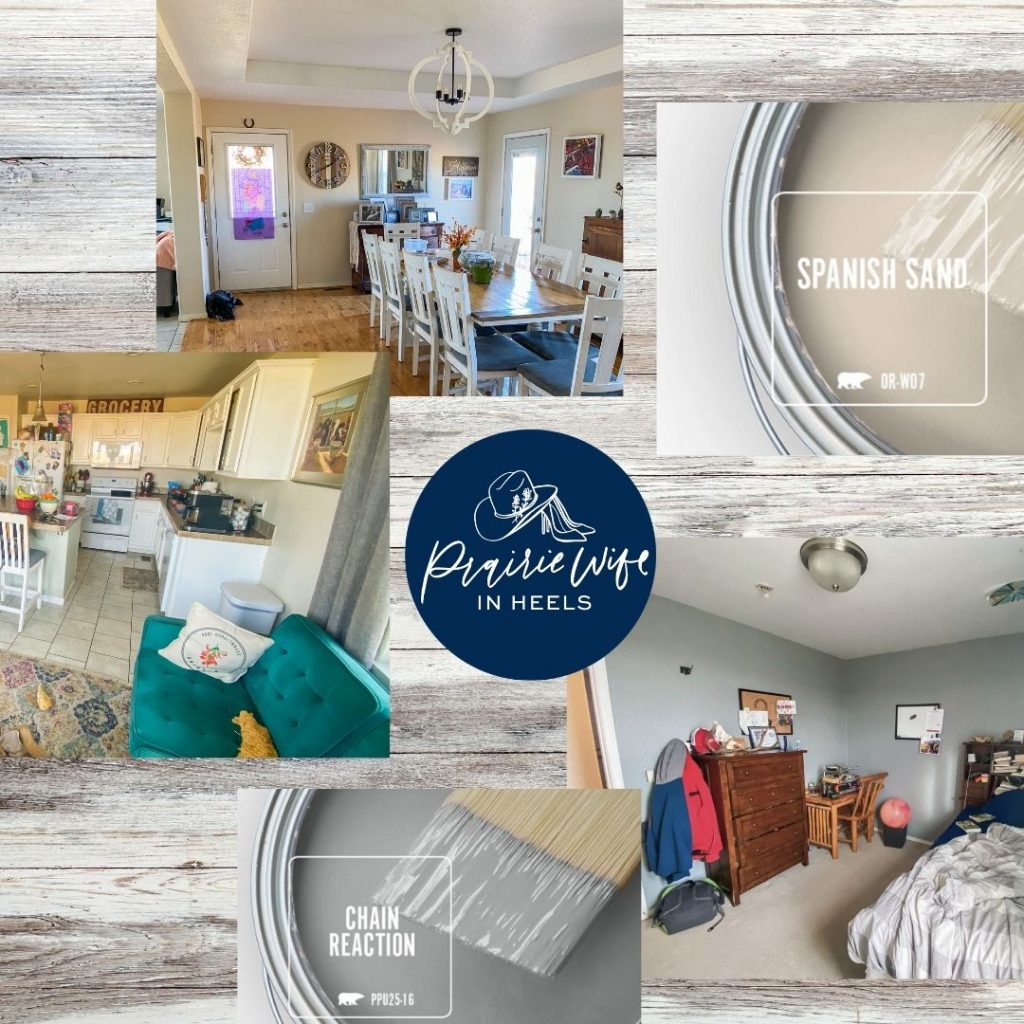 Painting seems to be the thing that people dread the most about home remodels, and it DOES take a lot of work, but it often has the biggest impact on a space.
For a variety of reasons, we have to do our massive upstairs remodel in several parts.
You can find our plans in this post.
Our first step was painting.
We already have an open concept in our home (which I love) but it had three different paint colors (4 if you count the laundry room) and two different kinds of flooring (3 if you count the bedrooms).
I want to have a more cohesive look in our home, so we're painting all the walls the same color in the dining room, kitchen, seating area, and hallway…at the last minute, we decided to do the laundry room too.
Our oldest son who is 15  has a bright orange room (he picked the color when we first moved in and he was 2). With his age and the fact that we will eventually be repurposing his room, we felt like now was the perfect time to repaint his room as well.
I let him pick the color…or at least I tried too. At first Cowboy J picked a really dark gray, so I bumped it up a few shades lighter to make sure the already small room wouldn't look too gloomy.
Here are the two colors we used.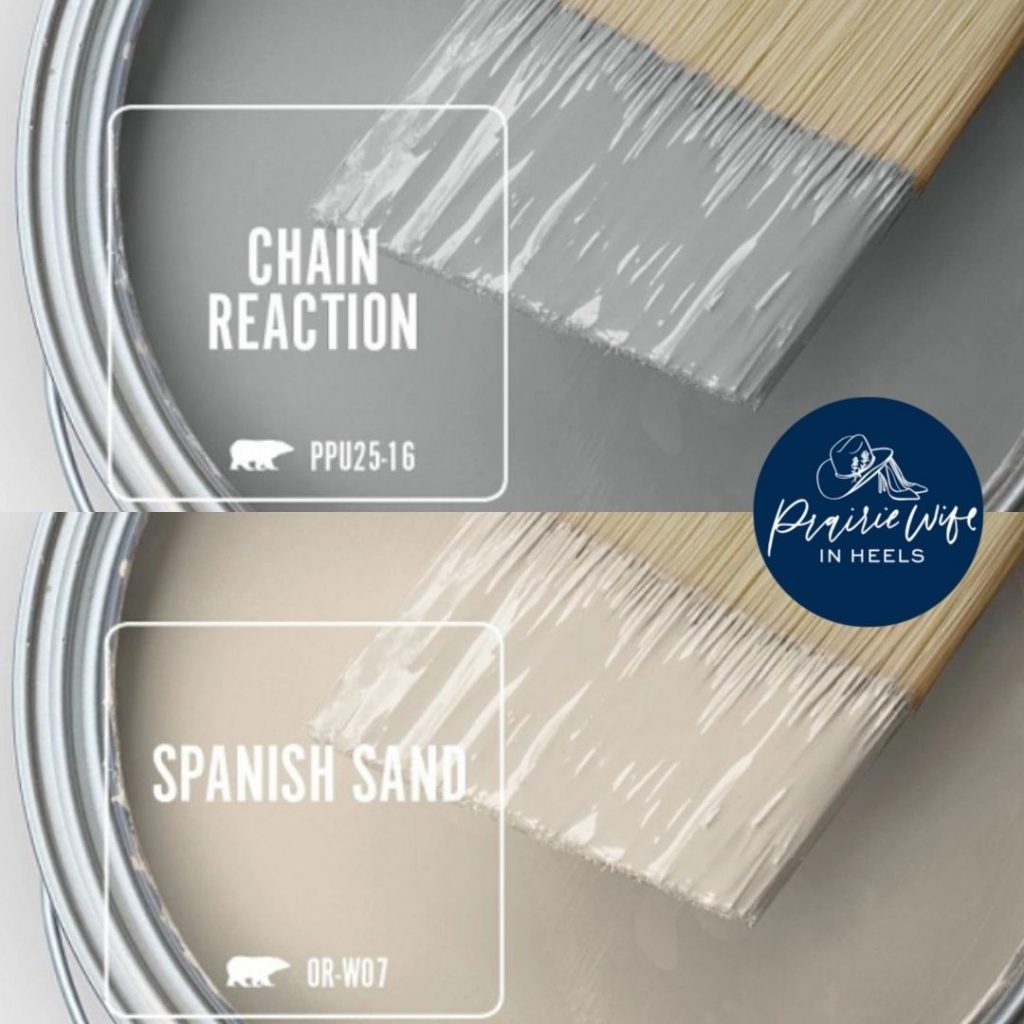 Before we began painting we had to take all the pictures off the wall, wipe down the walls, and use painter's tape to ensure we didn't make a HUGE mess.
Because we will be replacing all the flooring and putting in new baseboards we didn't have to be careful at that part, which did make things a bit easier!
Here's a look at the actual process…we started at 8 in the morning, and with all the Cowkids helping (and they really were a BIG help) we had all the furniture put back, pictures hung up, and tape cleaned up before 10 pm.
View this post on Instagram
It's crazy how white the paint looks against the yellow walls we had before…and I'm noticing now how the lighting in the room changes the color of the paint too. That may be something we change…having all the same kind of lightbulbs in each room…so that the flow is even more cohesive.
Here's a closer look at how the rooms look now that they are painted.
We didn't bother painting our island a new color because we will be taking that out…and while it's making me twitch a bit I can handle it. As you can see we still have lots of color with the home decor and I plan to keep that same vibe as we change out the flooring and cabinets to neutral colors.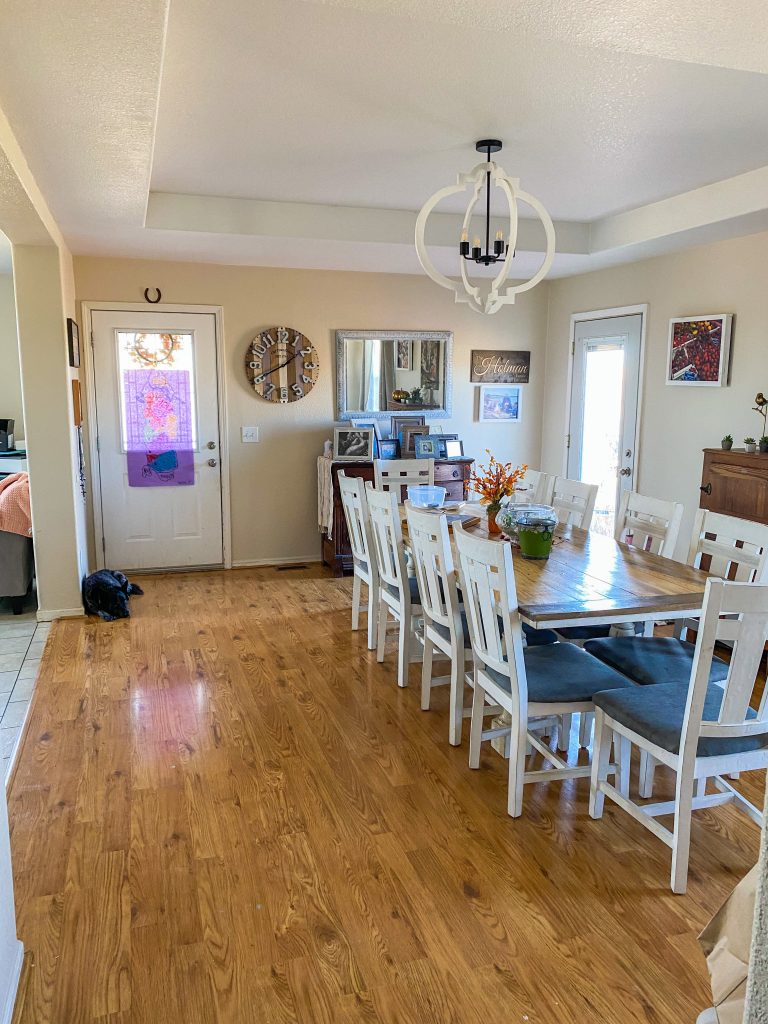 There are a few things I'm thinking about doing but want to wait until we have the flooring and new kitchen cabinets and design done.
For example, do we need a rug right here to warm the space up a bit?
Or should I think about doing something different with the door? Like a bright pop of color?
I'm also going to wait on picking the backsplash in the kitchen until I see what everything looks like…
Cowboy J's room looks a bit bare to me, but he insisted on rearranging the furniture this way and doesn't want a rug.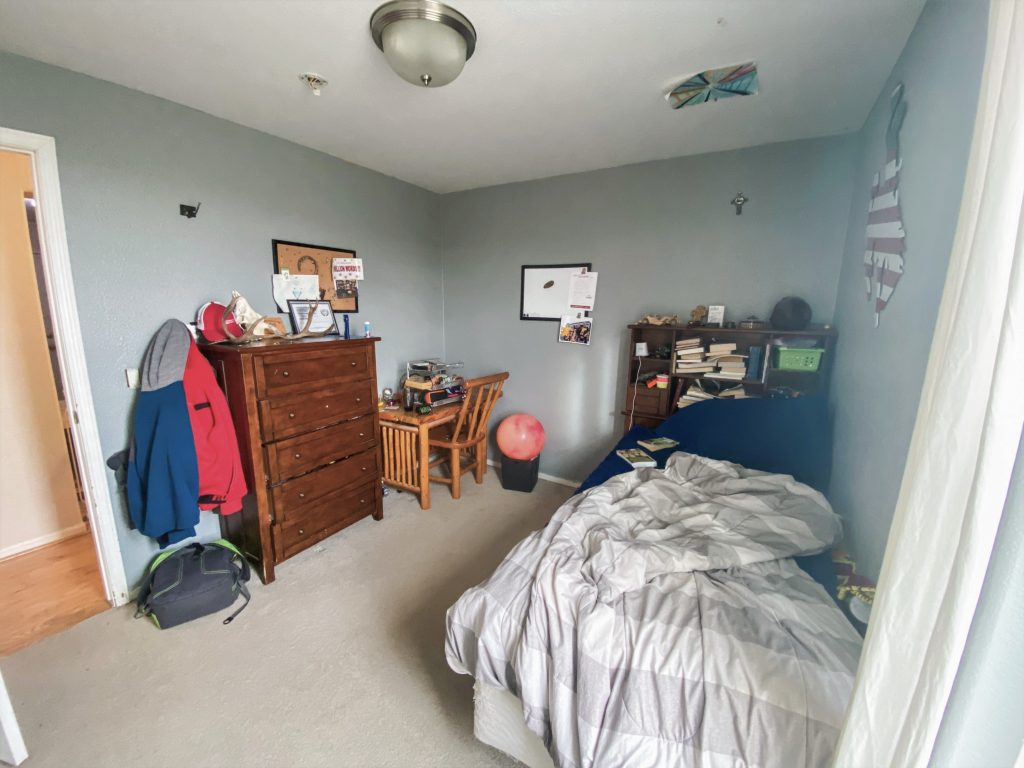 So, I'm taking a deep breath and letting him make the call. While waiting to see if when he sees it with the new laminate (that looks like hardwood) he'll change his mind. #fingerscrossed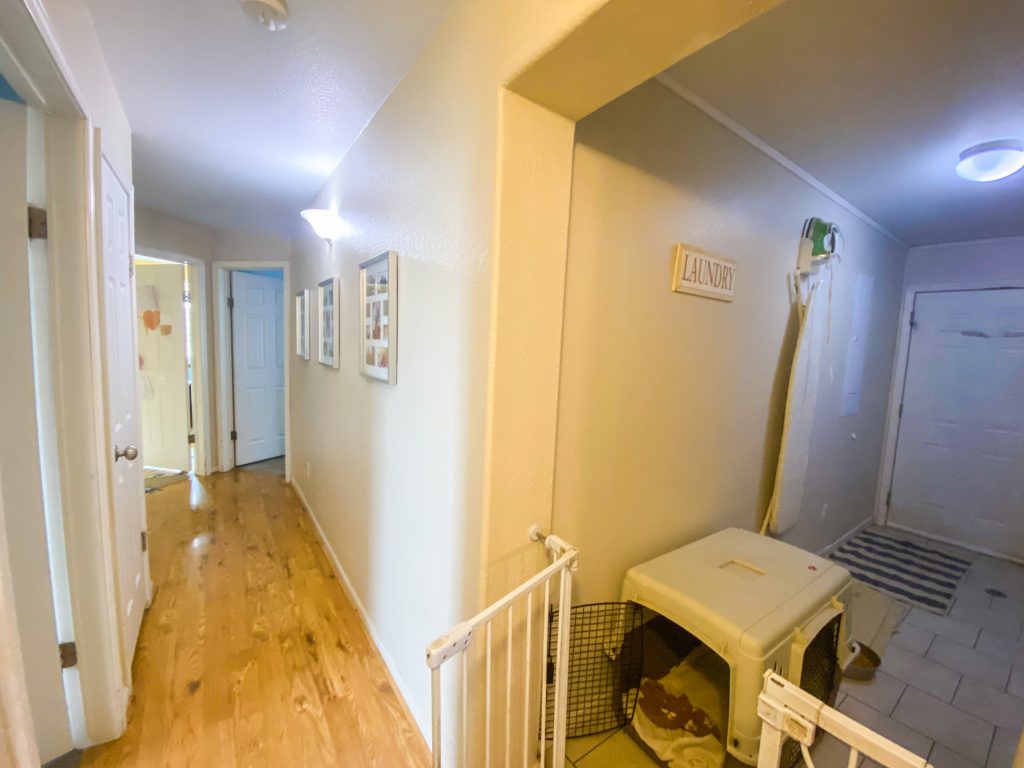 The Laundry Room has been one of the biggest differences for me. I painted it Navy Blue about 7 years or so ago, and the walls were chipped, dusty, and dirty, and made the already small room look much smaller.
Something I didn't really notice until we painted it!
I think I'll be changing out the rug for one with more colors, and once Captain doesn't need a crate anymore I might add some fun dog beds…but all of that can wait!
The next step is new flooring in all of the bedrooms, the hallway, and the dining room.
After that's done it'll be time for new kitchen cabinets and finishing the flooring there.
Like I said in my first post, we don't really have a firm timeline on when this is all going to be done, but I can tell you the HUGE difference that the paint made has made me a little impatient to get going on the rest 😉
Categories: For the Home, Prairie Wife Style
Tags: , DIY, home decor, kitchen remodel, kitchen renovation, open concept, painting, painting your home