A Perfectly Posh Playdate #giveaway
Posted November 21, 2016 by Prairie Wife - 6 comments
One of my favorite things about being a work from home mom is all the chances it gives me to hang out with my girlfriends.
Something that has become a bit of a tradition around her is "Coffee and Catch Up." It's a low key gathering that happens on no particular day and with varying frequency.
Every few weeks some girlfriends of mine gather at my house, in our mom sweats, with no makeup and messy mom buns…and drink coffee and catch up while the kids play and roam free.
It's low key and always full of good conversation, a bit of gossip, and tears and laughter.
If I'm being honest, it's my favorite form of therapy.
Last month a friend of a friend approached me about Perfectly Posh Pampering Products (try saying that 3 times in a row lol).
Our regular readers know that I am a beauty product junky, and while I have certain brands I'm loyal too, I'm all about trying new things!
DeAnna offered to send me some products to try, and agreed to participate in a giveaway on the blog if I liked the products. You all know I'm not going to waste your time with a bad review so, I bet you already figured out that I LOVED the products.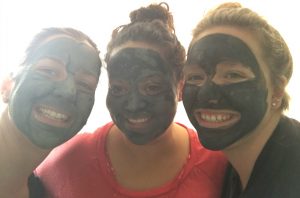 I took advantage of my playdate with the gals and had them all try the products along with me. We have an age range of women in their 20's all the way to their 40's with every type of skin you can think of. I knew they'd be honest about their thoughts and the more opinions I had, the better the review!
We started out washing out faces with BFF: Best Face Forever exfoliating wash. The comments were unanimously in favor of it's amazing fresh smell and how it cleaned our skin without making it tight. Even those of us with sensitive skin didn't feel uncomfortable.
Next it was time for the main event, the Cackle Spackle (seriously how fun are these names) detoxifying face mask. It has a minty fresh smell which appealed to almost all of us and offered a bit of a sensory zing to the experience. The mask is thick and a little goes a looong way so a whole tube should easily last you a few months. The mask stings a bit at first, and then hardens over time. Washing it off was easy (no scrubbing needed) and our skin was smooth and glowing with just the right amount of moisture.
We followed our mask with Moisturize 911 caffeinated face crème and once again we were all raving about the scent! The crème wasn't greasy or heavy and gave all of our skin moisture that kept that glow we had from the mask hanging around all day.
I touched base with the gals a few days later and none of us had any irritation or blemish problems to repot!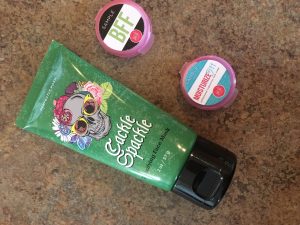 Readers, not only are these products SO fun to use, they are also everything they claim to be…luxurious, pampering beauty products that work and won't break your pocket book.
As I said before the lovely DeAnna has agreed to give one lucky reader their very own FULL SIZE tube of Cackle Spackle detoxifying face mask. You can have your very own play date and share it with your friends or keep it to yourself…we won't tell 😉
All you HAVE to do to enter is visit the Perfectly Posh site and tell us in the comments below what product you'd like to try. You can earn more points towards the giveaway be following us on social media.
Categories: Reviews
Tags: , beauty products, cackle spackle, face mask, friends, Giveaway, mom life, pampering, perfectly posh, product review