Outlander by Diana Gabaldon
Posted September 22, 2014 by Prairie Wife - 4 comments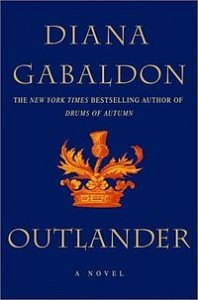 So I have to admit that I have been obsessed with the Outlander Series by Diana Gabaldon for over a year now. I started to read it at the recommendation of my HighSchoolBF when I was in the last trimester of pregnancy with Cowboy C. I always suffer from insomnia the last few months, and as you know the first year or so after my babies are born I have plenty of time for late night reading. When I began the first book in the Outlander Series I was immediately captivated. It had all of my favorite things- historical fiction, magic, romance, action, mystery, and of course men in kilts! I spent many nights reading and staying up way too late. When I finished the first book I was thrilled to learn that the Outlander Series was not just a trilogy but…wait for it….8 books (as of now)! Then, there are 7 (I think that's correct) other novels about Sir John Grey, a pivotal character in Outlander.
Before I go on with my review of the books, I need you to know something else. This fabulous series has recently been made into a Television Series on Starz. HighSchoolBF and I have been counting down the days until the premier this fall. And oh man is it good! I kind of sneakily signed us up for a new TV package just so I could watch it…when The Cowboy saw all the new channels he was super excited and exclaimed "Hey it's a free preview weekend, you better DVR all the good ones!" As I sat on the couch I seriously debated whether I should be honest or just go with it until he figured out our "free preview weekend" was going on for months. For the sake of my soul I fessed up, and after much ridicule and eye rolling, he has finally left me alone. Take a minute to watch the trailer for the show.
Right…so tell me you aren't hooked?! I forced The Cowboy to watch the show, and thank goodness he never reads the blog because he would kill me for telling you that he enjoyed it, and has continued to watch it with me! The writers have done an amazing job staying true to the plot and keeping  Gabaldon's tone from her books. Just the right amount of suspense and drama, broken up by humor. The actors and actresses are amazing, I am a hard sell with book to movie/TV adaptations…the actors/actresses never seem to fit my image. I still can't bring myself to watch The Time Traveler's Wife for that very reason.
But, there isn't a character in Outlander on Starz that has disappointed me yet. Caitriona Balfe, who plays Claire, is the perfect mixture of femininity and strength. Sam Heughan who plays Jamie, blends brawn, brains and quick wit (and rugged good looks) into a character that makes every woman sigh just a little whenever he appears (even this happily married Prairie Wife). Tobias Menzies' (Frank and Jack Randall) ability to play duel roles is impressive, and I simply can't help but compare Graham McTavish (Dougal MacKenzie) to Sean Connery (in a good way). My good friend SweetN'Slim was here when I finally gave in and ordered Starz, and got to watch the first three episodes with me. As soon as she got home she ordered the first book, she just had to know what happened! You can watch the entire first episode here for free.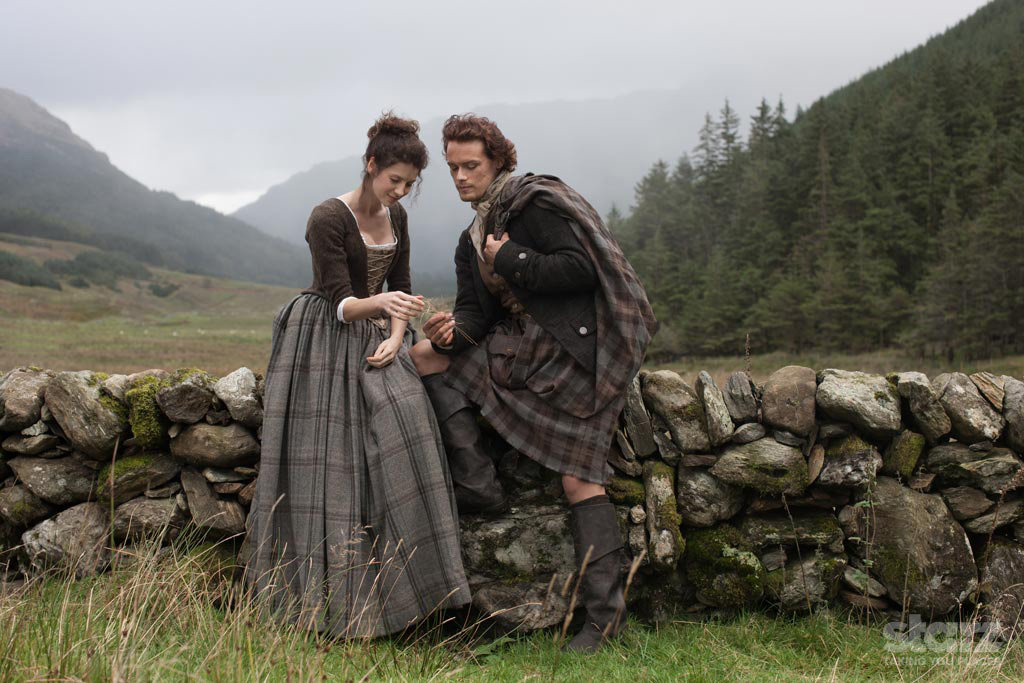 The first book in the series shares the story of Claire and her "current" husband, and what happens when she travels back 200 years and meets Jamie…the handsome Scottish hunk. As I stated before there isn't a genre that isn't covered. Gabaldon writes with wit and humor, and an obvious knowledge of Scottish History that would rival most history professors! Claire is a realistic mixture of grit and grace, and messes up enough times to make her someone who you just can't help but relate to. And Jamie…well Jamie is…Jamie….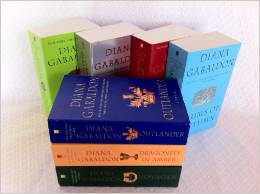 The latest book in the Outlander Series takes place (more or less) in Revolutionary War America and the main characters now include Claire's grandchildren. There continues to be time travel in the books, and it's fascinating to see how Gabaldon ties it all together. A word of warning (take a look at the picture) these books are long! I am so happy that the Kindle was invented before I started reading this series because trying to nurse a baby while reading those books would be tough. I can honestly say that despite the length the books never got boring, I didn't find myself skimming and was always ready for the next book. The Chapters are well laid out and offer great stopping spots…if you have to stop!
I'd love to hear if you are an Outlander fan as well, and what you think of the book and TV series (which has been renewed for another 8 episodes)!
Categories: Reviews
Tags: , Book Review, Outlander, Outlander by Diana Gabaldon, Outlander on Starz, TV Series Review