Mmm Lip Syrup
Posted March 19, 2014 by Texas Two Steppin' - 4 comments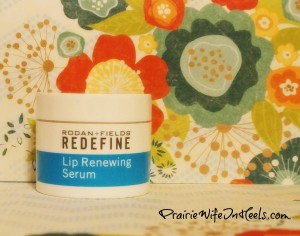 That's what Cowgirl G said when I put some of this wonderful, thick, hydrating lip serum on her chapped lips. I loved that description so much I didn't correct her (sorry Prairie Wife), and I was a good aunt and left her a few ampules as a memento of my visit (never too early to promote good beauty habits).
I have mentioned before that I have very full lips. Even though I live in Texas, they still get dry, cracked and flaky if I don't moisturize them every night. Trust me, it's a challenge to keep that amount of surface area hydrated 24/7! Growing up I was addicted to Carmex, but recently I had been using a swipe of Burt's Bees followed by a bit of Blistex. Now I only use Rodan + Fields Redefine Lip Renewing Serum. If I don't put it on at bedtime or forget to pack it in my overnight bag, I wake up the next morning full of regrets. My R+F consultant (and former Prairie Wife of the Week, Katy) says she can get several treatments out of one ampule, but I love the luxury of slathering a whole one on (after The Texan gives me my last kiss of the night, of course!). I haven't had to exfoliate my lips nearly as much, and there are no signs of chapping, even after this uncommonly cold and blustery winter.
Cowgirl G and I both love this lip syrup/serum, so give it a try and let us know any other tricks you have for keeping lips soft and smooth.
Categories: Reviews
Tags: , lip, Rodan and Fields, serum