Milk Can Dinner (In Your Crockpot)
Posted March 16, 2018 by Prairie Wife - 5 comments
A Milk Can Dinner is something that I had never heard of until I moved to Wyoming.
Long story short, it's a meal cooked in a large metal milk can, over a fire. It's often used as a way to feed a large amount of people at one time. In Wyoming it's most often seen at brandings or neighborhood get-togethers. I guess you could say it's a western version of a craw fish boil!
The recipes for this dish are many and varied, and often held close to the vest and passed down from mother to daughter and so on. This version is one I came up with on my own. I  combined my favorite flavors from milk can dinners of the past and threw them into a crock pot to create this family favorite. I love that it only takes a few minutes to prepare! I've had to edit the amount of food over the years to handle my family's growing appetite, so keep in mind you can easy halve this for a smaller crew or double it for a hungry herd 😉
Milk Can Dinner
Prep Time: 5 minutes Cook Time: 4-8 hours Serves: 8 servings (but we never have many leftovers with my family of 7)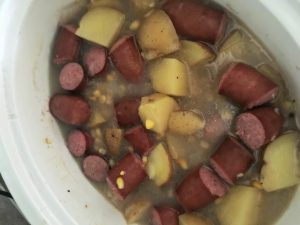 Ingredients
32oz Chicken Broth
2 Cans of Corn or 1lb Frozen Corn
3 cloves of Garlic
1/2 Large Onion Chopped
2lb Smoked Beef Sausage (I prefer Hillshire Farms brand)
6 Med Potatoes Chopped
Salt and Pepper to taste
Mince Garlic.
Chop potatoes, onion and sausage into large pieces.
Combine all the ingredients in your Crockpot, and set cook time.
Serve it in a bowl while it's hot!
Categories: Recipes, This and That
Tags: , crockpot, dinner, Main Meals, milk can dinner, ranch food, recipe, western food