Spread the Word with BasicInvite.com #DisountCode
Posted March 19, 2018 by Prairie Wife - 3 comments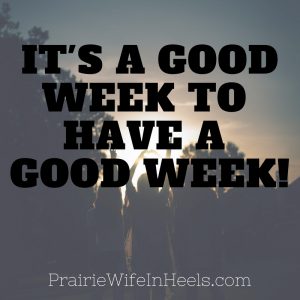 It's Monday!
Yup that's right, it's Monday and I'm happy about it.
I'm currently down in Denver for two days of doctors appointments and checkups, and I am super excited that between appointments I've got some pretty fun things planned. From fabulous restaurants to fun with friends and a once in a lifetime opportunity (check out our social media accounts over the next two days to see more), I'm taking full advantage of two days totally kid free in the big city!
Last week I had my first ever segment on K2 radio with Susan Burk and I think it went pretty great! I'm hoping I can share the clip with you eventually, we're just working on ironing out a few details. You can catch me again this week, same time and place (Friday at 9:15 am K2radio AM1030) AND you can tune in to K2 TV's Good Morning Wyoming around 6 am the same day and catch me talking about some of my favorite subscription boxes.
I wasn't kidding when I said I was going to be focusing on building the blog, you can see I've hit the ground running!
Just when I was charging forward on my new adventure BasicInvite.com reached out to me. I took a moment to check them out and instantly fell in love with their easy to navigate site and almost unlimited color options! I think you'll agree that these professional (and beautiful) business cards are the perfect way to spread the word about PrairieWifeInHeels.com. It was actually fun to page through all their design options and pick the perfect combination.
For those of you that may be making a larger order, or using BasicInvite.com to create something extra special like wedding invitations, you can order a sample sent to your door for your approval FREE OF CHARGE! Their online preview allows you to double and triple check your order and their quality packaging ensured that my business cards arrived to my door crisp and ready to hand out. BasicInvite.com has an address capturing service that allows customers to share a link on social media to request addresses. When your friends and family put in their addresses, they are saved into your account and you can have them printed (at no extra cost) on your envelopes! Guess where I'll be ordering my Christmas cards from this year?!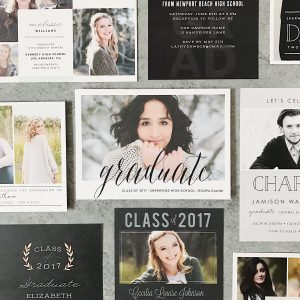 Don't forget that graduation season is coming up. BasicInvite.com has beautiful affordable options that allow you to personalize graduation invites and announcements…and if you REALLY want to be fancy, they have stunning options like foil details and textured paper.
Head over to BasicInvite.com and check out their beautiful products. If you decide order from this Utah based company, use the discount code 15FF51 for 15% off!
Categories: Product Reviews, Reviews
Tags: , basicinvite.com, buisness cards, custom stationary, graduation invite, personalized graduation invitations, review