Master Bedroom Facelift For Less Than $300
Posted January 24, 2020 by Prairie Wife - 1 comment
---
As I mentioned earlier this week, I always get the HGTV home makeover bug in the long winter months. This year it was our master bedroom that received a facelift.
Last year I painted our bedroom furniture with chalk paint and did a bit of an update with some of the decor.
Here is what it looked like when we were done.
Not bad, but not great.
As the year went on I began to dream of a lighter airier look and finally, when I couldn't take it anymore I hit up The Cowboy with my idea. He agreed (and I didn't even have to beg) and so I took off and headed to the store to get some gray paint.
Sounds easy right?!
Two trips, 6 paint samples, and multiple pictures and texts to friends later I was struggling with choosing the right gray. Some looked pink, some were more lavender and…what if I picked a color that was too dark?
In true Prairie Wife fashion, I decided not to stress about it anymore, and just picked what I thought would work the best.
I think I did alright 😉 The final color was Behr paint from Home Depot in "Silver Shadow" but "Silver Bullet" was a close second when I was trying to decide.
I own a ton of jewelry and I was finding that I needed a new way to store it. I knew I wanted something that hung on the wall so I could see everything at a glance. I saw a super cute farmhouse chic design on Etsy and showed it to The Cowboy. He said he could totally make it for 1/4 of the cost, and as you can see, he did a fabulous job.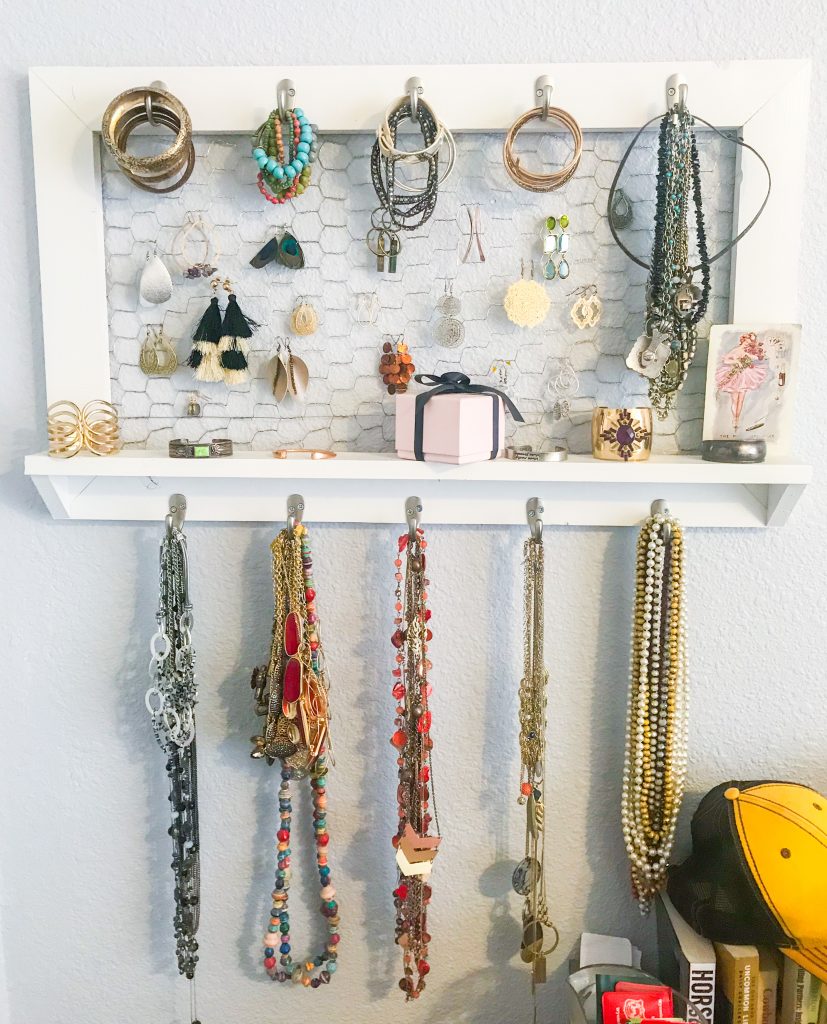 There are hooks for bracelets and necklaces and the chicken wire is perfect for hanging earrings. The little shelf works to store cuffs, and as a place for fun knickknacks.
It was The Cowboy's idea to remove the mirror from our dresser to allow for more wall space. I never used the mirror for anything, and the room was light and airy enough with the new paint that we didn't need the mirror to help add extra light.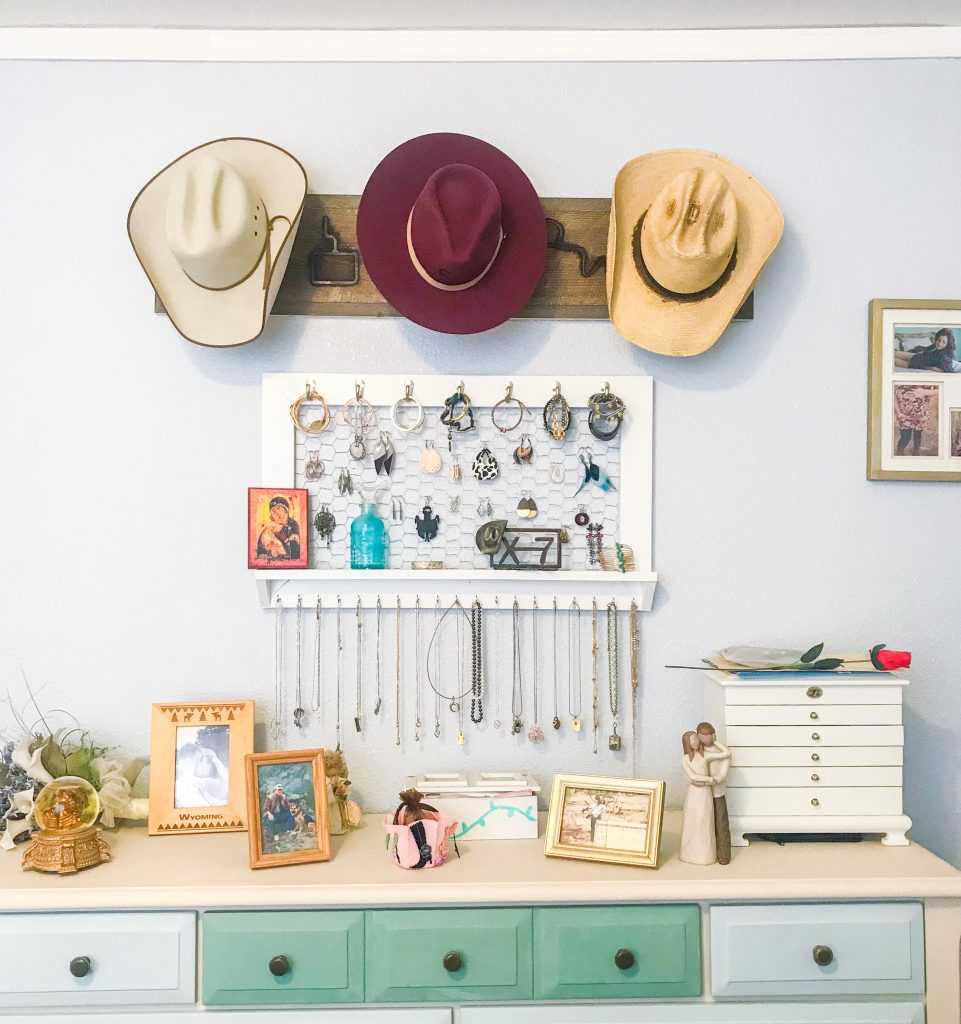 He made a custom hat rack out of Barnwood and even added our family brand AND a "lazy PW" brand. The Cowboy used the same type of wood to frame a new larger mirror (you can see it in the first picture) and the mirrors in our bathroom.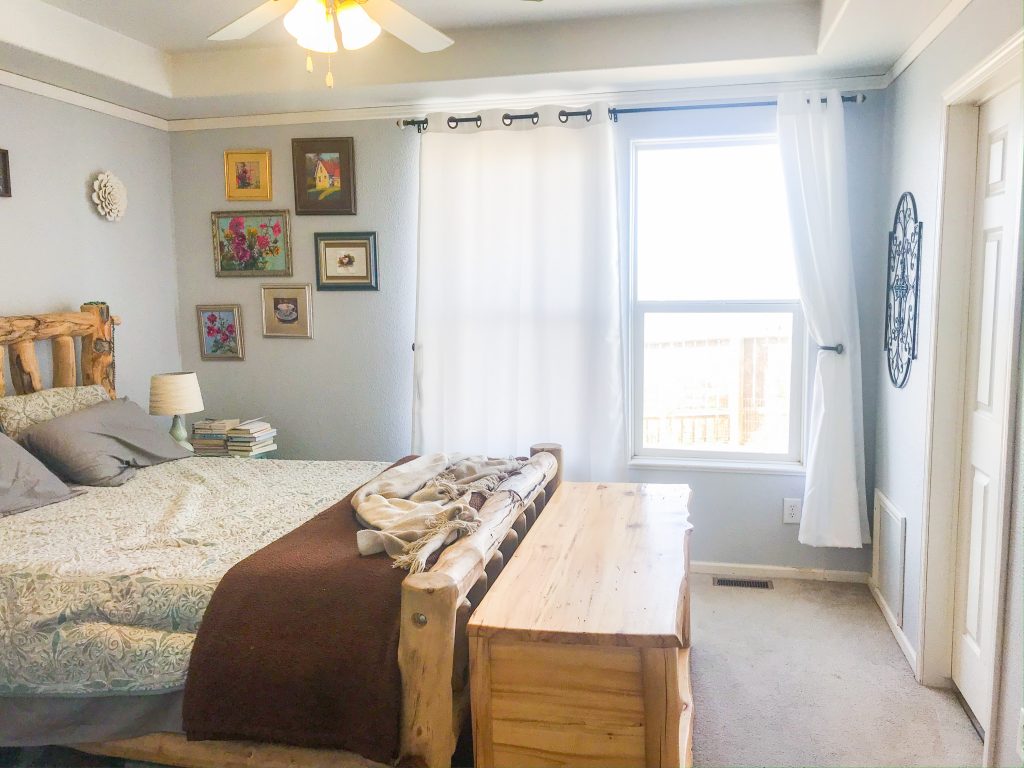 New curtain rods and bright white curtains helped open up the other side of the room and created the light and airy feeling I was going for. White crown molding took the swanky level up a notch, and let's be real, covered up a few of my painting errors too.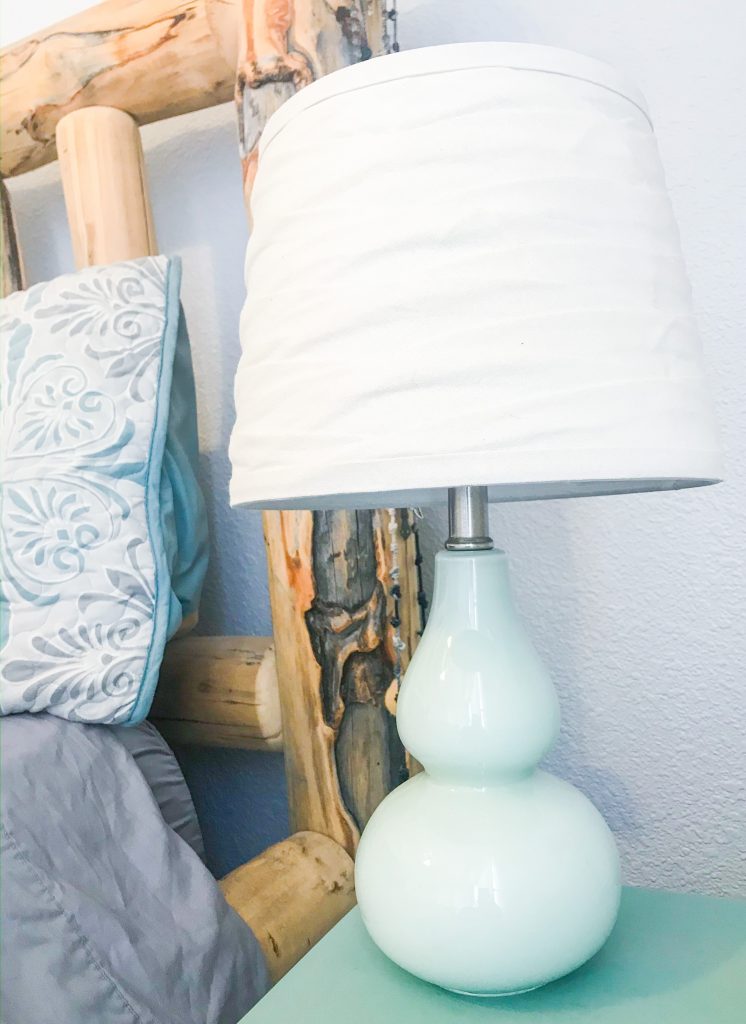 Most of the wall decor was already there from last year's facelift or repurposed from other areas of the house. I saw this lamp and shade at Home Depot and they made me smile…so I bought them.
After all, isn't that how it's supposed to be?
Fill your home with things that make you smile.
Surround yourself with items that make you happy.
Who cares if they "should" go together or not?
Don't be intimidated about making the right color or decor choices, just dive in and do it!
Questions about items or thoughts about anything I could add?
Let me know in the comments!
PS Get inspired by checking out our Pinterest boards
Categories: For the Home, Life As It Happens, Prairie Wife Style, The Prairie Homestead
Tags: , bedroom makeover, Decor, DIY, facelift, farmhouse chic, Homestead, master bedroom, renovating on a budget, The Prairie Homestead