Pinterest Dreams Become a Reality
Posted January 10, 2018 by Prairie Wife - 17 comments
I'm not a DIY kind of gal.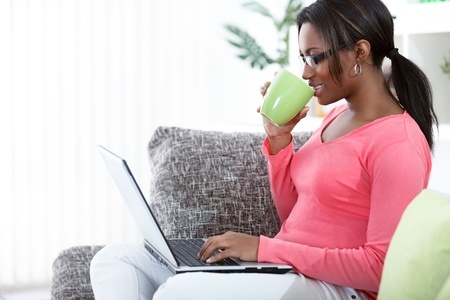 Our Pinterest boards are full of amazing and beautiful décor and stunning rooms that will most likely sit and gather internet dust.
Every once in a while I get a wild hair and redo a room. It's usually when I'm nesting or when The Cowboy is off Elk Hunting…but I think the last time I did anything to decorate my house was years ago.
After almost a decade of living on the prairie, the one room I haven't changed at all is our bedroom, so I've spent the last few months pinning chalk painted furniture and rustic/shabby chic/French bedroom décor.
I told The Cowboy that I wanted to tackle this project over Christmas break and he took a deep breath and nodded his agreement. This didn't mean he was going to paint or pick anything out…just that he would hang pictures and do the heavy lifting. I'm going to call that a win!
On a whim (and with the encouragement of my good friend and neighbor) I asked The Cowboy if I could paint our cabinets white.
I was shocked when he not only said yes, but went and bought all the paint and tools for me…that day.
So on Friday, after dinner, I began a major redo.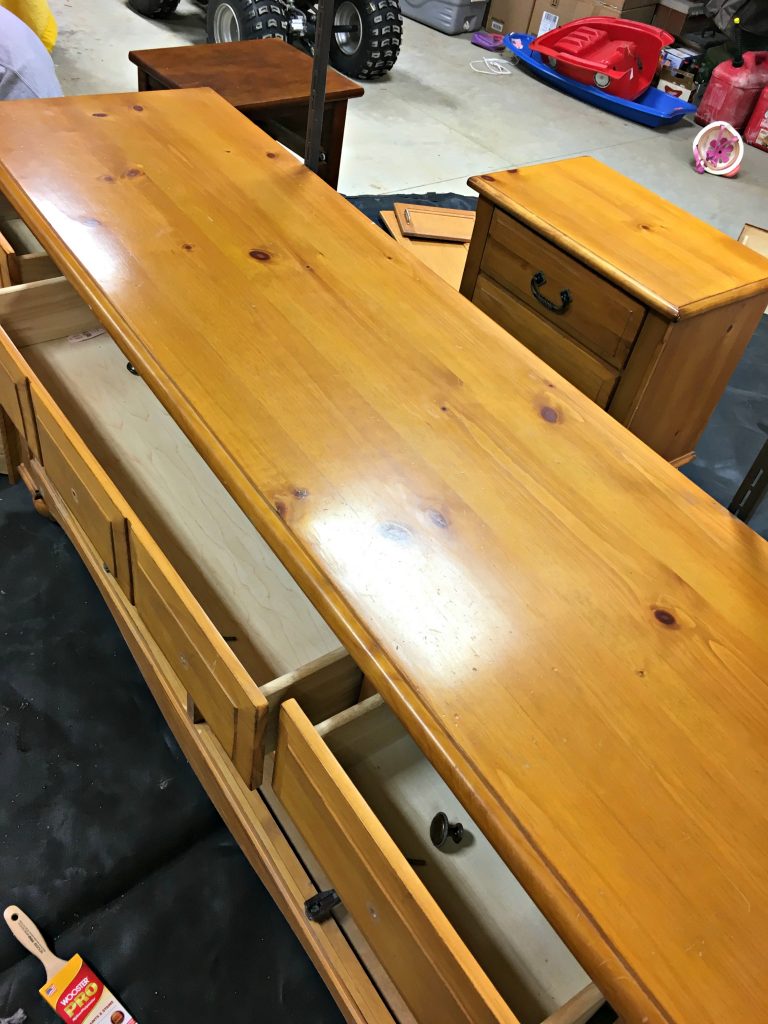 I did the bedroom furniture first and it was finished in about three hours. I painted one large dresser and two nightstands with chalk paint (best invention ever). I made the drawers different colors because I love the way it looks…it only took two coats of paint and dried quickly in our heated shop.
We put everything in our bedroom the next day and I had The Cowboy hang up a few décor items I had purchased from Hobby Lobby (sign above bed) and Target (antlers).
On my side I have a simple nightstand, and I love my quirky lampshade (Target). I have a few custom frames ordered to finish up my side of the room, so you'll have to wait a bit longer for pictures of that!
I love how light and airy the room feels now, and I'm thankful that the colors I picked compliment the wall color and bedding that we already had. I know I could cover the bed with pillows and a big fluffy comforter but A. I hate to make the bed (as you can see) and B. It just wasn't in our budget right now. Maybe I'll find something that calls out to me and at the right price soon?
Our kitchen had simple light colored wood cabinets. We washed all of them down to prep them for paint and removed all the doors.
The Cowboy took all of the Cowkids ice fishing to keep them out of my way and I began the longest part of painting…taping off the borders. I was very thankful for a TV in the next room because as I worked away I was able to catch up on a full season of Younger!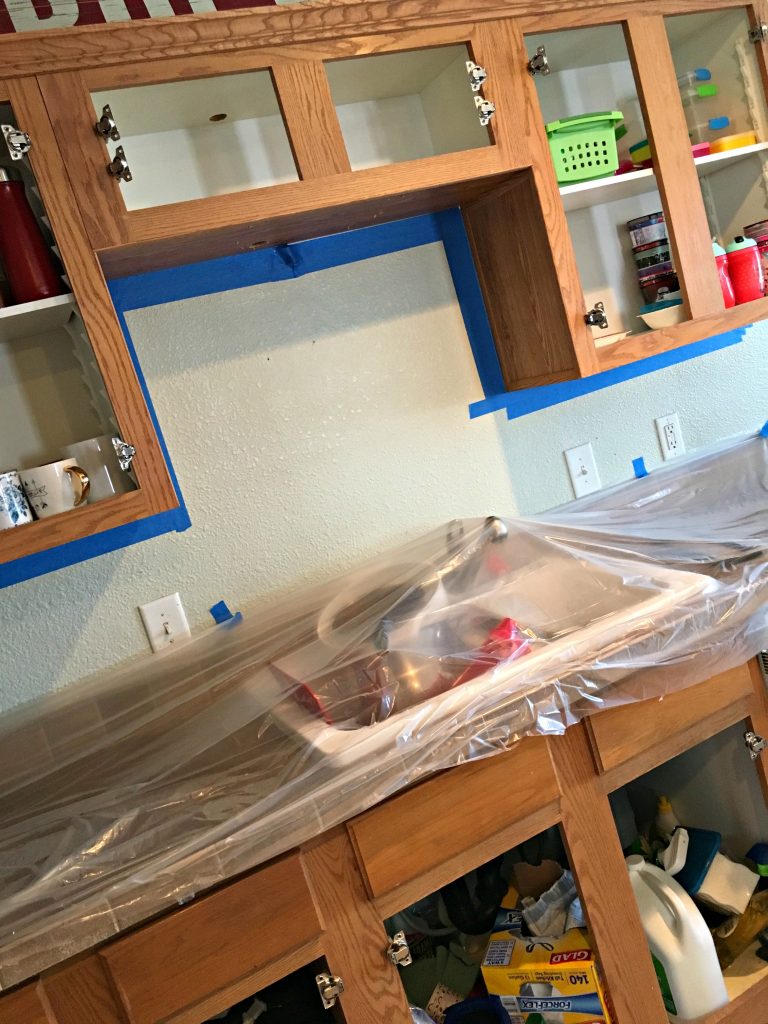 I think you can agree that the final product was worth the time (three coats of paint) and energy! Once again, our budget didn't allow for many changes but I did get a few new touches like the Pioneer Woman flour and sugar containers (WalMart). Flowers and bold colors…how could I resist?
The Cowboy replaced a regular outlet with one that had four USB plug ins. I found this rustic mail holder and it works perfectly as a way to store and hold all of our tech. I love the drawers for holding headphones and wall plugins. If you are really crafty you can drill holes in the back for the cords, but it didn't bother me to have them out.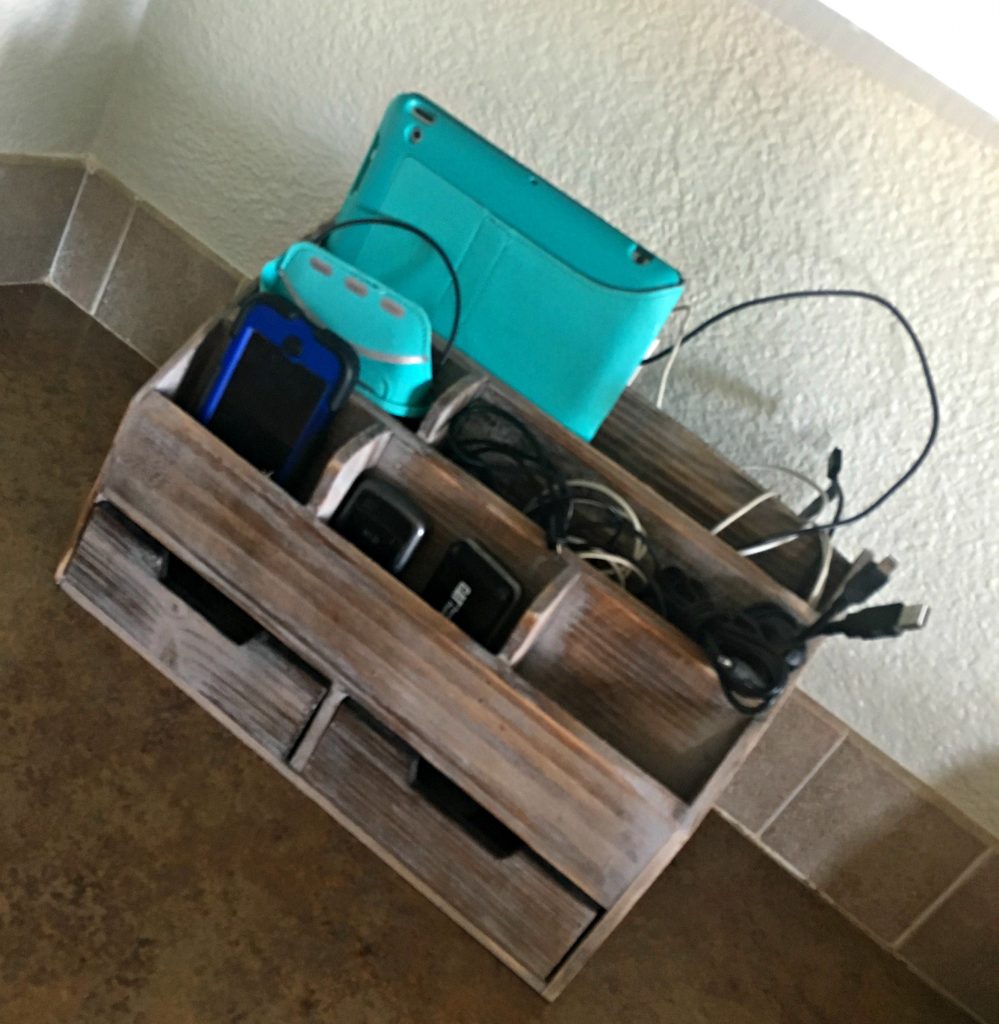 All in all we started Friday night and had everything completely done by Saturday evening at 11pm…not bad right?!
I am thrilled with the results, and The Cowboy keeps commenting on how nice it looks 😉 
It was totally worth the time, effort and money…but I think I'm done for a few years lol!
Categories: The Prairie Homestead, This and That
Tags: , bedroom, budget decorating, Decor, DIY, kitchen, painting furniture, pintrest inspiration, redo