Little Girl Bedroom Makeover: French Inspired
Posted November 8, 2014 by Prairie Wife - 2 comments
As we prepare for the arrival of CowBaby5 we've got a bunch of things to check off our to-do list. From past experience I've learned that it's best to make big changes several months before the baby comes (especially when you have a toddler). It allows everyone time to adjust and causes less stress and turmoil to those first exhausting months of having a newborn in the house. On our list is; potty train Cowboy C; make the nursery gender appropriate, and move a few of the Cowkids to new rooms. Cowgirl G was moved down to a larger room in the basement (our former guest room) and Cowboy C was moved down the hall and out of the nursery.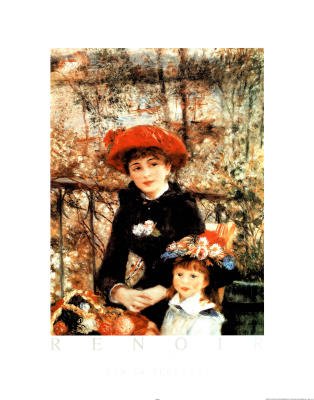 I really believe it's important for the kids to help pick their room "theme" though it causes The Cowboy to roll his eyes. It may sound silly but giving them "control" and allowing them to make choices for themselves and making them stick with them for a long amount of time really helps them to become more responsible and conscious decision makers. Right away my little fashionista girl picked a French theme. Influenced I'm sure by The Cowboy and my trip to France earlier this year! I went to Amazon.com and picked out a bunch of French items for her to look at. I wanted to show her choices and let her pick. I assumed she would go with the bold modern fashion prints (she spends hours drawing her own fashion designs and wants to be on Project Runway when she grows up) but threw in some cute Eiffel Tower/Poodle pictures as well as some French Impressionist paintings. I was surprise when she immediately went for the Degas and Renoir paintings! I tagged her choices and then let he think about it for a few days. When we touched base again she was still all about the French Impressionist theme so I hit Pinterest and gathered up some ideas.
We had a tight budget for the room, and several furniture pieces that were already in the room that we needed to use. Luckily the wrought iron bed and quilt we already had were perfect for her theme. I found a few inspiration pictures to help me with the furniture and Cowgirl G and I hit our local Home store and picked out paint colors that would go well with the light pink walls we already had. Cowgirl G picked her three favorite prints from Amazon.com and I bought black frames to help them match the wrought iron bed and newly painted hardware on the furniture. A wall sticker helped add a bit of little girl charm, and emphasized her French theme. We kept a wide open area of floor so she could have room to spread out with her dolls and toys and we made a little dress-up corner perfect for her and her friends.
Here is a chair a friend gave us to use for Cowgirl G's desk.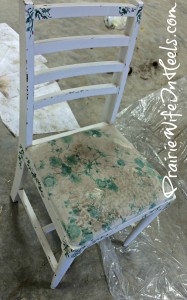 This is the dresser that was already in the room for our guests to use. I took off the hardware and painted it black so it would match the wrought iron bed.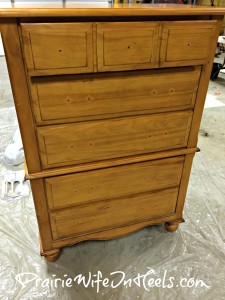 I bought a spray primer and we covered all the furniture with two coats of it. Make sure you do this in a well ventilated area!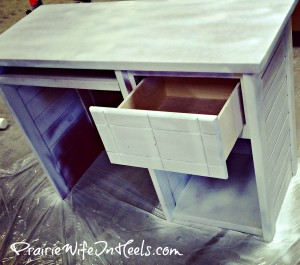 I then used two coats of tinted cabinet paint to make the furniture match my inspiration picture from Pinterest. I used sandpaper to wear away corners and edges to give it a more rustic look. To add the aged brown to the worn spots I used cheese cloth and a dark wood stain (just buy a few sample packets, you won't need a whole can). Put some of the stain on the cheese cloth and rub it on the worn areas, start with a little you can always add more.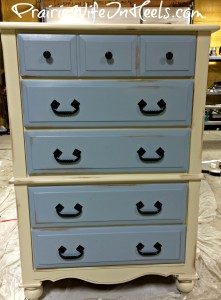 Here is a look at the final product! Because it is a basement room I chose shear curtains to allow in as much natural light as possible.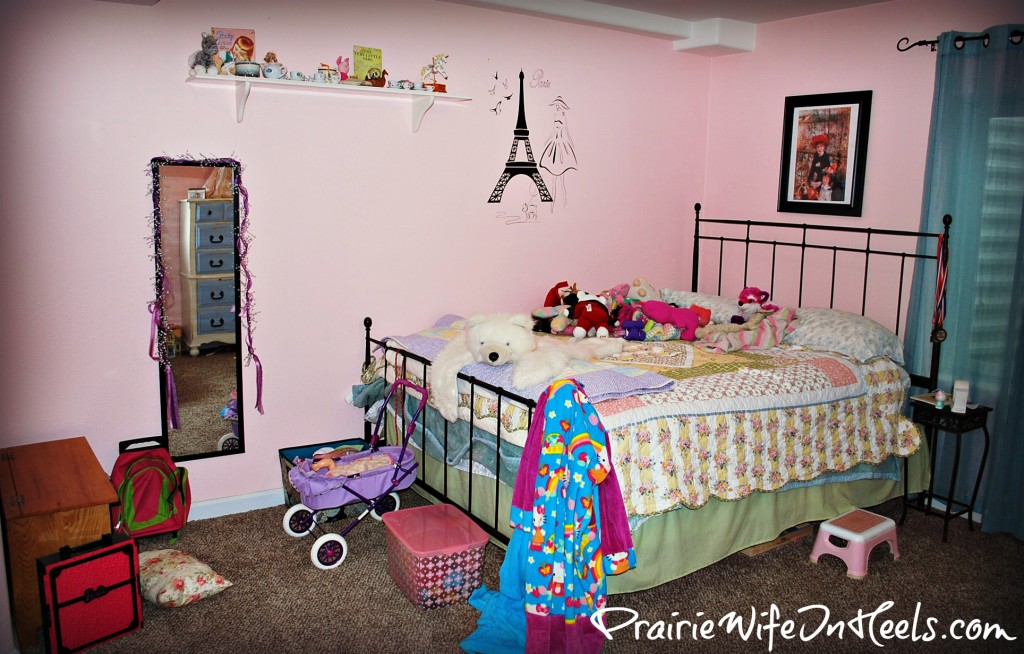 We covered the chair with a bold pattern to tie in with the black accents. The bulletin board is a simple framed board that I covered with a floral pattern that ties in with the blues and pinks (though it's hard to see it under all her art work).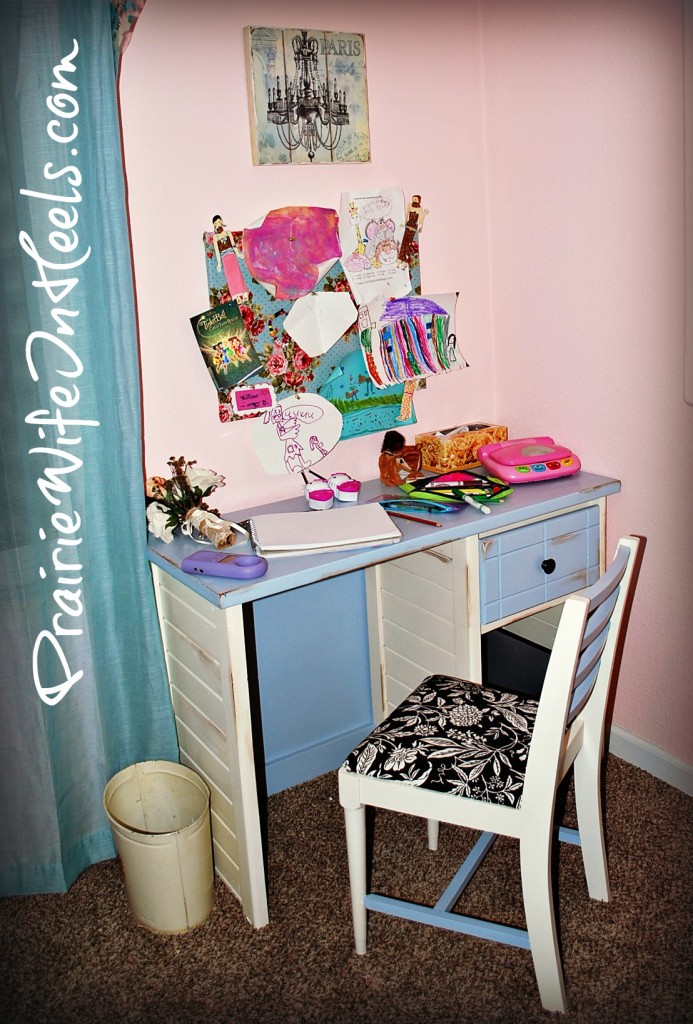 The dresser turned out great, and I'm glad I was going for a distressed look as The Cowboy gave it a few extra dings as he carried it down!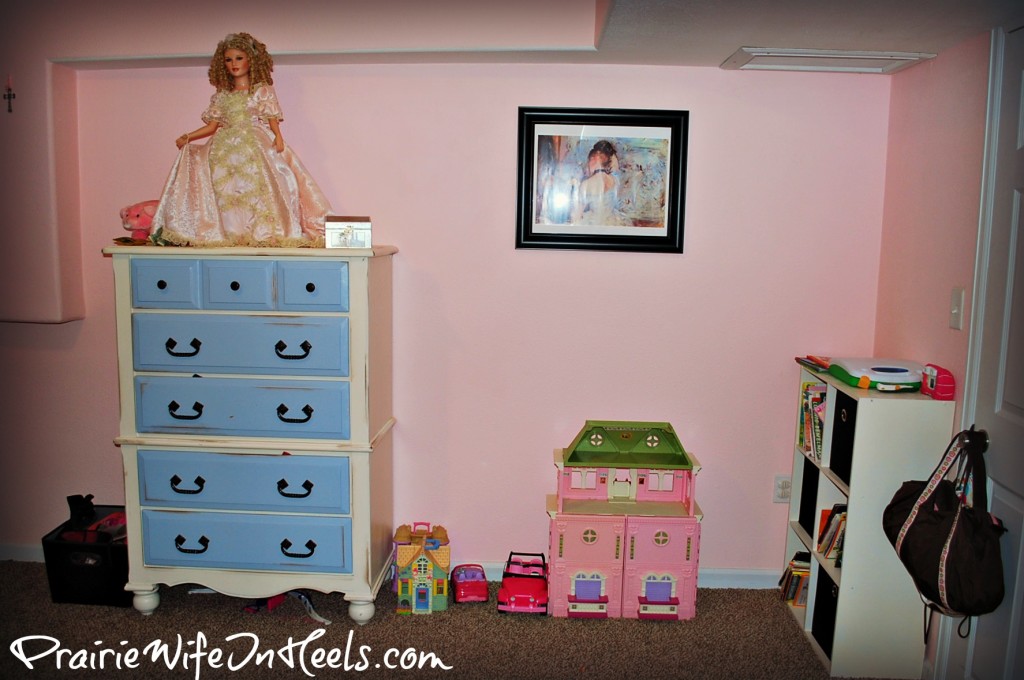 Do you let your kids pick their room theme?
Categories: For the Home, Prairie Wife Style
Tags: , French Theme Bedroom, Furniture Redo, Little Girls Room, Painting Furninture, The Prairie Homestead