Mama Mantra: RESPECT
Posted September 9, 2016 by Prairie Wife - 6 comments
I have an 8 year old daughter.
Let's pause for a moment…I'm sure you're wondering what the big deal is. If I said I have a teenage daughter, you would be nodding your heads and fist pumping in agreement.
But, let me tell you, those hormones, they don't wait until the teenage years (or puberty) to show up!
You'll get a bit of a taste at 3, then again at 6 (I call it the 13 year old girl stage), and apparently again at 8.
You know what I'm talking about…
The pouting and arguing over simple things like me asking "Did you brush your hair?"
The murderous screams when all her brother did was look at her (really this time).
Eye rolling and stank face.
And that my readers is what set this mama off today.
I have tried to remember to breathe and count to 10 when what I really want to do is smack that sassy face. I have tried to be understanding and patient. I have tried to be goofy and smile and hug the sullen mood out of my 8 year old daughter but I WILL NOT have her be disrespectful to me anymore.
Enough is enough.
Because, in the end, I am the parent and she is the child.
My job is to teach her to the skills she need to be a responsible adult that will put good into this world. And one of those much needed skills is RESPECT.
You better believe that I would NEVER allow another adult to treat me the way that Cowgirl G has these last few days…so why the heck am I letting her off with warnings and stern lectures?
Why am I hoping that she'll work her way out of it in another week or so?
Sometimes in parenting we are called to act, not to be patient and understanding.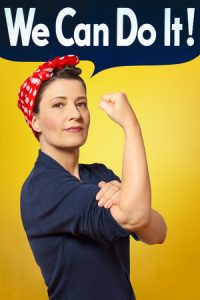 And this readers, is my time to act.
Cowgirl G has two birthday parties this weekend. One is her BFF's sleepover party and something she's been looking forward to for weeks, the other is for one of her favorite school friends.
Tonight Cowgirl G and I are going to have a talk about RESPECT. RESPECT for her parents, RESPECT for her family, and RESPECT for poor Mary Poppins who is wondering who this snippy little girl is that suddenly showed up at our home.
No more warnings.
She shows us RESPECT or one party is gone, then no more sleepover, then no party at all. Apologies now to the moms that have already received our RSVP but solidarity sisters! I know you've got my back.
I'm not sure what will happen if she continues to give us attitude after those three strikes but I'm pretty sure that between The Cowboy, Mary Poppins and I…we can come up with something.
Stand with me and act, and demand RESPECT from you children, I'm pretty sure this is one of those things that will pay off in the long run.
What do you do when your kids are being disrespectful?
Copyright: mandygodbehear / 123RF Stock Photo
Copyright: agenturfotografin / 123RF Stock Photo
Categories: Life As It Happens, Parenting
Tags: , 8 year old girls, daughters, mama mantra, parent and child, parenting, parenting advice, respect, teaching respect, tween girls